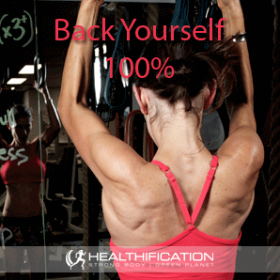 Podcast: Play in new window | Download
Subscribe: RSS
"Wow hon, you're looking really tired today. Didn't really get the chance to do your hair did you? Or make up. Those circles under your eyes – nothing that a little bit of make up (and perhaps a genius make-up artist) can't fix though. And are those gym tights looking just a little bit tighter around your thighs?"
"Actually, you're looking so rough – perhaps you should just skip the gym today – it's not exactly delivering mind-blowing results anyway right?"
"In fact, perhaps what you need is some help to get through today. A large latte – make it skim and you're all good. And those muffins look pretty tempting – they have fruit in them too."
Now, hopefully you wouldn't accept this type of talk from your best friend, partner or family members.
However, how about from YOURSELF?
Perhaps your brain is not quite so cruel however in many ways I believe…
Your Brain Is Not Your Friend!
In todays show I'm sharing:
4 Steps To Aim Your Brain.
The purpose is to aim for what you can become rather than cruise along on autopilot with what you've always been.
Autopilot is default for your brain and for many things, like walking and breathing it works really well.
However when you're looking to make a change, and this may be: change a thought, an Action, a RESULT (!) your brains attraction to autopilot can be detrimental.
Let's take a look at 4 old autopilot tendencies and a course correction aim your brain strategy for each:
One: to Compare.
This is absolutely a to work on for me. Whether it's as lofty as comparing a clients '3rd' 5-Star overseas holiday of the year to my lack of 5-Star overseas holidays or perhaps as irrational as comparing how much easier something was 20 years ago!
As a teenager I had the energy to start a night out at 1am – to dance all night – to back up the next night… and more relevantly, I had a much more forgiving body so far as effectively metabolizing and not turning to fat all the rubbish carbie fuel I inflicted on myself. Many things weren't easier though…
Which brings me to the strategy here. Hunt down the GRATITUDE you have for your current situation. For example:
Perhaps the fact that you love the job you have that let's you interact with, learn from and get paid well by clients who are able to take such holidays.
Two: to Judge.
Your closest friends, hopefully your family members – whoever it is who you most love to spend time with – these are the people who don't judge you. However can you say the same for your brain?
I've invested a lot of energy on this one. Yes, first a lot of wasteful unfun judging energy however more recently I've committed to consciously reframe my judgmental thoughts… about myself and about others.  
The first lousy thing with judgment, is that if you dish it out you'll get more of it reflected back at you.
The second lousy thing with judgment, is that even when you're passing judgment on someone else your unconscious mind will assume you're talking to it. To YOU. Your unconscious talks everything personally.
If that sounds a little too space-cadety (!) then please just take non-judgmental for a spin and see how you like it.
It's one of those things where the results are compelling enough to not need to understand the process. For example:
When you want to judge your self – let's say for: "Being so weak and undisciplined that I just demolished a half jar of nut butter" an alternative is to ACCEPT & OUT-PLAN. So, and of course I'm speaking form personal experience. I accept I'm a normal human with trigger foods and an irrational emotional attachment to food… and I decide that nut butter just does not need to live at home any more.
For someone else you might ACCEPT & APPRECIATE. So, in the case of the lady your tempted to judge as superficial, fake and sole focused on her appearance and material things? You'll have your own take on it however I'm a fan of accepting the things you can't change: her values / priorities / focus and appreciating the things you can change: your values / priorities / focus!
Three: to Assume the Worst.
I saw this YouTube video recently. It started with a very frail looking older gentleman sitting in an empty train carriage. He's shirtless. He looks like he doesn't have a home. Like he hasn't eaten well in days or months. He looks pretty incoherent.
In a word he looks utterly, vulnerable.
And now, this young, imposing, white singleted dude saunters into the picture. Rocks straight up to the other gent.
I'm not sure what conclusion your brain jumped to but here's what happened:
White singlet'ed dude gives vulnerable gent a crisp, clean white tee-shirt. In fact he puts if on him because the other gent isn't in a state to manage it himself. And then white singlet'ed dude leaves the screen and comes back with a beanie for slightly less vulnerable gent. And so it continues.
It's rare. It's pretty humbling and beautiful to see.
As much as there are circumstances where it's necessary to prepare for the worse, you can still tune your brain into all the possibilities of best. A simple way I've been making this implementable is to: Journal 3 things that would make tomorrow great.
Absolutely I'm not referring to wishes and fantasies that you can't personally impact eventuating.
More-so, the things that are to varying degrees within your control. The things that once you've committed them to paper your brain will be on the look out for. Or put another way, filtering IN rather than filtering OUT the information that is useful to you to make those possibilities of best happen. 
Four: to Focus on the Negative.
I'm generally pretty positive however from time to time I will still have an uncharitable thought about someone with different values and priorities to me.
A strategy I'm loving right now to help me aim my brain towards the positive is whenever I have a negative though – and generally I'm aware of it – at that point instead of feeling guilty I follow the thought with AND which is my prompt to keep thinking and come up with a POSITIVE. For example:
"He has got to be the most lazy human on the planet AND… I love the way he speaks to his kids."
Here are a few more Body Gain specific examples:
"I'm really too tired for a weights sessions today AND… having the resources, time and pyshical ability to make it happen anyway is something to be grateful for."
"Organic leafy greens and avocado are so crazy expensive right now AND… they are worth the investment because crap-o-la food wrecks my energy, my body and my health."
"It's so much easier for that single chick with no kids to get to the gym and plan her meals AND… I'm determined to be a fit, healthy, positive role model for my kids."
To get actionable today, which of the 4 old autopilot tendencies would your brain most benefit from a course correction with?
To recap they are:
One: to Compare.
Two: to Judge.
Three: to Assume the Worst.
Four: to Focus on the Negative.
I'm rolling with #1!
That's it for me today. I hope you'll join me on Wednesday when I weigh-in on: 16 Guidelines For A Fit, Healthy Happy Year.
If you liked this you'll also like: Fat Loss MOVES to Choose Your Curves.
If you're yet to share the Healthification love – just click here to zip over to iTunes and leave an honest rating and review. It'd help me out big time. With gratitude, Kate.