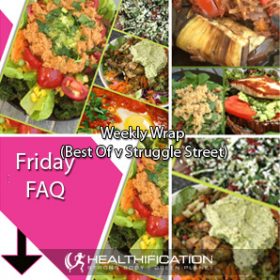 Podcast: Play in new window | Download
Subscribe: RSS
Hey Bodygainers! In this weeks FAQ show I'm taking a new format for a spin. I'm going to call it my:
Weekly Wrap (Best Of v Struggle Street).
If you like it I'll keep it – if you don't I'll ditch it!
I'll chat a little food, a little exercise and a little mindset. I'll share what's been rockin this past week and what's been a tad more struggle street. Above all, my intention is to make this wrap applicable to YOU and your body gain goal. Let's get rolling…
As I plan this show, it's early Jan and my first week back at work after the longest holiday I've had in around 10 years.
First a week with the fam in stunning Noosa and then a week chillin with friends here in Sydney.
Which brings me to FOOD… because holiday time means indulgent food right?
I consumed many a super delicious meal over the holiday season from dad's BBQ'd salmon to mum's frittata and roast veg and perhaps #1 a gorgeous eggplant parmigiana when I took mum and dad out for dinner.
(taking them out is a much better option than inflicting my primarily-one-ingredient-low-carb-high-protein-VEGO creations on them!).
Now as much as I could quite happily devour greasy-salty-crispy-yet-moist-prami with fries, and copious roast veg with cauliflower cheese and huge hunks of fresh baked olive bread and any number of other examples of holiday deliciousness each day there is something I prefer even more…
If you're struggling to snap back into your best eating routine after the festive season I hope this slight reframe or refocus works for you too… as much as I LOVE food, I also-Even-MORE love not ever wasting time or energy thinking:
"Will this make me fat?" and "Can I get away with this?.
That's why it was actually pretty easy to revert back to my regular eating.
In some ways it's like holiday spending. From presents to parties to new outfits and tempting sales… it's crazy easy to churn through extra cash-o-la at this time of year.
However you (I!) know that type of spending isn't sustainable… in the same way that daily parmi (or whatever it might be for you) isn't sustainable.
Talking of sustainable, let's move onto a Best Of or a Win this past week or two. Let's chat EXERCISE…
At the end of 2015 I was getting a little bored with my training. If you can relate then hopefully you'll find this section handy.
Let's call it '3 Keys To Beat Exercise Boredom.' 
Sometimes, somethings (within reason) are about WHAT WORKS not necessarily what is most super exciting. That's what kept me focused right up until holiday time. If you think I'm being a little extreme, please hang on for keys 2 and 3 however I do have a caveat for this boredom is indulgent key…
The what works bit is vital. If you're finding the exercise that isn't getting you results boring then it's probably a great idea to try something new.
Personally, and in my totally biased opinion for the super-vast-majority of people with a goal to be fit, strong and lean (whether that involves a little or a lot of fat loss to get there or whether you're there already and it's about maintaining what you've got) for all of us, what works is lifting heavy weights consistently mixed in with a lot of low intensity incidental exercise and a dash of high intensity interval training.
Two: A PLANNED Complete Change To Your Routine Rocks.
If you know what works for you, however it's getting a little boring then holiday time is the perfect time to not move less instead move differently. Generally I love weights and hate running. However, I do recognize it's healthy to take a break from weights once a year or so, and running along main beach and through the national park in Noosa is pretty mind-blowingly beautiful.
The planned bit is vital. It doesn't need to be holiday time and you don't need to be in a stunning location. Perhaps it's as simple as a decent 45-90 minute walk each day (often only manageable at a quieter time of year such as this is for many of us) rather than hitting the gym.
The main idea is to give yourself a chance to miss your regular effective routine. Even to feel a little excited to get back to it. Ok, am I pushing my luck with the 'excited' bit? Well, what would make exercise a little more exciting to you?? That's key #…
Three: Inject Some VARIETY Into What Works.
There are so many option here. It might be as drastic as a change of scenery which was my approach last week.
I rejoined the big commercial gym that I've been a member of on and off for a few years because by order of least importance: a) it's nice to check out some different gym equipment. b) this gym happens to have the most stunning outdoor training balcony with breathtaking views. c) it's refreshing to not train where I work. d) this gym happens to also have the most stunning other gym-goers… and that's actually pretty inspiring to me.
Now that may not appeal to YOU. Here are some more ideas:
=> try Temptation Bundling. The term coined by Katherine Milkman matches a guilty pleasure with a habit you're struggling to stick to. So perhaps you watch your fav T.V. show only while you're on the treadmill. Or listen to your fav podcasts only while doing weekly meal prep.
=> try Group Exercise, Personal Training or even recruit a Gym/Walking/Running Buddy.
=> invest in some new Gym Gear or if metrics are you thing perhaps a Fitbit or equivalent, to track your activity, exercise, food, weight and sleep.
For more ideas check out the #119 show on: What To Do When You Fall Out Of Love With Exercise.
For the final part of todays show I want to move a little more rapid fire. Some Best of's and also my Biggest struggle:
Best Podcast or Documentary: Generally I'd share a podcast I loved in my weekly wrap. I'm a huge fan of podcasts because:
a) they are one of the only truly effective ways to multi-task.
b) They let me spend quality time, at anytime with people who inspire me who I'll likely never get to meet in person.
c) They make it easier to power through slightly tedious tasks (like meal prep) or power up for a scheduled walk when it's utterly unappealing weather (as it is in Sydney this week).
This week I have a documentary to share. It blew my mind. It's the prompt for me eating 60 less egg whites a week, for returning to making my own dairy free pesto and the reason I'm giving Vegan'ish a whirl this month.
By the way 'a whirl' makes it sound a whole lot more casual than it is. I'm taking it seriously. In fact it's really been consuming my thoughts. The best documentary I've seen in years – perhaps ever – is: COWSPIRACY. 
You'll find details at www.cowspiracy.com.
I could go on and on about cowspiracy. I'll save you that (for now though there's a solid chance I'll devote next weeks Wednesday Weigh-in show to it!) and trust that if you're interested you'll check it out for yourself via cowspiracy.com or even (thanks to executive producer Leonardo DiCaprio) via Netflicks.
Best Habit: This one is easy. The best habit I consciously let slip over the holidays and have reinstated this week is my daily gratitudes. I model my approach loosely on the 5 Minutes Journal (again I'll link to it) which means as well as 3-4 different things I'm grateful for today I also write down 3 things that would make tomorrow great (it's today if you journal in the morning and tomorrow for me because I prefer to do it before bed).
Biggest Struggle: Courtesy of Cowspiracy my biggest struggle this week has been my diet. Or more-so, how my current eating aligns with my core values of Freedom, Integrity and Passion. I'm feeling incongruent.
I'm not on the Vego/Vegan bandwagon here.
Using your values to help you make and stick to eating decisions is incredibly powerful. Whether we're talking about the planets health or about your health. Discipline and willpower become a lot less necessary when you choose your food according to what helps you live aligned with the states and emotions you most covet. Whether that's:
=> The FREEDOM to wear what you want / to be able to keep up with your kids / to have the energy to work and play hard.
=> The INTEGRITY to keep your word to yourself / to walk your talk / to be an inspiration to your family and friends.
=> The PASSION to give your best each day / to actually make a difference so far as the causes or people or experiences that are most hugely compelling to YOU.
Anyway, my personal struggle is I kept myself a little blissfully ignorant for a lot of egg and dairy eating years and a couple of fish eating years. And now I can't un-see. And it's important enough that I really can't ignore either.
As I covered in the Wed show: Everything Counts, for now I'm going to choose the belief: I can be Vegan'ish and it counts.
To get actionable today: How is your current eating aligning with your core values?
It's a big question I know.
=> First step is eliciting your values. Here's the link to a series of posts in which I help you with that.
=> Next step is becoming aware of any incongruence that are not serving you.
=> Final step is choosing new eating habits that better align with your values.
That brings us to the end of todays show. As I mentioned at the top, I'd love to know your thoughts re the weekly wrap format? Shall I ditch it or keep it??
That's also it for this week in Healthification.
Is there anything you'd love me to cover in an up coming show? Please let me know. I'd love to hear from you via the show notes or even better via an iTunes review. Those little reviews absolutely 100% make my day.
If you liked this you'll also like: Smart Simple Fat Loss: Align Your Goal
If you're yet to share the Healthification love – just click here to zip over to iTunes and leave an honest rating and review. It'd help me out big time. With gratitude, Kate.