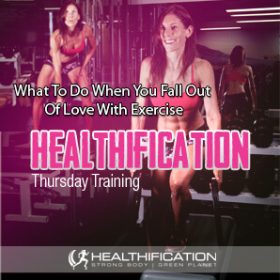 Podcast: Play in new window | Download
Subscribe: RSS
After seeing a couple of dear clients at 'stupid o'clock' this am I was about to leave the gym to immerse myself in the land of podcast planning… when a couple of the boys asked why I wasn't training… my response, "I get to train this afternoon when I've done enough work".
To which, as you may also be thinking, they replied "What it's a reward? You're craaazy!"
Generally, training is a reward – not always – however most often it is and that is what I would love for it to be for YOU too.
It's possible.
In todays training show I'm covering: What To Do When You Fall Out Of Love With Exercise.
To set the record straight as you hear in my outro every week, I am absolutely NOT the natural exerciser. If I can get to the point where exercise is fun, a non-negotiable, a tool to keep me calm and sane (!) and YES, even a reward then I know you can too.
So whether you've never loved exercise or perhaps if you're battling a patch of less love right now here are 3 key considerations:
One: Aim for an 80:20, LOVE:JUST DO IT (!) ratio with your exercise.
That is, 80% of the exercising action you take should be something you Love… or could love.
And 20% of the exercising action you take is the other less fun 'Just Do It' because it works stuff.
Some things are simply so high value that I'm never going to say don't do them. If you've been hanging with me for a while you'll know I'm referring to lifting heavy weights and some form of high intensity interval training… however if you hate weights or interval training then combine the 2 and get away with the bare minimum a week. Maybe '2' 20-30 minute sessions a week.
It's not ideal however, if it leaves you 80% of your time for something you love, something you'll stick with, something you'll give you best effort to and progress with – then it's a far superior option than aiming for the very-best-most-ideal-training-plan that you never stick with.
Two: Schedule your tough 'Just Do It' exercising stuff for your high discipline times and make it non-negotiable.
That's interval training for me. If I leave it to 'tomorrow' it's hanging over me… because strangely tomorrow always seems to become the day after today again! It's much easier to just make it happen at a set time, on a set day, before I've spent much of my daily discipline quota.
So before I get to train lovely back, on a Monday morning I always first throw myself on the treadmill for some 'Just Do It' incline intervals.
At that point I happily know the hardest part of my exercising week is done and dusted… AND in reality it's usually not too incredibly hateful. Isn't it true that the worse part of something UN-fun is often the anticipation and procrastination before you take that first step?
Three: Consider that LOVE is relative… and subjective and you can LOVE something because of the results rather than the process.
I'm absolutely not only referring to long term body composition results either. Of even more value, are the day to day results you get to experience when you make both your 'LOVE' and your 'Just Do It' exercising action happen.
I imagine you could LOVE the way you feel after exercising for all of these reasons:
1. You've just created another reference point for success. Proof to YOU that your body gain goal is important to you. Evidence that you're backing yourself and building the habit. A likelihood that taking that same exercising action tomorrow is going to be even easier… rather than even tougher as it would be if you'd let yourself down and skipped it.
2. You're that much more likely to give your body great fuel on the days that you exercise. It just seems to happen that way.
That means you're escaping the vicious cycle of NO-exercise => eat-crap-fuel => NO-exercise => eat-crap-fuel,
…AND winning the victorious cycle of exercise => eat-great-fuel => exercise => eat-great-fuel.
3. You're calmer, more effective, more efficient, more positive and you sleep better. These are some super high value benefits that are easy to take for granted until you realise that bit by bit you've let your exercise slip and slightly-anxious, less effective, less efficient, moody-sleep-craving-YOU has started to take charge …and it's not so pretty!
Or is that just me??
I'm fairly certain that if you take a look at the way you handle everything in your life when your exercising is on track you'll find you just do it all better.
EXERCISE (like great quality FOOD and great quality SLEEP) is a results maximiser.
It has a positive flow over effect in all aspects of your life.
To get actionable today I'd love to know what is the exercise that you currently OR COULD love?
Perhaps it's the exercise that you loved as a child?
In our constant strive for better and best… for faster and fastest… as we heighten the often self imposed expectations it can be easy to forget what has worked in the past. Even what has been fun in the past.
If you've been struggling to find your exercise love recently it's worth checking in with what exercise looked like for you before the pressure to do The Best exercise took over.
You can let me know in the show comments below.
If you like this show I recommend you check out show #045: What To Do When You Feel Like Quitting:
That's it for me today, big thanks to you for spending this time with me and I hope you can join me tomorrow for the Friday FAQ show where I cover, Short Term Weight Loss v. Long Term Health and Happiness.
If you liked this you'll also like: Here's Why You Can't Out Train A Bad Diet.
If you're yet to share the Healthification love – just click here to zip over to iTunes and leave an honest rating and review. It'd help me out big time. With gratitude, Kate.