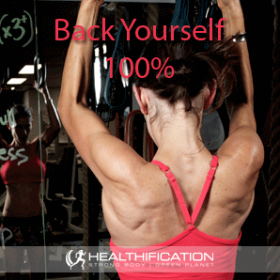 Podcast: Play in new window | Download
Subscribe: RSS
As I got my regular large long black at my semi-regular cafe last week the gent asked if I'd just been to the gym.
And then I think he remembered my reaction a few weeks prior when he asked if I'd just been to Yoga.
It was a disappointed, I hope not rude reaction: NO I lift weights… I'm a personal trainer.
No offence to Yoga. I'm sure Yoga could – actually make that would – kick my butt… however when at the gym I'm lifting weights because that's what gets me the results I want.
I guess it's my own insecurities that I work hard lifting weights and want to believe I look like I lift weights.
There is a point to this preamble! Aforementioned-lovely-yet-yoga-assuming-cafe-gent asked if I could train him. Because he needs to work out. And actually he went to the gym for a week once… "But It's BORING!"
In todays show I'm weighing in on: But It's BORING!
The whole "But It's BORING!" argument is really simple to me.
Either you do something because you LOVE it or because you love the RESULTS it allows you to enjoy.
I find brushing my teeth boring.
And cleaning the house, emptying the rubbish, washing my hair.
Hell, I often find showering boring!
However the results for each of these examples are really not something I'm willing to miss out on.
That is exactly the way to view exercise.
It's necessary to get the results associated with Health that we covered in the Monday 313 show.
If you want this results you've got to pay your dues and at times the paying of dues might be a little hard, frustrating or even: BORING.
When did we come to expect that everything we do has to be exciting at every stage of the process?
It's just not the case. Of course it also doesn't have to be BORING at every stage of the process.
Here are 3 keys to consider if you too have found yourself throwing up the old "But It's BORING!" response so far as exercise.
One: Focus one the RESULTS Boring allows you to enjoy.
I'll never claim that washing copious amounts of green veg is fun. Or that I'd always rather walk home from work rather than get the occasional especially-if-it's-pouring-with-rain-!-lift.
If you're stuck in an 'exercise is boring' or 'eating healthy is boring' frame of mind then it's time to focus on the results.
Actually when you look at it from that angle: Do you know what's really boring?
NOT getting results.
Two: Reframe Boring. Perhaps to: Brings Ongoing Results If-You Never Give-up.
Ha, did you like that? It's the week of the acronym!
Or maybe, you could reframe your previously boring and taken for grated exercise as a privilege to be grateful for? If you have a body mobile and functional enough to move AND the time, energy and freedom to go and move it then I think that's a privilege.
Possibly, boring might even become precious, self-indulgent YOU time?
Three: Don't resign yourself to Boring. I actually love hanging at the gym lifting weights. However I would find spin class boring. So, even if spin class could get me the results I wanted (it can't)… but even if it could, I'd likely go hunting for the less boring way to achieve those same results.
Some things are boring and there's really no other option. Like brushing your teeth.
Exercise is not one of these things though. You have limitless options. It's just a matter of find what's fun for you.
A final other consideration. Can you remember something, likely a new skill that was really boring when you first started?
Before you got to see any results. While you were just struggling to master the basics. The example that comes to mind for me is painting. Now I loved painting on my own. However at Fine Arts College when we had to spend hours doing tedious tonal charts. And then when we had to copy the work of masters.
That was really boring.
To get actionable today. If you know you roll out the old "But It's BORING!" excuse in relation to exercise or really anything else that will help you achieve your body gain goal, I have an A-B-C plan to implement:
A.cknowledge the steps are necessary and also A.dmit the results will be worth it.
Once you've acknowledged and admitted I need you to…
B.e ruthless reframing those old "But It's BORING!" excuses you're in the habit of turning to. Perhaps to: Brings Ongoing Results If-You Never Give-up! 🙂
And finally it's important to…
C.ommit to make it as fun as possible and in doing so C.onsider all options until you find the fun one you love.
That's it for me today. I hope you can join me for the Friday FAQ show where I cover: Looking For The Catch.
If you liked this you'll also like: What To Do When You Fall Out Of Love With Exercise.
If you're yet to share the Healthification love – just click here to zip over to iTunes and leave an honest rating and review. It'd help me out big time. With gratitude, Kate.