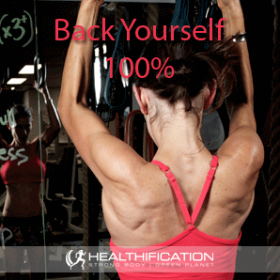 Podcast: Play in new window | Download
Subscribe: RSS
For many years I trained purely for aesthetics.
Sounds vain right? However I know I'm not unique! Generally when someone tells me they need to start exercising & I ask them about the motivation – The WHY…
Generally it's not about so much reducing your risk of diabetes, heart disease, or even about embracing your later years as strong and independent and vibrant as possible.
Not always but more often, it's about "Losing my Flabby Thighs" or "Getting rid of my Belly. Bat Wings. Love Handles. Huge Butt."
I don't believe there's any right or wrong. My goal is my goal. Your goal is your goal. However there is a huge difference in the way we can choose to treat our bodies as we chase down our goal.
In today's show I'm covering: Fitness v. Health.
I'll also look at it from the angle of Aesthetics v. Health.
The thing is – and I know this from personal experience, you can have aesthetics without health. You can also have fitness without health.
Health to me is so much more broad. Yes, it encompasses the way your body looks and performs however it's also a lot more. Here's how I see health. Not so much in order of importance, more so in order of acronym!
H.appiness.
E.nergy.
A.esthetics.
L.ifestyle / Balance.
T.otal Day to Day Strength and Fitness.
H.aving Respect For Your Body.
To share a personal example, when I was training to compete in body sculpting I was the most lean I've ever been. For me that looked like 12.something % body fat.
It also looked like… Utterly UN-Happy. Entirely NO-Energy. sure…fairly Awesome-Aesthetically.
Lousy-Lifestyle. Tediously-unsustainable-time-spent on NON-Total Strength and Fitness.
and above all it looked and felt like Having an absolute Lack-Of-Respect For Your Body.
As much as I have respect for the guys and girls who compete in body sculpting the thing that prompted me to throw in the towel and convinces me never to consider it again is in my experience every other aspect of my life suffered when aesthetics became my only focus.
I've also know some pretty crazy-super-impressive-fit people who eat rubbish… and carry a lot more fat that they'd like. Or look impossibly skinny and fragile… and thrash their body like some replaceable machine.
Please know I'm sharing from a place of zero judgement.
I've absolutely forced my body back to lower body training after a knee injury that needed more rest.
I've certainly kidded myself that low carb protein bars and diet coke are an acceptable afternoon tea pick-me-up.
And I'm highly inclined to replace too much of a bad thing – like 200 grams of tofu and a litre of soy milk a day – with too much of a good thing… such as 20+ egg whites a day!
I guess to try and make today implementable what it comes down to is defining: What Is Health To You?
I think it's one of those questions that we assume we know the answer to however perhaps on closer analysis there's a whole lot more to consider. If you don't have a clear picture of what health looks, feels and performs like. How it impacts your day to life. Then it's worth putting some thought into it.
As with any goal, once you can communicate it you can have it. Equally it's near impossible to achieve something undefined, vague and not personal to YOU.
As I mentioned for me health incorporates aesthetics and fitness however it is not limited to them.
Let's run through my H.E.A.L.T.H. acronym in a little more detail and then todays action step is to come up with your own and even better share it with me in the show notes for today.
H.appiness. Whether this is the joy within an exercise session. Or after it. The happiness that rockin around in a body I feel confident in affords me. Or the fact that being unhealthy make you so much less likely to fight off a cold and being sick makes me sad… whatever it is: Health = Happiness.
=> the question to consider: Does the way you eat and exercise and the results it provides make you happy?
E.nergy. Although this is potentially a "You don't know what you're missing till you get it" scenario, I'm sure you get more done in a day when you're in a good routine with your exercise and feeling healthy. Equally, when I was overdoing the exercise and under-doing the eating my subsequent low energy levels meant I was a lot less effective. Health = Energy.
=> the question to consider: Does the way you eat and exercise give you great energy?
A.esthetics. This one is so subjective. It really is a matter of what works for you. What is the body that helps you feel confident and free to do whatever you want to do? Whether that's wearing a bikini, a singlet, a pair of jeans. Maybe it's being in the best shape of your life? Or perhaps if it's more like being able to shop in any regular store without ever worrying that they won't have your size. Health = YOUR Definition Of Aesthetics.
=> the question to consider: Does the way your body looks add to the quality of your life?
L.ifestyle / Balance. If you're not yet in a regular routine with your exercise and meal planning the time and energy I give to my eating and exercise might not sound balanced. It might sound restrictive so far as your ideal lifestyle.
However that's absolutely not the case for me and it's just a matter of coming up with what works for you. To create those habits that enable you to experience health while at the same time complimenting your lifestyle.
For example I can eat out at basically any restaurant – no drama – just often a couple of little polite menu adjustments. That's not something that's going to be doable for the aestheitcs-only-focused-body-sculpter. Equally, I can take off for a lovely long weekend and have zero access to the gym and it's ok. I won't fall apart! Health = Lifestyle / Balance.
=> the question to consider: Do the habits that enable you to experience health complement your lifestyle?
T.otal Day to Day Strength and Fitness. Talking of a lovely long weekend I'm in Noosa for 4 nights right now. It's gorgeous. So this morning I went for my first long run in 4 months (since I was last in Noosa). Now if you've known me for any period of time you'll know I'm a weights girl. I LOVE weights. My normal routine is weights 5 days a week and also 5 minutes treadmill intervals a week. I know I have day to day strength however the intensity at which I perform my weights, the 5 intense minutes I commit to each week on the treadmill and the daily incidental walking I do also means I have day to day fitness. It meant I could easily enjoy a 60+ minute jog through the national park here in Noosa and I'm pretty certain I'll pull up just fine enough to get another run in tomorrow. Health = Total Day to Day Strength and Fitness.
=> the question to consider: Physically, are you able to power through everything you want to on a day to day basis?
H.aving Respect For Your Body. I think I've saved the most powerful for last. One of the secret tips to long term body gain is to treat your body with respect. It sounds so obvious however you ever rejoiced at the skipped meal you deprived your body of?
Or hunted for the most low-calorie-fake-food-fix and worked out how many you could get away with? However about how many you can get away with if you ditch dinner?
What about my old favourite "eatings cheating"?
In the same way that the relationship you don't respect won't last… or at least won't last in a high quality manner I truly believe the body you don't respect won't last in a quality manner. Health = Having Respect For Your Body.
=> the question to consider: Do you treat your body like a friend, partner or family member you love and respect? Like something you've only got one of??
To get actionable today I have 2 options for you. If you love my H.E.A.L.T.H. acronym then I'd love you to consider the questions I provide with it so far as your current approach to health. Alternatively, todays other action step is to come up with your own and even better share it with me in the comments below.
Todays quote is from Mahatma Gandhi "It is health that is real wealth and not pieces of gold and silver."
That's it for me today. I hope you can join me for the Wednesday Weigh-in show. I'm covering: But It's BORING!
If you liked this you'll also like: Eat Better Not Less: Why you can't continue with the band-aide fix.
If you're yet to share the Healthification love – just click here to zip over to iTunes and leave an honest rating and review. It'd help me out big time. With gratitude, Kate.