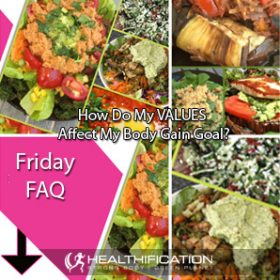 Podcast: Play in new window | Download
Subscribe: RSS
WOW, so I just triple checked the show records because I cannot believe I haven't covered todays topic yet!
94 shows and we are yet to cover one of the guiding principles that makes achieving your body gain goal comparatively simple and sustainable or a constant frustrating battle.
Today let's cover the sadly-NOT-so-FAQ: How Do My VALUES Affect My Body Gain Goal?
If you're yet to achieve your body gain goal, and you find yourself frequently avoiding the simple actions you know you need to take then I'll wager there's an in-congruency between what you say you want and the values that guide every decision you make.
Your values are those emotional states or qualities you're drawn to. You seek them out before all else.
As such they determine all of your decision making and therefore your destiny.
If you're yet to take the time to elicit your core values then this is the show for you… in fact let's do it now, together in 4 steps:
Step 1: What has been of most importance in your life?
Not the emotional states you would like to think are your priority – the emotions that have until now been those you have sought out.
=> Think about what truly makes you happy?
=> What gives you a sense of achievement?
=> Consider where you spend your time and also your money?
Take as long as you need to make a thorough list and then reduce it to just 5-7 values.
Step 2: Now order these top values. Place them in a sentence to test how you feel about them. For example: "What in my life has been more important to me 'Health' or 'Family'?"
Once you have you top values in order it will become clear why you find it so easy to excel in some areas and not in others.
Here are some examples of values, though there are 100's more…
Love  Freedom  Security  Safety  Health  Passion  Vitality  Adventure  Honesty  Integrity  Respect  Growth  Wisdom  Gratitude  Generosity  Playfulness  Uniqueness  Creativity  Happiness  Contribution  Intelligence  Connection  Compassion  Friendship  Trust  Family  Fun  Comfort.
Before we move onto Step 3, here are a couple of things to consider with Values:
One: There is no right or wrong HOWEVER some values will be more effective at guiding you to make the decisions that result in a happy, healthy and for-filling life.
Two: Your current values are delivering your current results. If your current values are delivering disappointing results – you CAN:
A) Change them.
B) Change your interpretation of them to help you get better results.
For an A) Change your Values example – again there is no right or wrong however can you imagine how it'd always be an up hill battle to train hard and prepare great meals… to bounce out of bed on a cold, dark morning or to politely decline the crispy wedges with sour cream if Comfort or Security were a top value?
When considering changing your values it's worth imagining what the person who has the results you're seeking might have as their core values? What truly makes them happy? What gives them a sense of achievement? Where do they spend their time and also their money?
For a B) Change you interpretation example – can you see how the interpretation that exercise each morning is potentially either minutes stolen from precious family time OR time well spent being the healthy role-model to your kids. For the person with Family or Love as a top value a simple interpretation switch is going to be the difference between struggling to stick to that morning exercise or prioritising it.
Ok, here's some back-ground to Step 3:
Consciously or more likely unconsciously you will have created rules that tell you what must and must not happen for you to experience your values. And…
Step 3: Let's create some rockin, supportive rules to let you know you're experiencing each of your values. Complete this question; "What must happen in order for me to experience…" for each of your top values and remember to conspire for your success.
To give you an example, and I'll keep it to just my number 1 value however hopefully you'll do this for your top 5….
In step 1, I elicited my top values. In step 2, I put them in order of importance and FREEDOM was number one. In step 3, I'll decide "What must happen in order for me to experience FREEDOM?" 
And I'll make it easy… and achievable.
Personally it's stuff like loving where I live, what I do and who I spend my time with.
It's also being able to exercise every single day if I want to and feeling fit, healthy, confident and in control of how my body looks and performs.
That's a component of FREEDOM to me… however I could go on and on!
Step 4: Now it's time to ALIGN your body gain goal or even more importantly the experiences that you will enjoy once you have achieved that goal with your values, which determine the decisions you make and the actions you take.
This is where you create a link between your goal and how achieving it will enable you even greater success in achieving your core values and your purpose in life.
So, for that example again…
Achieving and maintaining my body gain goal allows me the Freedom of feeling fit, healthy, confident and in control of how my body looks and performs.
Just as importantly it aligns with my number 2 value Integrity.
Given how important my career is to me, I'd feel like an absolute intergrity-void-fraud if I didn't walk the talk and look the part… and that's pretty powerful fuel for the days when I may not feel like taking the simple actions I know I need to take!
Back to YOU, and the time to get actionable.
Values truly are one of the most powerful tools you have at your disposal. You're currently using them regardless – however are you using them to make achieving your goal easier or the reverse?
So, it's a decent sized yet high return action step today. Please either listen or read again to work through this 4-step Value and Body Gain Goal Alignment exercise.
That brings us to the end of this week in Healthification… a week where this lil podcast surpassed 15,000 downloads in total and I'm supremely grateful for every single one.
So super huge thanks to you for your support and for sharing this week with me.
If you liked this you'll also like: Stop, Start, Continue Action Based Weight Loss Goals.
If you're yet to share the Healthification love – just click here to zip over to iTunes and leave an honest rating and review. It'd help me out big time. With gratitude, Kate.