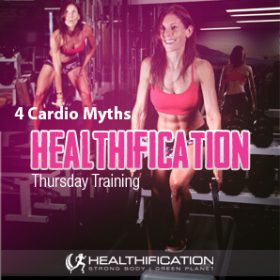 Podcast: Play in new window | Download
Subscribe: RSS
In todays training show I'm covering 4 Cardio Myths.
The most common myth does not warrant a number. I don't even really want to mention that old myth that cardio is the best way to lose fat… we're on the same page right?
I cover it in Fitter and Fatter (show #008) and again in Why Lifting Weights Is The Best Way To Lose Fat (show #009) so let's power on with 4 more myths…
Cardio Myth 1: If you don't have an hour it's not worth doing.
If you have 5 minutes it's worth doing. Honestly.
A) Because you can work pretty hard in 5 minutes.
B) Because you just kept your commitment to yourself, maintained exercising consistency and didn't pike on your goal when you just pushed through for 5 minutes.
=> If you think 5 minutes is easy set the rower for 45 seconds on and 15 seconds rest and aim to hit 75% of your 1 minute working row in each of FIVE 45 second rows.
Cardio Myth 2: Cardio is the domain of running or cardio machines.
Not everyone is a runner and that's ok. And NO-ONE should be confined to torturously tedious and boring cardio-machine-land.
Cardio might be skipping or dancing for you.
For me cardio is body-weight and core work performed with minimal rest that really gets my heart racing and my body sweating.
YOU may call chin-ups and push ups and jump squats weights… however I'm going to call them cardio bacause they provide a whole lot more fat burning and fitness bang for my buck than X-Trainer trudging ever did.
=> If I have 5 minutes and am not up for intervals on the rower, stepper or treadmill I'll simply set a timer and alternate between a couple of exercises non-stop.
My current fav is an advanced burpee (which is a jumping chin-up into a push up) for 6 repetitions followed by a sumo in out jump squat for 12 repetitions.
Cardio Myth 3: You need to do it in the 'Fat Burning Zone.'
You know science'y isn't my style so I'll keep it simple. Although your body will burn a greater percentage of calories from fat when you're working at a lower intensity – AKA – the fat burning zone, what you really want to be aware of is TOTAL CALORIES BLITZED.
I'm going to take 500 calories burned with say 25% coming from fat over 250 calories burned with say 40% coming from fat any day of the week.
Beyond that is the post exercise after-burn, the calories you burn once you've stopped exercising.
This increased metabolic rate after you stop exercising – while you're just chillaxing – is an additional benefit you get only with weights and high intensity cardio not the steady state low intensity cardio.
AND it's vastly preferable to the increased-carb-consuming rate you're likely to battle after too much time spent languishing in the 'fat burning zone'.
=> It truly can be as simple as calories in v. calories out. Short, not-so-sweet, high intensity cardio makes managing my calories in so much easier. If you struggle with controlling what you eat after cardio I really 100% recommend you try less cardio time, more cardio effort.
Cardio Myth 4: You legs get enough work in cardio so you can skip lower body weights.
Cardio will never sculpt your sexy shapely legs and firm butt like lifting weights can.
Lifting weights is where you get to choose your curves!
Even if you're one of the rare few who are totally happy with your legs and butt, from a purely high value stand point the lower body exercise have the most bang for your fat burring buck. They also demand more of your abdominal muscles.
So, let's add flat belly to the list of sexy shapely legs and a firm butt that you get when you prioritise lower body weights.
As we draw to the end of today and actionable time it seems I've turned this cardio myths show into a weights love-in…
Probably no surprise.
Your acton step for today: Try something new with your cardio.
Perhaps this 15 minute routine I be doing tomorrow – I've committed now so there's no backing away from the treadmill… here's that routine:
=> 5 minutes of intervals on the treadmill followed by hoop chins into walk-outs and reverse slider goblet lunges.
Hoop chin into a walk-out is self explanatory if you check out the 'walk-out' picture that I link to here: I did 6 reps each leg.
(If you can't do a full hoop chin up then jump up and control the eccentric lower down)
I use a very technical piece of equipment for the next exercise (!) my clip-board… a frisbee also works well.  To slide it needs to be on carpet. So this is a reverse lunge with the sliding foot in the middle of the clip-board, heel up in the air as with any lunge. Once you do it with as heavy a kettle-bell as you can hold it really gets the heart rate up. I start with 12 reps each leg and use a 20 kilo kettle-bell.
=> I love pyramids so I work my way down with this one for the time I have available. So for 3 circuits it'll look like this:
chin-walk-out: 6+6, 5+5, 4+4
slider-rev-lunge: 12+12, 10+10, 8+8.
And Yes, I call this cardio!
That's it for me today, big thanks to you for spending this time with me and I hope you can join me tomorrow for the Friday FAQ show where I cover, How Do My VALUES Affect My Body Gain Goal?
If you liked this you'll also like: Deliberately Addictive Craving Causing Food: 3 Myths.
If you're yet to share the Healthification love – just click here to zip over to iTunes and leave an honest rating and review. It'd help me out big time. With gratitude, Kate.