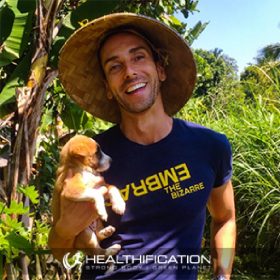 Podcast: Play in new window | Download
Subscribe: RSS
Plant friends, today it is my pleasure to share with you a high energy conversation with a gent who is excelling at busting the MYTH that traveling as a vegan might be hard, boring, isolating or restrictive!
Vegan author and activist, Todd Sinclair is all about more ethical, sustainable and FUN travel As A Vegan. 
Prior to Covid-19 Todd spent years leading travel groups in far-off places. First, as a non-vegan venturing away from the small Canadian dairy farm he grew up on.
It was not until a serious illness, contracted when he was thousands of miles from home, that Todd – in the loving presence of monks – found his healing and ultimately a new truth, by changing to a plant-based diet.
What I found truly fascinating and hopeful about this conversation is just how successful Todd has been in effectively and respectfully communicating his lifestyle change to those in his travel groups and to the local business owners all over the world who had previously served him non-vegan food.
It's proof yet again that the energy and intention WE bring to an interaction is generally matched.
It's up to us to lead with compassion and as Todd says: rise above the guilt-tripping and stereotyping, and create a kinder world for ourselves and others.
In this conversation we discuss:
Todd's personal journey to taking control of his own health and adopting a vegan lifestyle.
Todd's approach to activism and talking to non-vegans while travelling.
How veganism is the opposite of restrictive and is actually an "IN" and a chance to find community as you travel.
The power of personal daily habits and tips to make them sustainable while travelling.
The challenges and compromise needed when communicating with your non-vegan loved ones. It can be easier to lead with compassion and patience overseas… with strangers!
Todd's (3rd) book, REBEL VEGAN TRAVEL GUIDE: Veganism On The Go. How to make our travel more ethical, more sustainable, more vegan.
I love that Todd is embodying just how simple it is to vote for change – to align our eating actions with our values – three times a day, irrespective of where we happen to be traveling in the world.
Even in the rare tougher situations, it's a matter of embracing a "how can I make this work?" attitude rather than focusing on what  is not quite perfect or best case scenario.
Wherever possible to be respectful, kind and patient AND even though it can be more challenging to extend this generosity of spirit to your loved ones to at least try. Try hard. I am learning showing compassion for my non-vegan loved ones is ALSO showing compassion for ME, because how hard, hurtful and heartbreaking is it to have conflict with the people you love most?
To connect with Todd and check out his three books, I have you all linked up in the show notes below.
Connect with Todd via his website: www.rebelveganlife.com
Purchase Rebel Vegan Life: A Radical Take on Veganism for a Brave New World.
Plus, Rebel Vegan Life: An Essential Plant-Based Nutrition & Survival Guide.
Finally, REBEL VEGAN TRAVEL GUIDE: Veganism On The Go: Inspirational Destinations, Packing & Planning Advice, and 16 Simple Recipes for Plant-Based Holidays.
Connect with Todd across the socials: Facebook | Instagram | Twitter.
That's it for this week in Healthification. If you're yet to rate, review and subscribe please do! It counts big time in letting this little show – and the amazing guests I get to chat with achieve some visibility among the millions of podcasts out there.
Big thanks to YOU for sharing this week with me.
The Healthification podcast is proudly bought to you by my FREE 'Easy Vegan' plan. It took me 25 years to transition from a meat eater to a happy, healthy Vegan! You can do it in just 3 days with my simplified 'easy vegan' plan!  Get the fit, strong, and healthy plant based body you deserve… while avoiding ALL the mistakes I made along the way!
To learn more check out: strongbodygreenplanet.com
Till next time, remember Creating a body and life you love is Freedom. (If this ex-refined-carb queen, non genetically gifted, naturally uncoordinated vegan chick can do it – so can YOU!!!)
If you liked "Rebel Vegan Life and More Ethical, Sustainable Travel As A Vegan with Todd Sinclair." you'll also like Look Good, Feel Good and Do Good by Becoming a Fabulous Vegan with Jasmin Singer.
If you liked "Rebel Vegan Life and More Ethical, Sustainable Travel As A Vegan with Todd Sinclair." you'll also like Kathy Freston and 72 Reasons To Be Vegan: Why Plant-based Why Now.