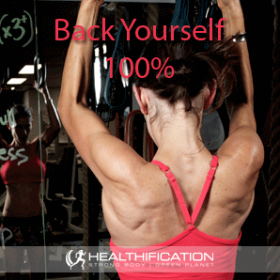 Podcast: Play in new window | Download
Subscribe: RSS
The Japanese practice of kaizen, meaning continual improvement is something I apply to my nutrition.
In todays tucker show I'm sharing my top 3 recent food upgrades and also what compelled me to make these changes.
First though, the importance of continual improvement.  As appealing as it is to get better and better – be it at a certain skill – or in the way you fuel your body the hidden value in focusing on continual improvement is that you don't have to be perfect from the get go.
Of course none of us will ever reach 'perfection' anyway, however I love to release the pressure of seeking out that best-perfect-ideal approach to nutrition because that seeking out is often just an excuse and an opportunity to procrastinate.
Kaizen means you can just make that start and feel safe in the knowledge that you get to constantly and continuously improve your approach.  Zero pressure.  No reason to wait.  
Today is always the best time.
Onwards with upgrade # 1.
FISH.
I was vegetarian for 20 years.  For ethical reasons.  I LOVE the way meat tastes.  I think it is awesome fuel and super great if you like the lean yet fit look as I do… however I'm really not ok with the whole farm to plate process.
I still won't eat meat, and I don't see that changing however after years eating a low carb and high protein diet – which is challenging as a vegetarian – I started to feel incongruent.  I'm a proponent of one ingredient whole foods and although I ate a lot of egg whites I was also consuming bucket loads of protein powder and cottage cheese.
I also decided to include fish in my diet as it really is frustrating eating out and facing either the pathetic-little-leave-me-starving-salad or the stodgey-carb-fest vego pizza, pasta or risotto.
It's worth mentioning that your upgrades may include a food you previously hated as a kid.  
I hated fish.
It was my least favourite meal… and actually the turning point for me turning vego.  I remember a certain smoked trout and fish roe soup that I was forced to eat at a family friends house or else it would be rude.  It was the richest most sickly thing I've ever eaten and we had long car trip after that meal.
A couple of things happened on that 3 hours of winding roads on the car ride home:
One. I threw up.
Two. I decided I would never again eat something just to be polite.
Becoming vegetarian actually gave me a great excuse to skip a lot of the food offerings that I had no interest in… however, I digress and my real point was to share that as we get older our taste-buds develop and something that may have been bland, boring or just plain yuk may now be enjoyable, as fish is for me.
I don't see myself giving smoked trout and fish roe soup a second chance again though.
Upgrade # 2.
RAW VEGAN PROTEIN POWDER.
Including extra protein in the form of fish allowed me to ease off the protein powder a tad, however I really DO enjoy the stuff.
It's so quick and easy and versatile.
From shakes to pancakes… my egg white dessert and even in my porridge and my coffee.
In-congruencey got me to upgrade here as well. I still was eating fake food multiple times every day.  When I found an alternative at a good price I made the switch.
Is there something in your day to day eating that perhaps you feel in-congruent about consuming?  Or maybe it's been a little expensive – like organic food – and now it's either a bit more reasonable or you're in a better position to invest a little more in your fuel?
I really do feel better for switching to a less fake and processed powder.  It's actually had the surprise-bonus-AWESOME-extra-benefit of making me less bloated too. That took a while for my body to adjust to however I'm certainly seeing results for dairy free.
=> Here's the link to my Raw Vegan Protein Powder of choice:
Upgrade # 3.
ALMOND MILK
This has replaced SOY milk for me.  It may not be soy for you.  However there is likely an item in your day to day eating that will carry a lot of bang for your fat loss buck if you upgrade it to a better option.
Soy is definitely worth upgrading if it features in your regular eating regime.  It mimics the effect of estrogen in your body.  Now estrogen isn't bad – however – toxics in the environment and stress are also at work sending your estrogen balance out of whack and when that happens it can lead to extra fat storage in estrogen sensitive areas, such as your hips and thighs.
Sound far fetched?
I'm a walking testament to this hormone imbalance.  I thought I was destined to be an out of proportion pear shape my whole life… until I read up on soy and also cruciferous super veg which help restore your estrogen balance. 
=> Ditch soy and amp up your cruciferous veg intake.  These slim hip and thigh friends are: Broccoli, Cauliflower, Brussels, Cabbage, Kale.
=> I pleaded ignorance to the case against soy for years – because I loved it – I didn't want to know that it was doing my body no favours.  What is the food you regularly consume that your know you'd benefit from upgrading?  Perhaps soft drink, dairy milk choc, cereal or my other old friend, beer.
Ok, lets as always make this actionable: what are 3 upgrades you can make to YOUR nutrition this week?
Perhaps you're making your upgrades to lose some weight or gain some energy.  Maybe it's because like I was, you're feeling a little in-congruent.  Possibly it's simply that you were in a cost effective yet lower quality fuel habit – and now you're in a position to improve it.
The important thing is to apply the practice of continual improvement to your eating.  It means you get to avoid the 'waiting for perfect' excuse and enjoy the results that come with not ever getting complacent.
If you liked this you'll also like: Weight Loss Tips, My 5 Best Quick Fixes
If you're yet to share the Healthification love – just click here to zip over to iTunes and leave an honest rating and review. It'd help me out big time. With gratitude, Kate.