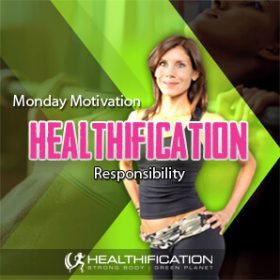 Podcast: Play in new window | Download
Subscribe: RSS
Over the years I've had the privilege to train some very successful people… and I've noticed patterns so far as what works both in business and in weight loss.
The number one advantage you can give yourself in either is to accept 100% Responsibility.
100% Responsibility equals control.
It's the opposite of the person who has little control and a whole lot of Blame, Excuses and Denial.
This person is in B.E.D. They indulge in:
Blame: and an It's not my fault. attitude
Excuses: and an I can't because. attitude
Denial: and an I'm not willing to because. attitude
The person in B.E.D. is at the mercy of what happens to them with a victim mindset.
Not so appealing right?
If you've been falling victim to blame, to excuses, to denial then today's show is all about adopting a victor mindset.
To run with a difference analogy it's time to jump outta bed, grab an O.A.R. – that's Ownership Accountabiliy Responsibility – and take control of the direction you're steering your boat in!
Ownership = I created this.  
Accountability = I can fix it.
Responsibility = I will fix it. 
The OAR approach is a much more fun way to live however it will require constant work and an ongoing commitment… because isn't it amazing how easy it is to spend time in bed?
I recently found myself blaming the amount of work I had to do, making the excuse that an extra wine here and there is fine because my food is awesome and denying that slashing the length of my exercise sessions without increasing the intensity would affect my body composition.
And you know what happened right?
My weight crept up to almost 3 kilos heavier than where I love it to be.  
Yes, I do put a lot more emphasis on how I look and feel than on that number on the scales (I'll cover why in the wednesday weigh in show) however the fact remains, the reason I even hopped on those scales was because my toughest area to keep lean –  my thighs were definitely looking a little bigger.
The second I saw that feedback – in this case the wrong number on those scales – it was time to accept responsibility.
To take control and make some changes.
Accepting responsibility can be as easy as A. B. C.:
A.WARENESS: 90% of the battle is simply realising what you're repeatedly doing that's getting you a poor result. 
(for me it was less time spent exercising and more time spent Shiraz'ing)
B.ETTER alternative: the new resourceful way. This involves an attitude of How Can I? Rather than an attitude of Why Me?
(How can I ensure I'm at least working at a much higher intensity if I genuinely do not have the time for longer sessions… and How can I ensure I ease off those old glass to mouth bicep curls a bit?)
=> my actions steps are:
ONE: to get my heart rate up with some interval training at least 3 days a week.  Either on its own or as a little finisher after my weights session – so today after lower body weights I set the rower for some 60 seconds intervals and simply did '3' 60 second rows with 6 reps each arm of heavy snatch to eccentric shoulder press after each row.  It took less than 8 minutes and made me feel much better about today's work-out.
TWO: zero Shiraz Monday – Thursday.  And because I don't want to feel deprived, I'm buying a long black each day rather than only having my made at home coffee.
C.ONDITION: the new alternative until it becomes an unconscious habit.
(I committed publicly to my better alternatives and also personally I've decided I will stick with them as long as it takes)
It's useful to have someone else holding you accountable to your goal as well as yourself.  It's also vital to get clear on just how important achieving it is to you and to decide – ahead of time – so decide BEFORE the night when the Shiraz is looking luscious or the morning when the rower is looking lousy just how long you're willing to stick to it for.
Remember,
If other people are doing it, YOU can do it.
Likely you've done it before, so you can absolutely do it again.
also,
Get around better people.  (you are a reflection of the people you spend the most time with)
Get out of the victim 'one up' race.  (that's where you compete over how sick-tired-stressed you are)
Ok let's make this actionable, it's a 3-part action step today:
1. What is an area of your exercising, your eating or your health in general in which you haven't been accepting responsibility? 
2. What is the better alternative?  …AND which next step are you committing to today?
3. What is the frequency with which you'll condition this new alternative until it becomes a habit?
I'm going to finish todays show with one of my all time favourite quotes from Jim Rohn; "Don't wish it was easier, wish you were better."
If you liked this you'll also like: How Not To Lose 4 Kilos In 4 Days.
If you're yet to share the Healthification love – just click here to zip over to iTunes and leave an honest rating and review. It'd help me out big time. With gratitude, Kate.