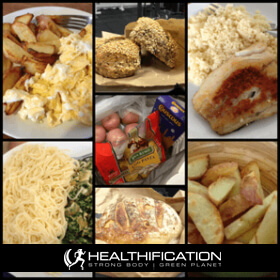 As I write this I've enjoyed some what of a carb-fest day.
I did start with 3 scrambled eggs.
AND then….
2 sunflower seed panini's and 1/2 a loaf of olive bread.
a medium berry crush Boost juice (diary free)
A fillet of grilled barramundi (HA, protein… again!)
another medium berry crush Boost juice
a bowl of egg noodles with olive oil and sea salt
a bowl of couscous with olive oil and sea salt
a second bowl of egg noodles with olive oil and sea salt
a second bowl of couscous with olive oil and sea salt
and that takes us to 3.30pm.
NO, I'm not stuffed – I'm thinking of dinner.
That of course is not the way to lose 4 kilo's in 4 days!
HOWEVER it is the way to try and get some meat back on my bones with a still delicate stomach after some evil-gastro-from-hell-thingy saw 4 kilo's blow right out to a MASSIVE 5.5 KILO'S LOST IN ONE (hideous) WEEK.
If I wasn't terrified of inviting this gastro-creature back I'd be scoffing cake (carrot) and ice-cream (hokey pokey) and all manner of hot chips, pizza and caramel slice!
How can I make this forgettable week applicable to your weight loss goal? 
My big takeaway: An even greater appreciation of the awesome power of Personal Identity Beliefs and WHAT they mean to your happiness and fulfilment.
Why you may ask is this of any significance?
Well, this last week I've experienced it's of every significance.
You will fight tooth and nail to defend what you believe to be true about yourself.
You will do anything to live up to your identity beliefs.
And, as I am just experiencing – living UNaligned with your identity beliefs feels wrong.
Like really, uncomfortable, incongruent, intolerable WRONG.
That's why getting clear on your personal identity beliefs AND ensuring they are supportive of and congruent with your weight loss goal is so vital.
I believe: I am a fit, strong and healthy person.  To me that means: full of energy with plenty of lovely lean muscle mass and no excess fat.
=> Your identity beliefs are anything that follows "I am"…
What is currently intolerable for me is that when I got so sick that I couldn't eat – my body sacrificed it's metabolically active lean muscle mass as a priority – cannibalised it – to keep me alive.
And so, I lost a lot of muscle and I no longer feel (or look) fit and strong and healthy.
What's good about Kate in weak and skinny mode?  
I'm insanely driven to get back to fit, strong and healthy AND living aligned with my identity beliefs.
I will do anything.
How to make this applicable to you?
Step 1:

Get clear on your personal identity beliefs surrounding health and fitness.
What comes up, naturally and uncensored when you say "I am…" ?
If it's anything remotely along the lines of lazy, not a natural exerciser, a couch potato… then it's time to rework your gut reaction as your natural inclination is to prove your identity beliefs right, for better or to your detriment.
Let's make it for the better. Let's make it so that YOU will do anything to achieve your health and fitness goal because it is aligned with your identity beliefs.
Step 2:

Acknowledge that wherever you are right now is a result of your current actions (or inactions) and as such is 100% within your ability to change.
This was the hard one for me as I saw my body as the ONE thing completely within my control.  I had it looking and performing exactly how I wanted it to.
And then that changed!  And I had zero control.
That was a little depressing.  However, we're always setting ourselves up for heartache when we covet 100% control.  It's never possible – at least not for-ever-always!  You do always have the ability to accept responsibility and change though.  Whether that's starting that eating and exercising regime (today) or as it is for me, building my body back up as quickly as humanly possible.
You can't stop change or prevent challenging situations. You can back yourself to come up with the goods regardless.
Step 3:

Appreciate how little you need to feel happy.
It's amazing how everything I had been obsessing over palled into insignificance as I lay bedridden for days.
My big goals and dreams were forgotten as I fantasied about sparkling mineral water, mango smoothies and just being able to lie still with zero pain.
Isn't it mind-blowing the number of amazing little gifts we take for granted every single healthy day?
To be able to sleep, eat, walk and talk.
Should not the simple necessities that bring massive pain when they are withheld, equally elicit great joy and appreciation when they are enjoyed?
You have so many things to feel grateful for right now.
So do I. I'm sure you've met the person who has it all, money, love, looks and yet they focus only on what they don't have. They have zero appreciation and I'm guessing very little joy despite the seemingly 'perfect' deck of cards they've been dealt.
Happy is a choice – sure, sometimes it's easier to make than other times, however it is still a choice.  
So today I'm choosing happy and appreciative.
I'm backing myself to get right back to fit, strong and healthy AND I'll do whatever it takes to get there.
I'd love to hear from you.
What identity beliefs are you currently living up to so far as your health and fitness? And is this natural inclination to prove your own identity beliefs right to your benefit or to your detriment?