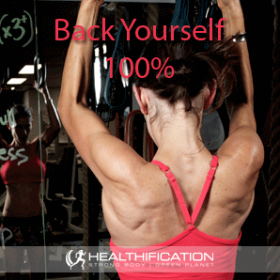 Podcast: Play in new window | Download
Subscribe: RSS
If you've been 'trying' to lose weight for a while now without success, then odds on your nutrition could use some refining. Most of my clients with a weight loss goal don't need to eat less. Yep, you heard that right.
Not less. Just better quality.

Now, perhaps you eat 'healthy'? A lot of people with a weight loss goal tell me they do.
However, unless you're already happy with your body composition & energy levels, then we're talking a whole different type of healthy.
To monitor this a food diary is hugely advantageous, because most of us (yes, I include myself in that) lie to ourself – and our friendly trainer – about what we eat.
In todays show I'm answering one of the most common questions I get asked: Do I Have To Fill In A Food Diary To Lose Weight?
I know the answer you're hoping to hear… my news is good & bad.
It's certainly not a matter of YES, record every morsel you eat for the rest of your life (!) however there are some high value insights you'll get from tracking your food for a just couple of weeks.
The diary is a tool. Short term. It lets you see what you can improve.
1. A food diary will allow you to see the forgotten extras.
The patterns both emotional & situational.
Perhaps the food choices you make when you're stressed?
Tired?  Sad?  Unprepared?  With certain people?  Drinking?  After exercise?
(especially moderate cardio – so ditch the treadmill trudging)
=> once you are AWARE of those forgotten (or blocked out on purpose!) extras you can them out-plan and out-smart them.
2. It'll cause you to be more conscious of what you put in your mouth – And when – AND why!
With this understanding you're better equipped to make the changes that'll see you getting the results you're seeking. Changes you can continue, without the food diary.
=> Once you're into a habit with the improvements you can happily ditch the diary. 
3. You'll get an idea of what works for your body. 
My best plan isn't necessarily your best plan. It come down to body type, activity level, hormones, likes & dislikes, your emotional attachment to food, past eating habits, family situation and limitless other factors.
=> When you do get to know what your body needs on a day to day basis you'll be able to mix & match to fit your routine as needed.
That's one of the things I notice with those who effortlessly stay 'in shape' …whatever that may be for you.
They balance out their meals on a daily & weekly basis. A bit of extra fat here? No probs…lets cut it back a tad in the next meal.
It sounds so simple.
However I notice with those who struggle to get & stay 'in shape' a meal that's off plan can send the rest of the day spiraling off plan too…rather than a small adjustment being made at the very next meal.
It's equally as important that you 'top up' with the right food when you go under on a meal.
My clients who struggle get excited when they under-eat. They imagine the fat melting off as they starve their body. What actually happens is that somewhere – be it that night or the next day – they end up over hungry & they over indulge in crap-o-la fuel that does their body no good. Food that makes then crave more crap food!
It's a vicious cycle.
Thankfully, once you become conscious of what you're doing… and when… and why (!) then you can you can put the strategies in place to counter whatever food patterns have been holding you back.
A short amount of food diary discipline is FOOD FREEDOM long term. 
You'll get to the point where you don't need to document your food Or measure it OR ever second guess whether you can 'get away with this'.
If you would love to just be able to eat without obsessing or worrying or spending hours shopping & prepping …for it to just be natural & easy & sustainable …if that is also Freedom to you then for the sake of gorgeous food freedom please pick up a diary & commit for 2 short weeks. That's all it'll take.
Over the next 2 weeks I guarantee your body will keep an accurate journal regardless of whether you write it down, so how about writing it down and using your learnings for your future food freedom.  🙂
You can guess todays action step right?  I'm going to start small scale and ask for a mere 2 DAYS of food diary action.  
I'd never ask for something I'm not up for myself, so at the bottom of this post are links my food diary for both a 'Cheat Day' and an 'Ideal Fat Burning Day'.  This 2-part post has been one of my most popular ever.
That's it for week 5 and 25 Healthification shows.
Huge thanks to some of the most awesome people leaving me reviews… like Lucy-in-OZ, V-skap, mini-fit-me1 and Kim-from-Sydney.
If you liked this you'll also like: my food diary for both a 'Cheat Day' and an 'Ideal Fat Burning Day'. 
If you're yet to share the Healthification love – just click here to zip over to iTunes and leave an honest rating and review. It'd help me out big time. With gratitude, Kate.