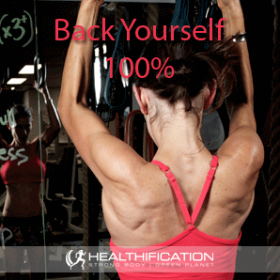 Podcast: Play in new window | Download
Subscribe: RSS
Although fat loss, or as I prefer to call it Body Gain can be confusing more than not knowing what to do the stumbling block I often see people struggling with is actually not doing what you know.
Even more so: Not doing what you know… CONSISTENTLY.
In todays show I'm answering one of the questions I regularly get asked by my one on one clients… today:
How To Be More Consistent.
Consistency is that non-sexy body gain secret. It's up there with Discipline. And being a Planner.
It's something that comes frustratingly easy with our less worthwhile habits… like reaching for another coffee when you're low on energy or flopping down in front of the TV at the end of a long day.
Today, in addition to 4 steps to be more consistent I'll also share the BELIEF to infuse each step with. Ok let's get rolling:
One: Get clear on your WHY and bolster your surroundings with reminders of your why.
Here's a personal guarantee. No matter how hugely pleasure filled the thought of attaining your why is right now, there will be a time… perhaps a week or 3 from today when the joy of rockin around in a body you love. Or buying a new outfit you feel super confident in. Or having the energy to power through a mammoth-ly effective day. Or whatever it is for YOU…there will be a day sooner than you would like when that big compelling joyful why is threatened to be engulfed by a mountain of tediously UNfun little naggingly necessary consistencies.
The temptation will be to skip a day. Just a little break. You'll get back on track tomorrow.
This is where you need that easy to access reminder of just how important your why is to you. Whether it's written, lamented and positioned in your shower / or perhaps it's the wallpaper on your mobile and desktop / or perhaps it's the written goal you finish each day with. Whatever form your why takes consider: The pleasure you stand to gain when you achieve it. Also the pain you will endure if you don't achieve it.
=> The BELIEF to infuse step one with: 100% Certainty In Your Ability To Achieve Your Goal.
Two: Start small, MANAGEABLE and with ONE THING at a time.
One of the triggers to fall off the consistency wagon – perhaps before you even start – is to start off at a level that feels daunting.
It's vital to conspire for your success. If making your lunch 5 days a week feels like a huge undertaking, how about starting with 2 days? Prepare Monday and Tuesdays lunches on Sunday afternoon and you've got 2 out of 5 days sorted.
It's a great start. It's feedback to YOU that Yes, you can stick with it. It's also highly likely that after a good start to the week you'll choose the better lunch options to buy on Wednesday… and maybe Thursday, Friday too.
=> The BELIEF to infuse step two with: Each Positive Action No Matter How Small Is Bringing You One Step Closer To Achieving Your Goal.
Three: Commit your manageable one thing to a SCHEDULE and make it a NON-NEGOTIABLE appointment with you.
There's a reason the scheduling step always surfaces in any advice on consistency – it works! To not schedule is to over estimate how focused and disciplined you are. I've shared before that I'm not a very disciplined person. The thing that works for me is I've admitted that and planned to out smart my lack of discipline.
The simple fact is it's easy to be consistent with the things that are working for you RIGHT NOW and bringing you pleasure. When the goings good of course you can be a consistency Queen…or King. However, what's important is being consistent when the results aren't showing yet. When you're extra busy. Or tired. Or stressed. Or unmotivated. At these times it's good to not listen to your feelings because your feelings might lead with rubbish like "It's pointless, I'm exhausted, what I really want to do is hit snooze and roll over for another 30 minutes of gorgeous sleep."
These are the times when you can't risk thinking "Do I exercise today or don't I?" it's simple a matter of following the schedule you planned in advance and respecting the non-negotiable appointment with you.
=> The BELIEF to infuse step three with: Your Appointments With Yourself Are At Least As Important As Those With Anyone Else.
Four: Know that a SLIP UP isn't fatal and the important thing is how quickly you launch back into your routine after those inevitable slip ups we ALL have.
Yesterday I found myself mindlessly attacking a jar of tahini… I didn't even bother with my usual self deceiving weapon of choice: the fork. This was spoon time. I'd had a huge morning, still had a lot to get done, and then received an annoying email… so the obvious answer? Stalk the fridge and see what it was ready to relinquish!
Some times consistency is what you choose after you break that "no unnecessary snacking" or "walk to work every day" habit you'd previously been so consistent with. A slip up is never the nail in consistencies coffin. You get to make a better choice with the very next decision you're faced with. And just like that, you're back on track.
=> The BELIEF to infuse step four with: You're Only Ever One Good Meal Or One Workout Away From Getting Back On Track.
To get actionable today I'd love you to think of a 5 minute habit. Of course it can be longer however I'm pretty keen to start with a really easy win. What's something that takes a mere 5 minutes each day that you would love to see the results for if you'd been consistently doing that habit for the past 12 months? 
That's your action step. You're likely already coming up with some fab 5 minute options however here are a few of mine:
5 minutes meditation / 5 minutes foam rolling / 5 minutes of gratitudes.
To finish todays show I have a quote from the Dwayne The Rock – and in my opinion The HOT – Johnson,
"Success isn't always about Greatness, it's about consistency. Consistent, hard work gains success. Greatness will come… Success isn't overnight. It's when everyday you get a little better than the day before. It all adds up."
Nice one.
That's it for me today. In the Wednesday weigh-in show I cover: Self Destruct Mode! I hope you can join me.
If you liked this you'll also like: When 'Borrowing from Tomorrow' costs you more than weight loss results.
If you're yet to share the Healthification love – just click here to zip over to iTunes and leave an honest rating and review. It'd help me out big time. With gratitude, Kate.