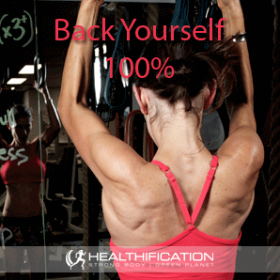 Podcast: Play in new window | Download
Subscribe: RSS
In today's show I'm focusing on the most important component when it comes to fat loss, or as I prefer to say: Body Gain.
Thankfully unlike genetics, wealth, connections and luck – YOU have 100% control when it comes to building mastery in this component of Body Gain success. It's not exercise or even food although it will make exercising and eating to gain your best body either relatively simple OR frustratingly hard.
Of course I'm talking MINDSET, specifically:
6 Ways To Master Your Mindset.
First up, we're going to conspire for your success with an easy win:
One: Smile.
It's so simple you may want to dismiss it. Please don't! 
If we were to turn a smile on it's head – to make it that grumpy, frowning person who just gave you an evil glare because you happened to be coming round a corner at the same time as them and nearly walked into them – well you know how easily that person can make you feel rubbish.
Thankfully the reverse is true. Your smile has got to be the quickest, simplest, cheapest way to make someone else feel really good. 
Once you make a habit of being a frequent and easy smiler you'll even find those walking-collision-near-miss-moments (and we all experience them in our mobile phone absorbed world) can be averted with a quick, genuine SMILE.
Two: Be Generous.
While we're talking of throwing those smiles around with generosity how about being generous with your attention too?
It's actually disappointingly rare these days to have someone's ultra focused attention. It seems the scarcity mindset has seeped into even our rationing of attention.
The good news is there are limitless other ways to cultivate abundance and be generous beyond gifts or money. How about being generous with genuine compliments? With shared knowledge? Where appropriate, with your time?
Be generous with YOU too. Especially when it comes to genuine compliments. In the same way that you'd likely bother to acknowledge your child for each small success you want them to build on… well, that same value is there for the taking so far as acknowledging your daily success's.
Three: Focus On What You Can Control.
There's nothing guaranteed to make you feel overwhelmed or fearful faster than focusing on that which is beyond your control.
In contrast, focusing on those daily success's we just covered is a sure fire way to build self certainly and master your mindset.
I know you've met that person who's constant focus is on that which is beyond their control? It eats up so much of their energy they are constantly exhausted and consequently exhausting to be around!
When you limit your focus to that which is within your control you allow yourself to actually have the energy, the bandwidth to take control… to make things happen… to:
Four: Make Decisions.
If were to think of a recent unsuccessful, unsatisfying, UNfun day – that day when you really didn't master your mindset? I'm fairly certain that is the day you didn't make many decisions.
More likely you just got swept along for the ride. You didn't feel engaged, proactive and in control. Potentially the couple of decisions you did make really weighed on your mind and if they didn't work out perfectly? Well then that likely weighed on your mind too!
Your alternative is direct your focus towards what you can control (!) AND make decisions.
They won't all be right how ever they will mean you make progress. Those mistakes that you make you'll learn from in the way that every other master of mindset before you has made mistakes and learnt from them rather than making mistakes and being held stuck by them.
Five: Raise Your Standards.
Each decision you make that doesn't pay off? It's an opportunity to take that knowledge and raise your standards next time.
To ask more of yourself next time.
So let's take steps 1 – 5 and throw them into an UNideal day to illustrate how each step will build on each other for better or worse. In this particular scenario we're not hanging with a MASTER we're learning what NOT TO DO from a MINOR… let's call her: Miss Inevitably No Ownership or Responsibility. (just for fun!)
So, it's 7.51am and Miss Inevitably No Ownership or Responsibility is flying out the door – LATE – she's slept in, she's missed breakie and now she'll undoubtedly be late for her first appointment of the day… especially since every slow-moving-Idiot-road-hogging-Garbage-truck-infuriatingly-unpredictable-Cyclist AND their imbecile friends have the audacity to be on the road today!
She probably would have made it with a smooth run. Don't they know she has somewhere important to be?
You can bet Miss Inevitably No Ownership or Responsibility isn't dishing out SMILES right now!
As she flies into the office – only 7 minutes LATE – a colleague attempts to greet her… and with more than just "Hey"… he actually looks like he wants to start a conversation. HA, fat chance there! Do people have zero perception of what busy looks like? You can be certain Miss Inevitably No Ownership or Responsibility isn't feeling GENEROUS with her attention right now!
As the day lurches from barely adequately performed task to the next… Miss Inevitably No Ownership or Responsibility is struggling to stay on top of it all. Everything is stacked against her today. Anything that can go wrong is going wrong. And with that her mind drifts to everything else that might go wrong. To everything overwhelming and fearful and BEYOND HER CONTROL.
You can imagine as Miss Inevitably No Ownership or Responsibility sits slumped over and exhausted behind her desk… staring blankly at the computer screen… and then the mounds of paper demanding attention… and then the numerous missed calls / notifications / alerts… You can imagine at this point she's not feeling at all in control. Not the slightest bit ready, willing or able to MAKE A DECISION.
So here's the thing. To take a step back from the dreary, depressing world of Miss Inevitably No Ownership or Responsibility (!) as much as each mindset step to master will build on itself for the worse… equally you only need pick one and commit to it to see how it can also build on itself for the better.
So this is where Miss Inevitably No Ownership or Responsibility can choose to: RAISE HER STANDARDS.
It might not be easy. In fact given that day it's probably going to be a little hard. However as you've likely heard me say before
Body Gain (and most things worth gaining) are simple yet not easy.
AND they are worth it. In fact, at whatever low point in Miss Inevitably No Ownership or Responsibility or in YOUR day you choose to raise your standards… well, in a way the tougher it is the better because mindset mastering step #6 is to:
Six: Challenge Yourself Every Day. 
Now your challenge may be to drag the very best you can out of a day that started off pretty damn poorly.
Or perhaps it's upping the anti on yourself within your workout?
Or maybe it's asking for help in that area of achieving your goal in which you feel stuck?
In fact let's make that the action step for today. If you have an area related to achieving your body gain goal in which you currently feel stuck please let me know in the comments below. If you feel like another aspect of todays show would be of greater value to work on then that's cool too.
To recap those 6 Ways To Master Your Mindset were:
One: Smile.
Two: Be Generous.
Three: Focus On What You Can Control.
Four: Make Decisions.
Five: Raise Your Standards.
Six: Challenge Yourself Every Day. 
That's it for this week in Healthification.
A super huge thanks to you for your support and for sharing this week with me.
If you've enjoyed this show and gotten value out of it I'd super appreciate it if you pop over to iTunes and leave me a review. It helps other people find Healthification and it really does inspire me to power on with the triweekly episodes.
If you liked this you'll also like: Designing Your Effective Motivation Strategy.
If you're yet to share the Healthification love – just click here to zip over to iTunes and leave an honest rating and review. It'd help me out big time. With gratitude, Kate.