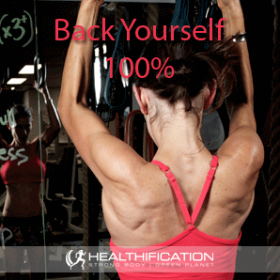 Podcast: Play in new window | Download
Subscribe: RSS
When I think of the people I most respect be it in business or in health. Or perhaps the musician, the artist or certainly that fitness model with the impossibly smokin body… the one thing that really doesn't come to mind, is BALANCE.
Today I'm weighing in on:
The Balance Myth.
I'm not sure about YOU however a lot of people I'm interacting with right now are stressed out and frazzled! I'm sure part of it is a need to disconnect from technology and reconnect to everything and everyone else… I also believe a huge component is the hulking expectation we dump on ourselves to achieve balance in every aspect of our lives.
I choose hulking with volition because expectation can be both motivating and also imposing. It's that massive heavy weight of unrealized potential that can start to get really draining.
In true Wednesday weigh-in style today is a chance to share my thoughts so fat as Body Gain and Balance… not because I believe there is one correct answer… more so to get you thinking about what might be the most correct answer for you.
I'm going to structure the show around 3 of my Go2 areas of focus when it comes to everything Body Gain.
That is FUEL or everything Food, MOVE or everything Exercise and LIFE or everything Time. Let's get rolling…
One. FUEL: Dump Balance, because there is NO room for "Everything in Moderation."
That's a myth perpetuated by the big food companies to make you believe it's ok to eat anything… no matter how fake-craving-causing-low-value-CRAP-O-LA it is. I genuinely believe there is zero room for some food in your diet.
Some food just does not deserve a look in. Or more to the point your body does not deserve to have some food inflicted on it. As I heard George Bryant say recently: "Food is Life."
Simple yet so very true right? It also begs the question: What food are you currently preparing for your family, your friends, YOURSELF?
If I listened to every time someone declared: "A dirty pie every once in a while isn't going to kill you!" or worse, "But Macca's is The Best food for a hang-over!" well, I don't know what and I really don't want to know because I'm certain it's not fit, healthy and lean!
Here are some simple guidelines to recognize food that deserves to be dumped right out of your life:
A). Would you feed it to your baby? Or even to your dog??
B). Would you like the look of it if the individual ingredients were lined up on a bench rather than disguised as a whole and packaged up all pretty and enticing?
C). Would you even recognize those ingredients?
Two. MOVE: Don't Be Held Hostage By Balance, because the average exercise plan you stick to will kick butt compared to the amazing plan you give up on!
Now a balanced approach to exercise might be 30 minutes of weights and 30 minutes of cardio several days a week as commonly prescribed when I started as a trainer. Even, as I forced myself through for a couple of years… AN HOUR OF EACH!
Vastly more effective is the FUN approach to exercise which is centered around what you actually enjoy and subsequently what you'll actually stick to… and get better at… and push yourself harder with.
So personally that looks like 4.5 hours of weights a week and 5 MINUTES of interval training a week… plus daily incidental walking.
Here are some considerations when deciding what should get the lions share of your exercise plan:
A). What have you LOVED, stuck with and seen results for in the past? NOW, priorities that. 
B). What do you know to be super high-value-effective either because it's worked for you (but it's less fun!) or because the people who have the results you're seeking priorities it? NEXT, slot a manageable non-daunting amount of that into your plan. So for me that's intervals. For you maybe it's weights?
C). What looks too good to be true / Or like a massively unsustainable commitment / Or you've tried repeatedly without success? FINALLY, give up on C!
Too good to be true, Is.
Unsustainable, Is.
Repeating the same mistakes, Is…stupid.
Three. LIFE: Recognize You'll Have Seasons Rather Than Balance, because what demands the majority of your time (and life) will change like seasons.
You can bet the fitness model with that smokin bod isn't spending as much time with her friends pre-comp as she is off season. Equally the founder who's company is taking off may not be prioritising her health as much as she'd love. Certainly the new mum's and dad's are likely giving a whole lot more of their life to bubs than to pretty much anything and everything else… or so I'm told by a fair few dear-sleep-deprived clients.
I know you've experienced this before. The new skill or relationship or passion of any kind that becomes ALL CONSUMING? It's not a bad thing.
In fact it's often a great thing as you really progress rapidly when you're able to immerse yourself deeply in something. The key, I believe is to have an awareness on where that thing or even that person that is dominating an unbalanced amount of your time and energy sits so far as your goals and even more so, your VALUES. Consider:
A). Is the current imbalance propelling you towards an important goal and / or allowing you to live aligned with your most important values?
B). Is the current imbalance creating an OPPORTUNITY COST by preventing you from achieving more important goals and / or causing you to live out of alignment with your most important values?
C). Is the timeframe / season it'll take to realize A) acceptable given the sacrifice you're making in B)?
Obviously there's no correct answer however you'll know what feels right for YOU.
For example when I was working massive hours in The Business From Hell (you may have heard of it in previous podcasts!) my efforts were based around fear, necessity and an imagined lack of options. I was not living aligned with my personal values such as Freedom, Integrity and Passion. I was also neglecting my Health and my Family.
In that scenario.. to say I was stressed out and frazzled would be an absolute understatement! My life was completely out of balance and it was to my detriment.
However, now is a very different story… as much as I regularly get told to "Get more balance" whatever that means… or even more specifically when friends and clients tell me to: work less, exercise less, eat more rubbish (not their word just my interpretation) and party more… well in this current story I feel like I'm in charge. I'm happy.
I'm out of balance by choice because I'm prioritizing the things I love… those things that will allow me to continue loving life now and in the future.
To finish todays show I don't really have a time of the actionable for you. However I would love to know where you weigh-in.
Do you believe in Balance? Do you struggle with a hulking yet self imposed expectation to achieve balance in every aspect of your life? You can let me know via the comments below.
That's it for me today. I hope you can join me for the Friday FAQ show where I cover: 6 Ways To Master Your Mindset.
If you liked this you'll also like:  Deliberately Addictive Craving Causing Food: 3 Myths.
If you're yet to share the Healthification love – just click here to zip over to iTunes and leave an honest rating and review. It'd help me out big time. With gratitude, Kate.