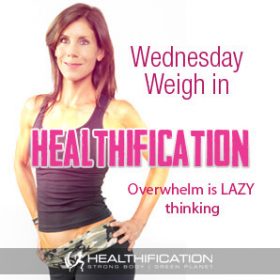 Podcast: Play in new window | Download
Subscribe: RSS
Today's show is about something I would love you to get really bad at. Today I'm weighing in on:
Overwhelm and more specifically why I believe overwhelm is lazy thinking.
I used to be pretty good at doing overwhelm and it wasn't much fun.
Admitting I will never get it all done was one of the most freeing things I ever did.
When you admit that you will never get 'caught up' or 'on top of it' or even that there will never be 'a better' or 'the right' time… that no matter how fantastically you manage your time YOU WILL NEVER GET IT ALL DONE… Then it becomes a matter of prioritising what does get done.
Of managing you not time.
If you think about it we all have the same amount of time. Overwhelm will rear it's ugly head when you fail to prioritise how you use that time.
When the stuff that is most important to you does not get done – repeatedly – that is overwhelming.
Feeling like you've been busy all day – yet not effective – is overwhelming.
Not knowing what is most important – because everything is floating chaotically around in your head however is not yet scheduled – is overwhelming.
Now before we cruise into some steps to make this actionable I have one HUGE qualifier so far as priorities.
It has the potential to halve your overwhelm in one sweet, calming swoop…
Only focus on what you can control.
The weather, the global financial situation, the way that someone else treats you are not within your control.
Yes, you can control your response and that's a whole episode of it's own however right now my invitation to you is to focus only on what you can control.  It's a lot less overwhelming.
I'm sure you've met the person who works themselves into an absolutely frenzy over something completely beyond their control and often something unlikely to ever eventuate anyway.  What an absolute waste.  If this is the state you're spending your time in even little daily tasks can seem overwhelming when added to the mountain of completely unnecessary rubbish your mind is battling to manage.
There are limitless fearful and overwhelming possibilities that could turn up in a heart beat for any of us to deal with… however, what could ever be the value on dwelling on them and feeling the pain associated with them before they actually eventuate?
You can choose your "what ifs" so choose to focus on the positive what ifs such as: what if this is easier than I thought and continues to get easier and more enjoyable each and every day.
So let's make this implementable in 3 easy steps:
Step 1. Is to prioritize what is most important to you.
I wrote a series of posts on overcoming overwhelm which I'll link to at the end of this post. For now let's just go with identifying the big rocks in your day, week, life that must get done in order for you to be happy, healthy and financially secure.
This will be different for everyone, however my top 3 are: the hours I need and want to spend on both the face to face and online side of my business, daily exercise and food preparation and sleep.
Yes friends and family are super important to me however I know if I make a habit of not prioritising sleep or food & exercisie or focused work then I spin into an ineffective little spiral of… Overwhelm.
I just work better when I eat, train and sleep well.  Maybe you need an hour a day quality time with your partner or kids to be your most happy, healthy and effective – that's great – this step is about recognizing that and prioritising it.
Step 2. Lock and load your big rocks into a schedule.
Non-negotiable yet flexible is the way I like to roll with my weekly schedule.  So for example, weights 5 days a week is non-negotiable for me and ideally that is scheduled for my first break Monday, Tuesday, Thursday, Friday and Saturday. However I'm flexible enough that if one of those is not possible I'll make it up another time… that week.
Step 3. Is to set up the systems, tactics or little mind games you play with yourself to make sticking to your schedule of big rocks happen.
How often do you chat with someone who is sooooo tired, stressed, overwhelmed and yet they allow themselves to get sucked into a myriad of non big rocks every single day. These, shall we call them little pebbles are ruling their life!
The thing is you can still fit in a lot of your little pebbles – they fill the gaps once the big rocks are in place. You consciously lock and load your big rocks (like pouring them into a bucket and then you can scatter in the little pebbles to fill in those gaps between the big rocks).
=> One of my favourite overwhelm overcoming systems is to plan my day to come the night before.  That way I have a plan to follow and I'm not tempted to get sucked into the million and one potential daily distractors.
=> A useful tactic when you're sitting staring at your 'to do list' or perhaps feeling daunted by everything involved in getting fit and healthy is to set a timer for 30 minutes and just make a start on the one most important thing.
As we've covered overwhelm will happen when you let yourself dwell on EVERYTHING so pick up your trusty timer and get going on the one next thing instead. This is basically the only way I get through a full afternoon of online work after training clients from 5.45am.  Ha, in fact my lil iPhone timer just went off then how… timely!
=> A mind game that works well for me if I'm feeling the overwhelm urge, is to remind myself that overwhelm is lazy thinking.  I really don't like lazy.  It's not something I aspire to.  Perhaps if lazy isn't super unappealing to you you could use another emotive label to help jolt you outta overwhelm and into prioritising.
Maybe that overwhelm is ineffective thinking… because it really doesn't allow you to get much done.
Or scattered thinking… because you'll just bounce from one thing to the next.
Or just dumb thinking… because, well because why would you let yourself be sucked into something so UNfun?
Todays action step involves a little drawing… nothing tricky though – just two circles – a medium sized circle inside another much larger circle.
The medium circle is for everything you CAN CONTROL. Things such as the time you go to bed and the time you get up.  Your exercise and your meal planning.  The structure and planning with which you power into your daily tasks.  The people you choose to spend your time with.
The larger circle is for everything you CANNOT CONTROL. Things that there is not point wasting energy on.  Things that once you relocate to the outta circle and stop giving energy to will leave you in a much stronger position to influence the things in your inner circle.
Now that you have your CAN's and CANNOT's so visible I'd love you to choose the ONE THING from that inner circle that will have the most impact on reducing overwhelm in your life when you focus on it.
I think this is one of the great things about getting older – I was chatting about this with a dear friend at the pub last night… when we are young we waste so much energy on that which is un-important and often beyond our control.
As I said at the top of this show it's actually freeing to just let a whole lot go – to focus on only the most important and for the most part to get pretty bad at doing overwhelm.
Tomorrow I'll be back to discuss the most important work-out of the week. And as much as it pains me to say it's not glutes… although I do have a whole lot of Booty Love to share in a future show!
If you liked this you'll also like: Smart Simple Weight Loss: Prioritise v. Overwhelm.
Thank you so much for your support! To rock even more – and share the Healthification love – just click here to zip over to iTunes and leave an honest rating and review. It'd help me out big time. With gratitude, Kate.