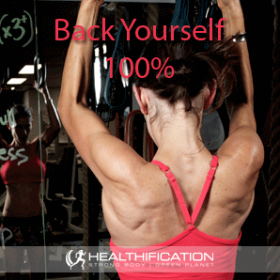 Podcast: Play in new window | Download
Subscribe: RSS
There are 4 words that fat loves to hear: I Don't Have Time.
No time all too often equals more time for you and fat.  The one meal of the day in which I most frequently see this to be the case, is Dinner.
So today's show is dedicated to Go2Dinners… And by Go2 I simply mean those quick and easy to grab solutions that are still satisfying and enjoyable.
If you think healthy takes longer or is less enjoyable I'm going to call you on that right now….as that is a belief that is just not true and is absolutely limiting.  It's a matter of finding the Go2Dinners that fit your likes and your schedule.
As you would with anything important to you, if the first attempt is a little time consuming, or expensive or doesn't taste so lovely…then take on that feedback and try again.
Once you take on the mindset of hunting for quick and healthy options it's amazing what you'll notice.
And its only getting easier.
Actually I feel a tad off mark saying healthy as you want to avoid those tricky packets that label themselves 'healthy' or 'light' and just hunt down natural and unprocessed, like our hunter gatherer ancestors did, although now you only have to venture so far as the supermarket or farmers market.
Let's build your Go2dinners in 3 easy steps:
1. Pick your 3 fav lean proteins.
Whatever yours are: mine are barramundi, salmon and eggs.
2. pick your 3 fav fibrous veg and do the same for your good fats.
So personally it's a tough call as I've gotta lot of fibrous love in my life however I'm going to say mushies, brussels and kale. And talking fat, I'm going to go with olive oil, avocado and egg yolks.
3. Now it's time to turn these favs into your Go2Dinners.
Let's throw in a couple more extra awesome considerations:
=> You can super quickly bulk up the veg in these basic meals with some ready to go helpers…. For example premixed green leaves, undressed coleslaw or mixed frozen veg.  Any are a little boring on their own however all are totally doable mixed with your favs of choice.
=> If you can make these meals on mass once a week thats even better.
=> If you can make double and have extra for lunch tomorrow that's gold too.
Or as a dear friend did for me recently make double at lunch so you've got dinner ready to throw together when you know you're going to be getting in late. This night I was staying at my friends house and we were planning a few drinks out… Now from previous times where my friend has stayed at my house, she knows I'm an absolute demolishing machine the second we call it game over for drinkies and head home.  Greasy take-out is not an option, nor is toast and neither is skipping dinner… So she had delicious leftover salad, dressed with balsamic and finished with ricotta which she honestly had served in front of me within 60 seconds of us getting home.  That's gotta be true friendship right?
So here's how my example looks: 
=> Barramundi with kale crisps cooked in a teaspoon of olive oil and some mixed frozen veg with some pesto stirred though.
=> Salmon with Brussel chips and a quick salad of green leaves, balsamic and avocado.
=> Mushroom and coleslaw mix frittata – double size with extra for lunch tomorrow. It sounds weird, however my coleslaw mix has, red and white cabbage, carrot, spring onion and broccoli stems which all work super well in a lazy omelette or frittata.
These are all meals that can be thrown together when you get home late and tired and running on close to zero so far as your daily discipline quota.  Yes, I absolutely believe we all have a daily discipline quota and I know mine is near all used up by dinner time. Discipline warrants its own show and it'll get one next week.
Let's finish with 2 positive contraints to make sticking to your Go2Dinners as easy as possible on you.
First. Keep some awesome options in your home at all times so you're never caught short and feel forced to go the toast or cereal dinner option.  Some eggs and frozen mixed veg are a good start.
Second. Ditch the nutritionally void options from your home and consider freezing your bread if toast is your current Go2dinner….then it takes the same time to defrost some meat or veg as it does that bread right, or close enough.
And that brings us to action step time: one Go2Dinner is a good start so let's make that happen today.  What is your one fav Protein, one fav fibrous veg and one fav good fat and how can you throw them into the dinner that muscles out that old toast or take-out or other no time for dinner AND more time for fat habit?
I'd love to hear your Go2Dinner, the less cooking the better – not that I'm a raw food girl, just I'm fairly lazy in the kitchen! Please share the Go2Dinner love in the comments below.
For simple yet delicious recipes please check out: show #107 Lean, Clean, Dinners / show # 102 Lean, Clean, Lunches / show # 097 Lean, Clean, Breakfasts.
If you liked this you'll also like: Setting yourself up to dominate the fat loss discipline game.
Thank you so much for your support! To rock even more – and share the Healthification love – just click here to zip over to iTunes and leave an honest rating and review. It'd help me out big time. With gratitude, Kate.