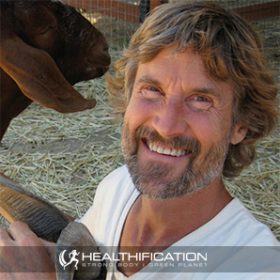 Podcast: Play in new window | Download
Subscribe: RSS
I'm republishing todays show because it's legit one of my all time favs though sadly it's flown a little under the radar with downloads… so far!
As you'll already know if you're a fan of Dr Tuttle, he is incredibly calm and wise. The type of person it's an absolute joy to spend time with even if that's only across the pod waves!
This round one with Dr Tuttle flew by and I'm excited to welcome him back on the podcast again in 2022. For now please enjoy my conversation with the 40+ year vegan who's energy, attitude and open heartened'ness I'll become doing my very best to model (at least a little bit) this holiday season.
Here are the show notes for the original E721: Dr Will Tuttle and The World Peace Diet. 
In the interview we cover:
Dr. Tuttle's becoming vegan story. 
Learnings from Dr. Tuttle's time as a Zen monk.
The cultural messages that we consume with our daily meals. 
Every meal is teaching us disconnectedness. 
How the violence on our plates boomerangs in remarkable ways.
What does Dr. Tuttle mean by "the domination of the feminine" and how is that related to our food choices?
The intersection of social justice, animal liberation, and environmental, health, spiritual, and peace issues.
If you too are inspired to further explore the work of Dr Tuttle I have you linked to his abundance of resources below.
Purchase The World Peace Diet via Amazon:
Connect with Dr Tuttle via www.worldpeacediet.com
Connect with Dr Tuttle across the socials: Twitter | YouTube
Connect with World Peace Diet across the socials: Facebook
That's it for this week in Healthification. I have so many amazing interviews coming up. It's somewhat blowing my mind that individuals like Dr Tuttle keep agreeing to come chat with me about how we can create a healthy, happy vegan world! So if you're yet to subscribe wherever you're listening please do and equally awesome, please consider sharing the show with someone you think would find value in it. Big thanks to YOU for sharing this week with me. You rock and I appreciate your support!
The Healthification podcast is proudly bought to you by my FREE 'Easy Vegan' plan. It took me 25 years to transition from a meat eater to a happy, healthy Vegan! You can do it in just 3 days with my simplified 'easy vegan' plan!  Get the fit, strong, and healthy plant based body you deserve… while avoiding ALL the mistakes I made along the way!
To learn more check out: strongbodygreenplanet.com
Till next time, remember Creating a body and life you love is Freedom. (If this ex-carb queen, non genetically gifted, naturally uncoordinated vegan chick can do it – so can YOU!!!)
If you liked "World Peace Begins On Our Plates with Dr Will Tuttle. (Encore Episode)" you'll also like E653: Debunking Religious Justifications To Eat Animals: Main Street Vegan Is Introducing Vegan Living To People Of Faith.
If you liked "World Peace Begins On Our Plates with Dr Will Tuttle. (Encore Episode)" you'll also like Dr Sailesh Rao, Healing The Earth's Climate and Creating A Vegan World 2026.