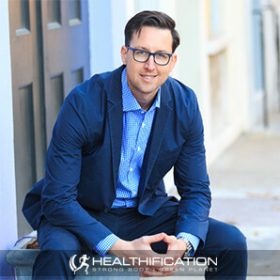 Podcast: Play in new window | Download
Subscribe: RSS
I'm republishing todays show even though it's the ALL TIME MOST DOWNLOADED of all Healthification episodes because I believe Dr. Will Bulsiewicz aka The Gut Health MD, is the perfect man to help launch you into a happy, gut healthy new year! 
Also, gut health is surprisingly fascinating and potentially complicated. When I first devoured Dr B's book Fiber Fueled, there was a lot I implemented and equally a lot I could now return to and refine as like everything nutrition and health it's going to be a constantly evolving process.
Importantly Dr B's online 21 day challenge Microbiome 21 is launching soon in Jan 2022. The tag: Reset your gut, Restore your health and Revitalise your routine. Sounds good to me.
Here are the show notes for the original E686: Dr. Will Bulsiewicz and How To Become Gut Healthy Through A Plant Based, Fiber Rich Diet.
In the interview we cover:
Dr B share's a little of how he used to eat and what prompted him to choose this lifestyle transformation.
Dr B gives us some definitions that will be helpful throughout this conversation into exciting yet perhaps new territory: Gut microbiota, Microbiome, Prebiotics, Probiotics, Postbiotics and Short-chain fatty acids (SCFAs).
We cover a couple of Myths. Myth #1: All fiber is the same, and all you have to do is count grams and Myth #2: That fiber just passes through us.
Microbiota is intertwined with all five essential elements of human health. Dr B shares the five essential elements: immunity, metabolism, hormonal balance, cognition, gene expression and discuss's how important our gut microbiota is in helping things run smoothly.
Dr B shines a light on the vital role fiber plays in weight loss and maintaining a healthy weight.
We discuss how the gut microbiome can impact anxiety and depression.
Dr B covers the ground-breaking study by Drs. Lawrence David and Peter Turnbaugh, where a group of people cycled between a completely "plant-based diet," which was rich in grains, legumes, fruits, and vegetables, and an "animal-based diet," which was composed of meats, eggs, and cheeses. We discuss what happened?
We talk about F GOALS – Dr B's favourite fiber fueled foods. It's an acronym! I LOVE a good acronym.
F: Fruit & Fermented
G: Greens & Grains
O: Omega-3 Super Seeds
A: Aromatics (onions, garlic)
L: Legumes
S: Sulforaphane (broccoli sprouts and other cruciferous veggies) '
Finally, the plant foods we need the most to get our gut stronger are also the same foods that cause digestive distress in people with a damaged gut. It's important to start low and go slow.
I always come away from these conversations with #plantstrong docs so hopeful. The evidence to support a whole food plant based lifestyle is abundant. It has been for years… even decades.  It should be a non-negotiable, no brainer and yet confusing and conflicting advice hyping fad flesh focused diets still manage to push their profit driven agenda's.
It's vital each of us as individuals do all we can to spread the #plantstrong #fiberfueled love.
I'll continue to drop the vegan #truthbombs too.
Connect with Dr B across the socials via TheGutHealthMD on both Facebook and Instagram.
Check out Dr B's main website: https://theplantfedgut.com
Order Fiber Fueled from a local book store:
Order Fiber Fueled from Barnes and Noble:
Order Fiber Fueled kindle version (Aus):
Finally check out Dr B's online course LIVE SOON:
That's it for this week in Healthification. Huge thanks to YOU for sharing this week with me. If you've enjoyed this show and gotten value out of it I'd super appreciate it if you pop over to iTunes or wherever you listen to the show and leave me a review.
Just as awesomely, if you know someone who would find value in this show – please share it with them. That'd rock.
The Healthification podcast is proudly bought to you by my FREE 'Easy Vegan' plan. It took me 25 years to transition from a meat eater to a happy, healthy Vegan! You can do it in just 3 days with my simplified 'easy vegan' plan!  Get the fit, strong, and healthy plant based body you deserve… while avoiding ALL the mistakes I made along the way!
To learn more check out: strongbodygreenplanet.com
Till next time, remember Creating a body and life you love is Freedom. (If this ex-refined-carb queen, non genetically gifted, naturally uncoordinated vegan chick can do it – so can YOU!!!)
If you liked "The Gut Health MD and How To Reset Your Gut and Restore Your Health with Plant Based Foods. (Encore Episode)" you'll also like A Happier Gut and A Healthier You with Gastroenterologist Dr Alan Desmond and The Plant-Based Diet Revolution.
If you liked "The Gut Health MD and How To Reset Your Gut and Restore Your Health with Plant Based Foods. (Encore Episode)" you'll also like E664: Dr Michael Greger and How Not To Diet, The Ultimate Weight Loss Guide.