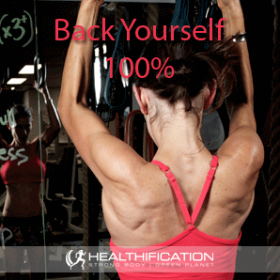 Podcast: Play in new window | Download
Subscribe: RSS
That moment when jumping on your horse bareback, without a bridle, in a muddy paddock becomes LESS-cruising-along-together-fun and MORE-outta-control-flat-tack-towards-concrete-he'll-surely-slip-on-terrifying!
Or possibly when the daggy boys having a sleep-over across the street call the Police – because they actually believe that hand at their window is an intruder and not a few mischievous teenage chicks trying to freak them out…
HINDSIGHT!
A girlfriend described it as Dr Hindsight recently. I hadn't heard it before however I like it.
I guess it means the Dr would've prescribed a different course of action?
Although I'm not so big on regrets and I do see failure as feedback and never final… sometimes there's value in taking the advice of Dr Hindsight. Especially if you can learn from your – or my past mistakes and not have to suffer them again. In today's show I'm weighing-in on:
Dr Hindsight.
I'm going to structure todays Body Gaining hindsight show around the format of STOP, START, CONTINUE.
You may have heard me talk about this format before – it's just a simple starting point that I first heard of through John McGrath. I've previously used it as a way to magic up some time. So in that regard you'd look at say '3' things to Stop Doing, '3' things to Start Doing and '3' things to Continue Doing to utilise your time more effectively. It can also be a way of structuring the habits that help you achieve your body gain goal. I wrote a whole post on that: Stop, Start, Continue Action Based Goals.
Back to todays focus: STOP, START, CONTINUE and Dr Hindsight. 
One: STOP.
Stop with that thing that isn't bringing out the best in you.
Like a bad relationship you want to make work… some actions, habits, people just bring out the worst in you. As compelling as your end result is you've got to be ok with the journey as well.
One huge misconception with fat loss or body gain is that you have to suffer through misery to get your goal and then once you're there you can resort to your old habits and get to keep your goal. There's good news and bad news with this one.
The good news: You DON'T have to suffer to get there.
The bad news: You DO have to maintain those habits that got you there.
Here are some examples:
=> Stop with the intermittent fasting if it just makes you a moody creature as it did me.
=> Stop with that class or even gym routine you just absolutely hate. Yes I did say that! Certainly don't stop the exercise however if it's as hateful to you as spin, or step or swimming would be to me… if you dread it before you go and don't enjoy it at all once you start and it's just not getting more fun even as you improve then STOP IT and hunt down that exercise option that is or at least can be more enjoyable. That exercise that can bring out the best in you.
=> Stop with the meal replacement shakes or detox or low-fat-low-calorie-processed-crap-o-la-packaged-dinners that bring you NO joy. The longer you keep with the restriction the more you're going to rebel when you finish your allotted sentence. So STOP NOW. You don't have to suffer through boring, bland and unsatisfying meals.
Two: START.
Start at a more manageable level.
You've been there too right? Whether it's the hour of exercise every day… the 20 minutes of guided meditation every day of perhaps the complete overhaul of your eating that is just too much to stick with consistently.
When I think of any great habit I've managed to keep, I started small and constantly upgraded.
Here are some examples:
=> Start with just 5 minutes of that habit that you've struggled to keep previously. Every thing counts. Not just for the benefit in that 5 minutes. More so for the benefit in the launching pad it's giving you to build on.
=> Start with one impactful nutritional upgrade and build on it. Perhaps cutting refined carbs Monday – Friday.
=> Start with getting up just 5 minutes early… which also means starting with getting to bed just 5 minutes earlier.
Three: CONTINUE.
Continue what's working AND what's worked in the past.
Perhaps you have some obvious things that are working right now and as such of course you'll continue with them. However, I'm also guessing there are some habits that got you results in the past and somehow you've let them go?
A good habit is often hard to create and easy to keep… where as a bad habit is likely easy to create and hard (on your health!) to keep… your best source of good health habits is to revisit what's worked for you in the past.
Here are some examples:
=> Continue tracking your progress… whether that's with a food diary, a weekly weigh-in, or even literally just tracking on a calendar that YES, today you exercised and today you ate great planned meals.
=> Continue cooking meals on mass on the weekend.
=> Continue walking to work… or alcohol free Monday-Thursday… or anything else that once fitted easily and sustainably into your lifestyle and can again.
To get actionable today, let's go with one from each.
One Stop, one Start and one Continue to build into your weekly routine.
That's it for me today. Thanks so very much for spending this time with me. I hope you can join me for the Friday show where I'm covering a listener FAQ: Top 20 Protein Rich Snack Ideas.
If you liked this you'll also like: Debilitating shyness, big butt serenades, gym floor humiliation and the biz from hell… 4 weight loss lessons.
If you're yet to share the Healthification love – just click here to zip over to iTunes and leave an honest rating and review. It'd help me out big time. With gratitude, Kate.