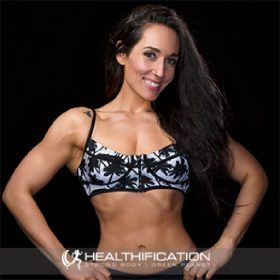 Podcast: Play in new window | Download
Subscribe: RSS
Todays conversation with vegan figure competitor and coach Dani Taylor is about taking control of your health and creating a fit, strong and sustainable body following a vegan lifestyle.
For most of us that won't involve competing! Even for those disciplined (and thick skinned) athletes who do step on stage as Dani reveals the impressive physique they achieve is not healthy and not sustainable.
Dani is head coach at VeganProteins.com which she co-founded with her husband Giacomo who was on E758. This is a fun and open conversation. A bit of a behind the scenes on the fitness industry and how it does not necessary nurture positive body image.
We discuss Dani's huge health transformation from an obese child who thought she was at the mercy of her genetics to losing 80 pounds and gaining both a love for lifting and a supportive relationship with food and her body.
Please enjoy this conversation about Body Image and Mental Health with Vegan Figure Competitor Dani Taylor.
In this conversation we cover:
Dani's huge health transformation and becoming vegan story. 
Dani reveals how (sadly) "the world seemed to value me more in a smaller body."
The confidence building value of lifting weights for women.
Body image and mental health.
The mental health hazards of being a figure competitor.
Dani'a top tips for healthy vegan fat loss.
Motivation verses discipline.
If you feel inspired to step onto (or back onto!) the weights floor that's amazing.
Of course I'm a little biased and I guess the best form of exercise is that which you can learn to enjoy and in turn the one you stick to however bang for your buck body AND CONFIDENCE transforming number one is certainly lifting weights.
The power to choose my curves got me into the gym – and onto the wrights floor over 25 years ago – and the self confidence and strength it's given me has kept me in love with lifting.
Take Dani's advice and: Don't wait for motivation to strike!
Take action and if you need some help reach out and ask for it. You'll find most people who are now at home in the gym still very vividly remember however intimidating it can be – myself 100% included – and are happy to share our learnings and to make you feel welcome.
On that note, to connect with Dani online I have you all linked up below.
Connect with Dani via VeganProteins.com and VeganStrong.com and all kinds of free resources about living a vegan lifestyle.
Connect with the Dani across the socials: YouTube | Instagram | Facebook | Twitter
Listen to Muscles by Brussels Podcast:
That's it for this week in Healthification. If you're yet to subscribe wherever you're listening please do and equally awesome, please consider sharing the show with someone you think would find value in it. Big thanks to YOU for sharing this week with me.
The Healthification podcast is proudly bought to you by my FREE 'Easy Vegan' plan. It took me 25 years to transition from a meat eater to a happy, healthy Vegan! You can do it in just 3 days with my simplified 'easy vegan' plan!  Get the fit, strong, and healthy plant based body you deserve… while avoiding ALL the mistakes I made along the way!
To learn more check out: strongbodygreenplanet.com
Till next time, remember Creating a body and life you love is Freedom. (If this ex-refined-carb queen, non genetically gifted, naturally uncoordinated vegan chick can do it – so can YOU!!!)
If you liked "Body Image and Mental Health with Vegan Figure Competitor Dani Taylor." you'll also like Hench Herbivore, Ex-Vegans and Being On The Right Side Of History.
If you liked "Body Image and Mental Health with Vegan Figure Competitor Dani Taylor." you'll also like E644: Torre Washington and Thriving On Plants as a Vegan Bodybuilder.
If you liked "Body Image and Mental Health with Vegan Figure Competitor Dani Taylor." you'll also like Gaining 100 Pounds Of Vegan Muscle with Vegan Bodybuilder Robert Cheeke.