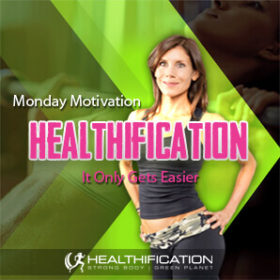 Podcast: Play in new window | Download
Subscribe: RSS
Todays show is a shout out to your first job.
Unless your first job was something you were naturally skilled at. Something that came easy. If that's the case then let's instead shout out to that habit or skill or 2nd, 3rd, 4th job (!) that didn't come easily yet did get easier.
In todays show:
It Only Gets Easier.
For fun I'm going to structure 'It Only Gets Easier' around 3 jobs and a couple of lessons for each job.
ONE: My first job was as a waitress / bar girl in an Italian Silver Service Restaurant.
I was far from naturally skilled. In fact 18 year old Kate was painfully shy and somewhat unco-ordinated. I've gotten over the shy bit.
When something is out of your comfort zone, like interacting with the advertising executives, politicians and minor celebrities who'd frequent the establishment was for me. And possibly even more so when something has the huge potential for extreme humiliation like when I dumped a couple of schooners of beer over the advertising execs…
The thing to remember – and I will make this applicable to your body gain goal – that thing to remember is: It only gets easier.
=> Perhaps stepping onto the weights floor is out of your comfort zone?
In show 039 I cover 6 Reasons To Not Be Scared Or The Weights Floor.
My fav is, reason six: Getting out of your comfort zone is a valuable life skill.
There's something hugely satisfying in getting awesome at – or even simply competent and comfortable with – something that was initially scary or uncomfortable. Growth and success happen outside your comfort zone. The more you practice stepping outside your limiting and smothering safe old comfort zone the better you'll get at stepping out… and stepping UP.
=> Or maybe you see the gym as a scene ripe for extreme humiliation scenarios?
The thing is humiliation can happen anywhere!
It's absolutely never a reason to stop you doing something valuable. As I've shared before I fell off the treadmill my second week as a personal trainer. It was certainly a jolt to the ego… and although I'm not going to say, just fall off the treadmill more regularly and it'll get easier (!) I do believe it gets easier to not care quite so much what other people think.
Even to get over your ego a little bit.
As I share in show 039 most people at the gym are so involved in themselves they won't notice what you're doing at all. And if they do? The majority of people noticing you're new to the weights floor or struggling to adjust that bench or whatever it may be for you… are likely going to be thinking "Good on you – stick with it – it only gets easier!"
At least that's what I'm going to be thinking.
TWO: My second job was in fundraising for charity.
I remember the sheer terror of the interview process when it was announced we'd be roll playing! Perhaps my worst fear – certainly more daunting than the thought of giving a speech – was acting out a role play.
The thing that got me to step up and embrace the UNjoy of the role play (!) was to focus on the pleasure of the result (getting the job) rather than the pain of the process.
That's pretty hugely applicable to achieving your body gain goal.
=> Perhaps meal planning or skipping dessert or resisting seconds is a pain of the process for you? You'll find those actions will only get easier when you focus instead on the result they are propelling you towards.
The other hugely applicable lesson that job taught me was persistence with positive expectation in the face of rejection.
Now for me at 21 rejection was in the form of people on the street who didn't want to be engaged in conversations about animal welfare. Now I'm one of those people not wanting to stop and chat! I'm super happy to donate however I want to do it regularly of my own instigation not randomly. 18 years ago I initially found it disheartening being rejected again and Again and AGAIN.
=> Maybe your possibly disheartening rejection is seeing that number on the scales stay the same?
For a start, as I share is show #028 too strong a reliance on that number on the scales can be a dangerous game to play. When you are persistent in taking the right actions the results will show.
In fact I would always recommend tracking the right actions rather than stalking the results because that means that every day you take those right actions you get to celebrate a mini win or reference point for success regardless of what that pesky number on the scale is saying.
THREE: My first job in personal training was a brilliant training ground and also had it's fair share of initiation.
=> I believe there's a sort of initiation in body gain too. A sort of earning your stripes. Doing your time. In part you're teaching your body it can trust you. More on that later. Equally there's the simple fact is that maintenance requires less work than getting that body.
Like the less friendly trainers in that first P.T. job, testing out the new girl and like the cheeky kitchen boys in my first ever job who'd sing "I Like Big Butts" as I exited the kitchen… to a degree staying true to course without being overly rattled and even better with a smile whether that's sticking to the job of personal training or as a bar girl OR whether it's staying true to course following that primarily one ingredient meal plan and exercise plan will move you beyond the initial period of initiation.
It'll even move you to a point where your body trusts that you're going to feed it. And move it. And rest it.
Because that's what you've being doing. It won't slam on the fat loss breaks and default to starvation mode protocol of storing every thing you do eat because you skipped ONE meal – because it knows skipping a meal is NOT your normal approach.
I do get that might sound a little loopy. I really do think of my body as a partner to be trusted and respected rather than an opponent to be beaten into submission. Regardless, that's got to sound like a more fun approach right?
=> Perhaps your training ground so far as the body gain game is finding the meals and the exercise that work for you? In the same way that a new skill wasn't easy the first time you tried it you've got to be patient and consistent with your eating and exercising actions and remind yourself – from past experience – It Only Gets Easier!
My first P.T. job required 6am starts and as such 4.45am wake ups. That's a sleep in to me now however after evening work in fundraising it was a bit of a shock lessened only slightly by my new found LOVE of coffee.
In the same way that I found getting to bed earlier, packing my bag and prepping my breakfast the night before and YES, that new found obsession with liquid gold meant 4.45am wakes only got easier… you'll find your tactics.
In fact let's make that the time of the actionable today.
To get specific,
One: What is a component of achieving your body gain goal that you'd love to Get Easier?
Two: What are 3 steps you can take to make it easier?
Three: How can you schedule these 3 steps to ensure they happen and that they become a habit?
So for example,
I calculated 7 hours before my ideal time to get up and committed to getting to bed by that time. If you can't just do it – set a Get To Bed alarm (and allow enough getting ready for bed time from when your Get To Bed alarm sounds!) Now when that get to bed alarm sounds it also might mean pack your bag and prep your breakie.
It's just a matter of taking a few minutes in advance of the early am rush to find what works for you.
That's it for me today. Healthification is proudly bought to you by The Body Gain Lifestyle – an online self-paced course, community and coaching program to Create A Fit, Lean, Healthy Body That's Sustainable For You And The Planet. I've got your food and your exercise covered. I'll tell you exactly what to eat, how to exercise and when… However, If your MIND is stuck you're wasting your time moving your body.
To learn more simple cruise to strongbodygreenplanet.com/bodygainlifestyle
I'll be back on Friday with the weekly wrap.
If you liked this you'll also like: Bullet-proof Your Motivation To Exercise.
If you're yet to share the Healthification love – just click here to zip over to iTunes and leave an honest rating and review. It'd help me out big time. With gratitude, Kate.