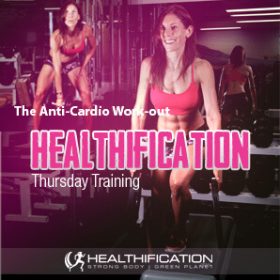 Podcast: Play in new window | Download
Subscribe: RSS
In todays show I want to share a new definition for cardio.
Advanced warning: if you're a cardio queen you may not love it… however if your ideal body is fit, strong and lean and if you find 'cardio land' super tedious and highly UN-fun then this is the show for YOU!
I do have a work-out for you too – it's: The Anti-Cardio Work-out.
First though let's roll with my definition or more so, acronym:
C.ARB OVER-RE-FUEL.
This leads to the infamous, fitter and fatter.
You've slogged away in moderate intensity cardio hell for 45 minutes+ only to find your exhausted body demands a carb re-fuel for all it's hard work. Except it's the carb over-re-fuel.
It's insanely easy to eat more than you just worked off… and that is why instead of suffering from Cardio Carb-Over-Re-Fuel I strongly suggest you divert that cardio to time to time invested instead planning your awesome meals for the week.
A. MASSIVE TIME & ENERGY EAT.
"I have excess time and energy to squander" is something no client has ever said to me.
However moderate intensity cardio does just that. It eats both for minimal return. As we cover in 'I' all you get for your cardio buck is a return on that time you spent treadmill trudging at best – often less as indicated by the aforementioned 'C' point.
If lifting weights is THE MOST EFFECTIVE WAY TO BURN FAT (and it is, I cover why in the 009 show) and if it's possible to perform your weight training with a cardio effect for what purpose would you ever guzzle time unnecessarily stuck in cardio land?
R.EPETITIVE.
Boredom can kill off your desire to continue with your exercise program quicker than you can say corn-thins-with-tomato-tuna-and-cottage-cheese… Beyond the boredom factor is the strain performing the same movement time and time again – potentially for hours a week can place on your joints. You would never do 45 minutes of push ups right? Even if you crank out as many push ups as you can today then you're going to give your chest a rest – at least a day, ideally a couple of days recovery and rebuilding time for those muscles before your put them under stress again. Yet those old cardio machines get hit day after day after repetitive day…
D.ULL.
So we've covered the boredom factor however a less talked about draw-back to cardio is the way those machines lull you into that same old dull routine you've been doing for months. It's a chance to just zone out and not think right?
Wrong! Exercise is precious you time – time to not think about stress in your life however not because you're vague'ing out – rather because you're pushing yourself hard enough to not be able to think of anything else!  It's an opportunity to push yourself to that next level, to squeeze as much as you can out of yourself… not to just meander through the motions.
I.NSIGNIFICANT AFTER BURN.
One of the huge differences between weight and cardio is the amount of fat you burn after you stop exercising. The after-burn, EPOC or excess post-exercise oxygen consumption. For weights your metabolism will stay elevated for up to 24 hours. For cardio, you miss out on that precious after-burn. Unless of course it's short high intensity interval training – which rocks – and which you can only do for say a few minutes up to around 20 minutes max.
To learn more about the only cardio I recommend check out show #079.
O.NGOING ENERGY OUT v ENERGY IN TRAP. 
Cardio starts and finishes with the fitter and fatter trap. It's that constant battle of excessive cardio exercising perhaps to account for that excessive weekend of eating an drinking… that leads to a big carb meal because your body is telling you it needs it and you feel like you deserve it… that then leads to excessive cardio exercising… You get my drift right?
I spent years on this cycle. I was pretty fit. So if that's your goal – go for it! However if you want to be fit, strong, lean and not spends hours and hours a week in the land of tedious cardio then switch your moderate intensity cardio sessions for weights sessions. Ideally 2-4 a week. Up to 5-6 if you're super into it and split your program.
What do you reckon – are we on the same page?
If you're after a full body work-out that I call weights that I guarantee will get you sweatier and fitter than any moderate intensity cardio I've got you covered with this work-out. It's one that my X-Trainers faced this past Saturday morning. So it's mostly weights – performed with minimal rest so that your heart rate gets nice and high, you 'get your sweat on' AND you also get the lean muscle building and fat torching benefits of lifting weights.
Onwards with The Anti-Cardio Work-out:
The warm-up or Part A) is a decreased pyramid of a Squat movement followed by another movement. so…
50 body-weight squats.
50 war machine (or TRX) pulls.
*If you have access to dumbbells but not a TRX or similar your pull movement can absolutely become renegade rows.
40 dumbbell squats.
40 push ups.
30 sumo high pull squats.
30 switch lunges.
20 sumo in out jump squats. 
20 burpees.
10 squat press's.
10 VOMITS.
Part B) is for time not repetitions. There are 2 pairs of exercises (so '4' exercises in total). Each exercise is performed for 45 seconds on and then 15 seconds rest before swapping to the other exercise in the pair. You get 2 rounds at each pair.
So 2 go's at each of the 4 exercises.
B1) Kettle-bell swing + Medicine ball slam and push up.
B2) Elevated reverse crunch + Mountain climber.
Part C) is a circuit for time. There are '4' exercises:
C1) Wide grip supported row.
C2) Swiss ball hamstring curl.
C3) Reverse grip lat pull-down.
C4) Bench tricep dip.
You preform each exercise for 45 seconds then do 30 seconds of sumo in out jump squats then do 15 seconds of mountain climbers perform moving on to the next exercise in the circuit. Complete 2 laps of the circuit.
*If you have access to dumbbells but not gym machines your supported row and lat pull down movements can absolutely become dumbbell bent over rows and renegade rows.
For the fast (fit!) mover in this 45-60 minute routine I also have a FINISHER…
Part D) finishes with '3' exercises performed circuit style each for 16 repetitions, then 12, then 8.
D1) Kettle-bell swing.
D2) Walking-prone push up.
D3) Side plank oblique elbow to knee crunch with hip dip and toe tap. (16 is '8' repetitions each side for this – I'm not that cruel!)
To get actionable today, it's got to be about trying the work-out right?
As always if you're not sure of any of the movements – or if you need a replacement due to an injury or a lack of equipment please let me know via the comments below.
That's it for me today. Thanks so very for joining me. I appreciate it. I'll be back tomorrow with the Friday FAQ show and how to negotiate those times you're feeling: Too Tired To Work-out.
If you liked this you'll also like: Moves to choose your curves: 'Cardio-day' is my shortest work-out of the week.
If you're yet to share the Healthification love – just click here to zip over to iTunes and leave an honest rating and review. It'd help me out big time. With gratitude, Kate.