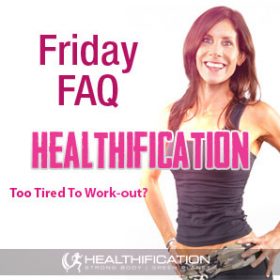 Podcast: Play in new window | Download
Subscribe: RSS
The difference between legitimately too tired to work-out and the reoccurring excuse that prevents too many people from ever achieving their weight loss or body gain goal?
It's a good question. One I've spent a fair bit of time mulling over as "I'm tired" is something I hear A LOT of at the gym. In todays FAQ show I'm covering how to negotiate those times you're feeling: Too Tired To Work-out.
Let's pre-frame today's show with the two non-negotiable necessities of enough high quality sleep and high quality fuel.
I would never suggest simply hardening up and muscling through your work-out when you've been burning the candle with late nights and fuelling your body rubbish for an extended period of time.
First step is always to get the systems in place that give your body every opportunity to start each day fresh. I covered that in the 005 show: How to start an ideal fat burning day.
Today's show is more the short term fix for that tired day that does still pop up for us all from time to time.
So. Is it healthy to train when you're EXHAUSTED?
Well it comes down to YOUR definition of exhausted. I have a client who regularly tells me he's exhausted after a tough massage yesterday.
And he wasn't the one giving the massage…
To me, exhausted can be classified in 3 specific ways:
A). It's when you are walking home from a long shift or late night and are very seriously tempted to just curl up in the gutter and go to sleep. Yep, right there on the spot. In the rain. With passing cars. Surrounded by what ever muck happens to be flowing down that gutter.
B). Used to happen to me over the Christmas period in my first job as the piano bar chick in a silver service Italian Restaurant… It'd be the middle of the night and I'd be curled up an exhausted wreck in bed when a group of business men would walk into my bedroom, "Gentlemen. Really? You want another drink??" I'd say as I actually got out of bed to take their orders. And then I'd realise I was dreaming. I was at home. There were no Glenmorangie or Glenfiddich guzzling gentlemen. I could go back to sleep before heading into work tomorrow evening to face the party season onslaught all over again!
C). Slightly less extreme though still a fair measure of exhausted… Your favourite store has a 75% off sale today. And today only. Would you be able to make it – or are you really too exhausted?
Ok, so if you're NOT that exhausted?
Here are 4 questions to consider before you skip a scheduled exercise session:
Will I regret this decision?
It's rare right? Very occasionally I think I'm a high chance of falling off the treadmill (again!) if I attempt intervals. It's not a reason to ditch exercise – it can be a reason to adjust my program away from a moving treadmill belt though.
Do I have a legitimate reason?
Your call here. You know when you're leading with lazy rather than legit though.
I'll often ask myself: "What would (insert the person you respect with the results you're seeking) do?"
How will I make up for this decision?
With a make up work-out – this week – rather than less food. Food should be the fuel your body needs to run at it's best not a negotiating tool to either deprive yourself of or to force you to exercise.
What can I do to make my work-out more appealing/achievable?
Ideally you still do it. Even if it's shorter or less intense. The work-out you skip today will be even easier to skip tomorrow. It's a cycle best avoided when ever possible.
Still on the fence? …drifting towards the promise of more snuggly snooze time or that comfy couch, trashy T.V. and comfort food?
Wait! Let's go with YES! Here are 4 steps to get your work-out groove on:
One: Get Your Mind On Side.
It's very rare that your body won't come to the party when your get your mind on side. Equally you can talk yourself out of anything. Think of your WHY. Think of how good – how energised – you always feel after. Think of all the other people who are making it happen. Listen to the song that pumps you up.
Two: Set The Bar A Little Lower.
Anything beats nothing. Not every day needs to be your absolute personal best effort. Sometimes it's about sticking to the routine. Consistency. Proving to YOU that you're willing to keep this commitment to yourself and to your health.
Make it easy for yourself to succeed by deciding on the work-out that is a little less daunting and a little more appealing.
Three: Give It Just 5 Minutes.
You can last 5 minutes. That's all you need to commit to. Give it a go and if you don't come good you can stop… however it's very likely you'll want to get that full work-out done once you make a start. Motion creates emotion. Moving gives you energy to move. Test it and see.
Four: Track How Your Feel After.
Just as important, remember what the outcome was of pushing through "I'm tired"…
Did you complete your full work-out and feel so much better for it?
Or, Was the entire day a right-off because you used every last scrape of energy for a lack-luster work-out and then achieved nothing else except regret your exercise session all day?
Either outcome is valuable feedback to help you make the choice that is best for you and your body next time.
To get actionable today, I'd love you to take my 4 steps for a spin next time you feel too tired to work-out.
I'd also love to hear how you go? It worked for me on Monday. I needed to listen to 'Till I Collapse' and 'Lose Yourself' on repeat my entire walk to work… and allow myself to skip my interval training (I'll do it Thursday) however the outcome was a good weights session that left me feeling great and set me up for a productive day.
That brings us to the end of this week in Healthification.
Super huge thanks to you for your support and for sharing this week with me.
If you liked this you'll also like: Reckless Weekend Eating: How Much Is It Costing YOU?
If you're yet to share the Healthification love – just click here to zip over to iTunes and leave an honest rating and review. It'd help me out big time. With gratitude, Kate.