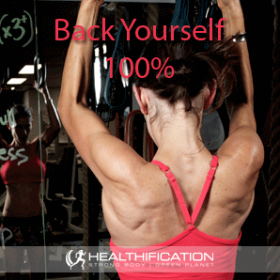 Podcast: Play in new window | Download
Subscribe: RSS
I started writing this post following a Sunday session that left me in a right state rather than the right state!
What am I on about?  …you know how some days you are absolutely 'on fire' – to the point where you even surprise yourself with your smart and sharp wisdom… and then there are the instances where frustratingly about all you spout is a deluge of doubt!
I'm talking State Control.  
The ability to get yourself into the most effective and positive state at any time and to reap the benefits, be they with fat loss, body gain, business or basically anything. 
In todays show: How To Get Yourself Into The Right State For Fat Loss.
I know the people I admire most exude a Certainty of Self or calm confidence that makes me want to be around them… it's even more impressive when all the events that are happening to them could induce an un-resourceful state yet they somehow manage to rise above it to stay calm, effective, efficient and certain.
It's easy to identify the factors that contribute to a poor state:
=> lack of sleep
=> skipping a meal (or eating poor quality processed, sugary food)
=> too much to drink
…hmmm, that's 3 black-holes of UN-productivity, UN-positivity and in general UNhappy-Me for my day in question. Onwards to an awareness of exactly WHAT induces that goal state. Not quite so easy.
=> 7-8 hours sleep
=> nutritious meals every 4-6 hours
=> zero or low alcohol… certainly all help, however they don't guarantee the elusive goal state.
As with anything we don't yet consistently achieve effortlessly and easily, it's going to take some work to come up with the answers. I believe when you can communicate it, you can have it so it's worth the brain-strain time.
A good start is to go deeper with my first 3 points. I know I function at a superior level when I have;
=> 7-8 hours sleep that involves me in bed before 10pm and with only a diet of good quality information for my mind before bed. So by that I mean meditation, goals, gratitudes or even some quality (not anxiety inducing!) reading… however not trashy TV or Facebook or even work right before bed.
=> nutritious meals every 4-6 hours that include 15-30gm of protein and also some good fats. (an apple may be nutritious yet on it's own it won't fuel stable blood sugar and energy levels)
=> zero or low alcohol is a start that I need to back up with adequate hydration. So that's 2-3 litres of water a day.
Though it sounds fairly basic – how many of us manage to stick to even these simple guidelines I wonder? Can you imagine how you'd function if you did?
Digging deeper here are some of the state control game changers I came up with. First, three ACTION SIGNALS to look out for so you can put the breaks on a state that's leading you down a hole fast:
One: Negative, pressure filled LANGUAGE or thoughts (as thoughts are your self talk and it is the most powerful language).  Anytime you lead with an;
"I can't"
"I have to"
"I'm too busy"
"why does this always happen to me"
…make the switch to;
"how can I…?"
"I want to because…(insert benefit of taking course of action here)"
"I'm choosing to prioritize (such and such) instead"
"what can I learn from this?"
This will encourage solution oriented thinking, taking responsibility and positive learnings.
Two: Focusing on what you don't want. If what you FOCUS on expands to the exclusion of all else, let me ask you "When would now be a good time to focus on what you do want?" 🙂
Three: Slumped, saggy, low-energy posture and PHYSIOLOGY in general. If motion creates emotion it's time to move that body …the mind-body connection has been proven; go through the proper motions and the corresponding emotion will follow. I suggest music that makes you move, a good stretch, exercise (of course), or even a decent belly laugh.
Next, the ACTIONS TO TAKE if you're already down the hole and need to fast-track back to that goal state:
One: Think of the things in your life you're grateful for OR the things you could be grateful for if you chose to.
Two: Visualize exactly how it will be when you have achieved your goal and this is exactly how you want it to be… what will you be seeing?  What will you be feeling?  What will you be hearing?  And what will you be telling yourself?
Three: Load up your favourite tunes and hit the gym – or the pavement for a work-out or stroll in the fresh air.
Even 5 minutes can be enough to get motion creates emotion working in your favour.
As you will see the above are exercises that encourage empowering use of Focus, Language and Physiology.
To get actionable today I'd love to hear your best methods for State Control?
What works well for YOU? You can let me know via the comments below.
So here's to less Hole States and a lot more Goal States… it's absolutely within your control. I'll finish today show with a quote from Tony Robbins, "Using the power of decision gives you the capacity to get past any excuse to change any and every part of your life in an instant".
That's it for today. I'll be back tomorrow for the Tuesday Tucker show and, Is It Bad That I Never Feel Hungry?
I hope you can join me.
If you liked this you'll also like: 4 Ways To Choose Your Mood
If you're yet to share the Healthification love – just click here to zip over to iTunes and leave an honest rating and review. It'd help me out big time. With gratitude, Kate.