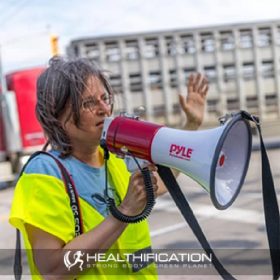 Podcast: Play in new window | Download
Subscribe: RSS
Before prepping for todays interview I saw the Animal Save Movement as a global network of passionate animal rights activists committed to baring witness outside slaughterhouses with both the knowledge that transparency and truth is the biggest threat to animal agriculture.
And also the hope that if slaughterhouse houses had glass walls (or at least an animal vigil at every slaughterhouse) then the world would be vegan.
These statements are of course true, and yet there is so much more to Animal Save Movement. For a start in 2019 they expanded to include Health Save, Climate Save and Youth Climate Save aligned with the for vision for: an equitable, eco-friendly vegan world, for the animals, the planet and health.
Rather than detract from the urgent fight for an end to the exploitation of animals, caring about other vital issues… appeals to a much wider audience, is inclusive and strengthens the power and effectiveness the Animal Save Movement.
In fact we return to what is most effective time and time again in this conversation. Particularly as it relates to a love-based approach to community organising and indeed a love based approach to activism. It takes discipline to lead with love. To meet fear, hate and even evil with love.
And yet if there's ever a cause that deserves our discipline to choose, nurture and sustain the most effective approach then surely its ending animal agriculture which will in turn help end the climate crisis.
Today I'm delighted to be joined by both Anita Krajnc, co-founder of Animal Save Movement and Nicola Harris, director of communications at Animal Save Movement.
In this conversation we cover:
Anita's becoming vegan story.
A 2010 promise to a pig on a truck, to no longer turn away.
Animal Save Movement's commitment to a love-based approach to community organising informed by Leo Tolstoy and Gandhi.
How we can change the world by bearing witness.
What's the difference between watching a video and bearing witness first hand?
In 2019 Animal Save expanded to include Health Save, Climate Save and Youth Climate Save.
How to cope with Overwhelm when dealing with issues as huge and dire and the Climate and Animal Agriculture.
The Plant Based Treaty and how to put animal agriculture at the forefront of climate action.
Demand 1   |  Relinquish:  Stop the problem increasing.
No land use change, including deforestation, for animal agriculture.
Demand 2   |  Redirect:  Eliminate the driving forces behind the problem.
Promotion of plant-based foods and actively transition away from animal-based food systems to plant-based systems.
Demand 3   |  Restore:  Actively healing the problem while building resilience and mitigating climate change.
Restore key ecosystems and reforest the earth.
Stop Animal Gifting. How this is perpetuating our cruel and broken food system and what to do instead.
I hope you found that conversation as valuable as I did. So many learnings.
I have such as abundance of respect for individuals and organisations that seek out the advice and wisdom of those who've gone before them rather than stubbornly trying to reinvent the wheel or getting lost in ego and stuck in the same old actions.
Going vegan is a WIN on so many levels, why not use them ALL to get where we want to go faster. 
I love Anita's hope that if everyone went to a vigil everyone would be vegan and an activist. I don't have that same faith in all my fellow humans and that's why I'm so grateful that there are ways to get active beyond vigils. If someone cares first about the climate or their own health before their heart later opens to the plight of animals I'm ok with that. At least they care. 
At least they are taking action and I do have faith that as people start to leave animals off their plate – for whatever reason – so to their hearts will start to open and their circle of compassion will expand to beyond just human animals.
To connect with the Save Movement online I have you all linked up below. Whatever campaign you're most drawn to they've done the work in making it easy for you to take action and have an impact either as an individual, business, school or community.
The root cause of our climate crisis is how we treat other animals. Once we change that, then we'll move toward a completely different way of living on the planet, where we have forests we co-habitat with other species. Anita Krajnc…
Click To Tweet
We all have a choice in life when somebody is suffering and is being exploited. To look away, to ignore their cries for help, or to do what we all would want someone to do if we were in pain and that is... come as close as to them as you can and…
Click To Tweet
Connect with Animal Save Movement via the website: https://thesavemovement.org
Endorse the Plant Based Treaty: https://plantbasedtreaty.org/
Connect with Animal Save Movement across the socials: YouTube | Instagram | Facebook | Twitter
Take action to Stop Animal Gifting here:
That's it for this week in Healthification. If you're yet to subscribe wherever you're listening please do and equally awesome, please consider sharing the show with someone you think would find value in it. Big thanks to YOU for sharing this week with me.
The Healthification podcast is proudly bought to you by my FREE 'Easy Vegan' plan. It took me 25 years to transition from a meat eater to a happy, healthy Vegan! You can do it in just 3 days with my simplified 'easy vegan' plan!  Get the fit, strong, and healthy plant based body you deserve… while avoiding ALL the mistakes I made along the way!
To learn more check out: strongbodygreenplanet.com
Till next time, remember Creating a body and life you love is Freedom. (If this ex-refined-carb queen, non genetically gifted, naturally uncoordinated vegan chick can do it – so can YOU!!!)
If you liked "Anita Krajnc and Nicola Harris of Animal Save Movement and the Plant Based Treaty." you'll also like Animals Australia's Live Export Investigations with Shatha Hamade.
If you liked "Anita Krajnc and Nicola Harris of Animal Save Movement and the Plant Based Treaty." you'll also like E668: Human Induced Climate Change with Emergency Leaders for Climate Action co-founder Ken Thompson.
If you liked "Anita Krajnc and Nicola Harris of Animal Save Movement and the Plant Based Treaty." you'll also like Look Good, Feel Good and Do Good by Becoming a Fabulous Vegan with Jasmin Singer.
If you liked "Anita Krajnc and Nicola Harris of Animal Save Movement and the Plant Based Treaty." you'll also like Kathy Freston and 72 Reasons To Be Vegan: Why Plant-based Why Now.