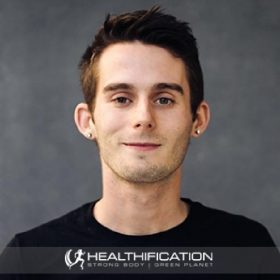 Podcast: Play in new window | Download
Subscribe: RSS
Animal Activist Kai McBeth is Senior Advisor at Animal Rights Activism Sydney (ARAS).
I know Kai, from the past few years of street activism and I have a lot of respect for his focus, consistency and his strategic and importantly effective activism.
This conversation is going to be very actionable if you're looking to up your activism game or simply just feel more confident in conversations with non-vegans.
In addition Kai share some valuable insights into why we make and cling to the excuses we often resort to which hopefully can help us better understand and more effectively communicate with both our non vegan loved ones and if we choose, random strangers on the street.
Ok, let's hear from Animal Activist Kai McBeth who is Destroying Anti-Vegan Nonsense… with both logic and compassion.
In this conversation we cover:
The particular catalyst or moment when Kai knew he needed to be vegan.
Kai's personal approach when chatting to people about animal rights and veganism. 
Evidence-based activism and its importance in the animal rights movement.
Masculinity and veganism. What would Kai say to the young man who is concerned with how his masculinity will be judged?
The Black Book – Australian Edition.
I'm grateful that Kai was able to shine a bit of light on the admittedly disappointing state of the activism scene in Sydney right now. If we can't have cubes of truth we can instead share the cold, hard, brutal facts of animal agriculture as made available by the industry itself.
Which in combination with a shout out to any number of amazing free online film resources such as Watchdominion.com Earthlings.com and Landofhopeandglory.org can provide much needed transparency to the horrors of animal agriculture right now, today, all around the world.
To give you a hint of what you'll find in The Black Book which is Australia based yet these industry specifics will I guarantee be just as horrific wherever you live…
Let's take the often used "BUT, farmers jobs…" excuse.
The Australian Bureau of Statistics details that the Animal Agriculture Industry was worth $29.6 billion in 2017/18. This means within Australia's $1.42 trillion economy as reported by the World Bank animal agriculture makes up approximately 2% of GDP.
Aligned with this, only a minority of farmers rely solely on animal agriculture.
As I often say, vegans support farmers – we just recognise that for the animals, for the planet and for the very sustainability of farmers livelihood they need to transition to growing crops for human consumption not animals for slaughter. With government support where needed.
To connect with Kai online I'll have you all linked up in the shoe notes below.
Connect with Kai across the socials:  Instagram | Facebook.
That's it for this week in Healthification. If you're yet to subscribe wherever you're listening please do and equally awesome, please consider sharing the show with someone you think would find value in it. Big thanks to YOU for sharing this week with me.
The Healthification podcast is proudly bought to you by my FREE 'Easy Vegan' plan. It took me 25 years to transition from a meat eater to a happy, healthy Vegan! You can do it in just 3 days with my simplified 'easy vegan' plan!  Get the fit, strong, and healthy plant based body you deserve… while avoiding ALL the mistakes I made along the way!
To learn more check out: strongbodygreenplanet.com
Till next time, remember Creating a body and life you love is Freedom. (If this ex-refined-carb queen, non genetically gifted, naturally uncoordinated vegan chick can do it – so can YOU!!!)
If you liked "Animal Activist Kai McBeth is Destroying Anti-Vegan Nonsense." you'll also like E646: From Hunter to Vegan Animal Rights Activist with Matt Stellino.
If you liked "Animal Activist Kai McBeth is Destroying Anti-Vegan Nonsense." you'll also like Meat The Victims with Animal Activist Leah Doellinger.
If you liked "Animal Activist Kai McBeth is Destroying Anti-Vegan Nonsense." you'll also like E648: Seb Alex Will Never Stop Fighting For The Animals.