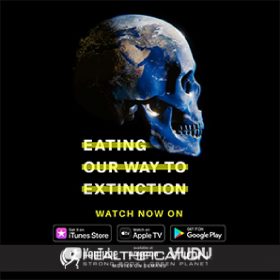 Podcast: Play in new window | Download
Subscribe: RSS
Are you Eating To Extinction or Eating For Tomorrow with Mark Galvin.
Eating Our Way to Extinction takes audiences on a cinematic journey around the world, telling the shocking but empowering story of why what we eat is the single most important tool we have for reversing the global environmental crisis. 
Featuring shocking undercover footage, cutting edge science from leading experts, and poignant firsthand accounts from indigenous people, this one-of-a-kind documentary will permanently change the way you view food and its critical connection to the future of life on earth. 
Leonardo DiCaprio calls (it) "The film future generations will be wishing everyone watched today."
That's the official press release and indeed, I hope Eating Our Way To Extinction will create a huge wave of awareness, compassion and action.
Friends I warn you some of the stats shared in this documentary are so bad you'll want to believe they are false. And yet as my guest, producer Mark Galvin shares, team Eating Our Way To Extinction has done all the due diligence to back up the terrifying facts – they had to – this documentary shines a light on the dark truths that powerful players in the food industry would rather you did not know.
This is a fast paced, urgent, stunning and impactful documentary. It reveals that while our current food system seems equally cruel, destructive and entrenched you are not powerless. In fact the actions you take each day, at each meal are hugely impactful. 
One insight Mark shares in this conversation left me speechless with joy and another left me speechless with horror. We cover a lot.
Please enjoy this conversation with one of Eating Our Way To Extinction's producer's Mark Galvin which will be followed up next week in a part 2 with lead scientist for the documentary Gerry Bisshop.
In this conversation we cover:
Conflicting interests at play and how governments and Animal Agriculture are complicit and profiting off our earths' demise.
The hard truths in relation to ecological collapse that Mark found most surprisingly / terrifying in producing this documentary.
Anything Mark is able to discuss regarding industry backlash to the documentary.
How the growth in the plant-based sector is accelerating, as major food producers and investors are seeing the opportunities.
How the vegan message should be seen as a positive thing to policymakers, farmers and food producers with lots of areas of growth and opportunities.
How a plant based food system is the best insurance policy to mitigate ecological destruction and climate change.
The Eating for Tomorrow meal planner and how individuals can change the world one meal at a time.
Friends this is a documentary to watch with your non vegan loved ones. It's not the least bit judgmental. 
Though it will make you question: Are you Eating To Extinction, or Eating For Tomorrow?
You'll hear from celebrities, scientists, a couple of previous powerful Healthifcation podcast guests (!) and most impact-fully to my mind indigenous communities at the forefront of the destruction are food choices are causing.
There's an abundance of information available to help support and advance the Eating Our Way To Extinction mission and of course to help you – or your loved ones – adopt a plant based lifestyle one step at a time. To connect with Eating Our Way To Extinction online I have you all linked up below.
Or go directly to www.eating2extinction.com.
With searing insight that shines light in dark corners EATING OUR WAY TO EXTINCTION will dramatically change your perception of our current eco-crises and the urgency for change. #eating2extinction #eowte @EatingOur
Click To Tweet
If you're yet to subscribe to this podcast please do and stay tuned for next weeks conversation, Part 2: Eating Our Way To Extinction with Lead Scientist for the documentary Gerry Bisshop where we dig deeper into the environmental impacts of our broken food system and debunk the climate denier myths.
Connect with Eating Our Way To Extinction via the website:
Jump on the The Eating for Tomorrow meal planning app, built to support you every step of the way.
Connect with Eating Our Way To Extinction across the socials: YouTube | Instagram | Facebook | Twitter | Tiktok
That's it for this week in Healthification. Please consider sharing the show with someone you think would find value in it. Big thanks to YOU for sharing this week with me.
The Healthification podcast is proudly bought to you by my FREE 'Easy Vegan' plan. It took me 25 years to transition from a meat eater to a happy, healthy Vegan! You can do it in just 3 days with my simplified 'easy vegan' plan!  Get the fit, strong, and healthy plant based body you deserve… while avoiding ALL the mistakes I made along the way!
To learn more check out: strongbodygreenplanet.com
Till next time, remember Creating a body and life you love is Freedom. (If this ex-refined-carb queen, non genetically gifted, naturally uncoordinated vegan chick can do it – so can YOU!!!)
If you liked "Eating Our Way To Extinction with Mark Galvin." you'll also like Meat The Future of Cultivated Meat and a Sustainable Way To Feed The World with Liz Marshall and Annie Osborn.
If you liked "Eating Our Way To Extinction with Mark Galvin." you'll also like Dr Michael Greger, How to Survive a Pandemic: Overcoming COVID-19 and Preventing the Next Deadly Outbreak.
If you liked "Eating Our Way To Extinction with Mark Galvin." you'll also like E664: Dr Michael Greger and How Not To Diet, The Ultimate Weight Loss Guide.
If you liked "Eating Our Way To Extinction with Mark Galvin." you'll also like E665: Dotsie Bausch, True Strength and Being A Plant Powered Athlete.
If you liked "Eating Our Way To Extinction with Mark Galvin." you'll also like Danny O'Malley and Before the Butcher Are Making Plant Based Proteins The Norm.
If you liked "Eating Our Way To Extinction with Mark Galvin." you'll also like Turning Dairy Farms Into Animal Sanctuaries with Geraldine Starke and Refarm'd