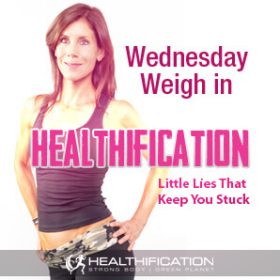 Podcast: Play in new window | Download
Subscribe: RSS
Most of us would love to believe that we are honest and trustworthy. That we have strong ethics and  integrity.
In fact these are all words that feature regularly whenever I ask someone about their top values. However, as genuine as we may be with others there is still the matter of the little lies we unconsciously tell ourselves that keep us stuck.
I absolutely do it too.
Now, this podcast is a judgement free zone… I'm simply dragging some of these little lies into the spot-light, shining the harsh fluro light of awareness on them in the hope that it'll help you (and me!) farewell a few lies that no longer need to keep us stuck.
In today's weigh-in show: Little Lies That Keep You Stuck.
I've split our limiting lies into 3 categories:
One: The "I'm not a…" LIE.
You know, "I'm not a cook" and "I'm not an exerciser" and "I'm not a morning person" and "I'm not a routine person"
Two: The "I don't have…" LIE.
So that's the old, "I don't have time" and "I don't have the energy" and "I don't have enough money" and "I don't have the motivation"
Three: The "I have to…" LIE.
This can crop up as, "I have to find the right" and "I have to wait till" and "I have to go out/have over for dinner" and "I have to fit in with"
I'm guessing at least a couple of these little lies may be resonating with you.
You know you use them – however can you admit these lies are limiting excuses AND do you know you can choose to let go of them too?
Let's first let go of #1 the "I'm not a…" LIE.
The words that follow I Am (or I'm!) are some of the most powerful, life transforming words you can choose.
Your I AM's represent your identity beliefs. Everything you know to be true about yourself.
The thing is, like any type of belief there is no true or false. No right or wrong.
There is ONLY what works.
=> So, there is exactly zero value in choosing identity beliefs that don't work… and by 'don't work' I mean they make it harder for you to take the actions that will get you great results.
I used to believe I wasn't a cook, in fact I'm sure you've heard me say it (!)… I also used to believe I wasn't much of an exerciser, and my bad eyesight and lack of co-ordination enforced that… when I worked in hospitality I was fairly certain that I wasn't a morning person… AND when I owned a franchise where adhering to someone else's routines and systems was vital I began to believe I wasn't a routine person either.
You can predict the results this type of negative "I'm not" thinking allowed me to enjoy. Correct. Not very enjoyable.
Where is "I am not" currently keeping you stuck in your approach to achieving your health goal?
Let's now let go of #2 the "I don't have…" LIE.
This lie fuels the scarcity mindset.
Your I DON'T's draw your attention to a lack, an inadequacy, a win or lose rather than win:win attitude.
The thing is, what you focus on will expand so it's vital – effective – AND FUN to focus on what you do have.
Then the GOOD stuff, your time, your energy, your money, your motivation will expand.
=> Really, it's just a matter of priorities anyway… and how you choose to use each of the above finite resources.
When I used to spend more time focusing on what I didn't have – even what I was yet to achieve – it was a fairly miserable way to live. It didn't inspire me to work harder or be better. It just weighed on me, eating my HA, time-energy-money-motivation!
Let's finally let go of #3 the "I have to…" LIE.
This lie fosters a lack of personal responsibility… the at effect, reactive rather than proactive attitude.
Your I HAVE TO's are the language of pressure… rule and regulations. This language implies that the choice is not yours – and that is no fun – however the choice is always yours.
Choose to, want to, decide to OR Don't, it's that simple.
=> If you're working to pay the bills then it's really a matter of "I choose to work so I get to live in a safe home with good food."
Anything you choose to, want to, decide to do or Can Do makes you feel in control. It reminds you there are possibilities and you have choices. It just feel better.
Test it.
Actually let's test it right now with the time of the actionable!
I'll go first. I've been rolling with "I have to wait till" for a project that is really, hugely important for me… probably, if I'm honest a little of "I don't have time" too. They are both big, fat goal destroying EXCUSES!
Absolutely I've been clutching to a lack of personal responsibility… waiting for the right time rather than making it happen.
And Yes also a scarcity mindset in that I've been focusing on not having enough time when A) I have just as much as everyone else and B) It's just how I choose to use it.
Ok, over to YOU. What little lie has been keeping you stuck so far as achieving your body gain goal?
If you're up you sharing you can let me know via the comments below.
That's it for today. In tomorrows Thursday Training show I cover: The AB Trifecta. I hope you can join me.
If you liked this you'll also like: Confused About What To Eat To Lose Weight?
If you're yet to share the Healthification love – just click here to zip over to iTunes and leave an honest rating and review. It'd help me out big time. With gratitude, Kate.