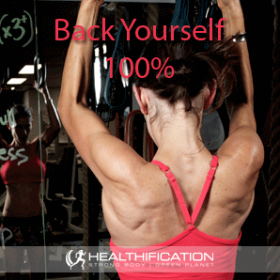 Podcast: Play in new window | Download
Subscribe: RSS
In this episode I'll be talking about… how to stay on track with your nutrition while traveling.
As I record this intro I'm ONE SLEEP (!) away from a 2 week holiday and I'm traveling to see the fam in Noosa for half of that so I'll absolutely be taking by own advice.
One point I neglected to mention in the original show is: planning for your return home. 
Perhaps you've arrived home after a gorgeous yet slightly indulgent holiday and the fridge and pantry are bare? You're actually ready to return to your routine but with no food – well, takeaway is the only option right??
Wrong! It's really pretty easy to plan the food you're returning to.
I'm a bit of an omelette fan so I made sure to stock up with fresh organic free range eggs which'll keep just fine in the fridge for a week or two. I've also got some handy long lasting onions, dried herbs and instead of the fresh veg, a bag of frozen cauli and broccoli and also some frozen kale and spinach.
Because I'm a bit of a planning queen I also have some fruit and veg frozen in zip-lock bags ready for a morning smoothie or two.
So, that's the return covered, todays show shares your holiday food.
Here are the show notes for the original episode:
Dig this? Cool! You may also like this:
[WEBINAR REPLAY] 3 Mindset Hacks To Build Your Belief In YOU and create the fit, healthy body you were born to ROCK!
The resolve to Back Yourself and to give it 100% trumps any and every quick-fix-silver-bullet-over-promising-hope-eroding-MYTH!
In this free training I share:
=> How to escape a comfortable and result crushing need for Certainty.  
=> This previously debilitatingly shy chicks' A, B, C approach to Backing Yourself 100%.
=> My 'Carb Cutting Cheat Sheet' with the simplest switches to get a fast, belief building result. 
=> How to break free of the motivation myth and create your own 'Effective Motivation Strategy.' 
=> How you can let go of the constant pressure to get it all done and Overcome Overwhelm in 6 steps.
CLICK HERE TO WATCH NOW.