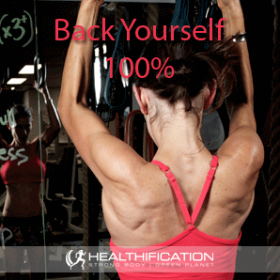 Podcast: Play in new window | Download
Subscribe: RSS
The only thing worse than eating rubbish and not losing weight is believing you're eating healthy and still not losing weight! 
Sneaky little unsatisfying, low value, high caloric density snacks that claim to be healthy are abundant… they'll flaunt their flashy wrappers at you temptingly.
The wrapper is your first hint.
Generally if it is healthy, it doesn't need to tell you it's healthy!  
In this episode I'll share… your better snacking solutions.
Here are the show notes for the original episode:
Dig this? Cool! You may also like this:
[WEBINAR REPLAY] 3 Mindset Hacks To Build Your Belief In YOU and create the fit, healthy body you were born to ROCK!
The resolve to Back Yourself and to give it 100% trumps any and every quick-fix-silver-bullet-over-promising-hope-eroding-MYTH!
In this free training I share:
=> How to escape a comfortable and result crushing need for Certainty.  
=> This previously debilitatingly shy chicks' A, B, C approach to Backing Yourself 100%.
=> My 'Carb Cutting Cheat Sheet' with the simplest switches to get a fast, belief building result. 
=> How to break free of the motivation myth and create your own 'Effective Motivation Strategy.' 
=> How you can let go of the constant pressure to get it all done and Overcome Overwhelm in 6 steps.
CLICK HERE TO WATCH NOW.