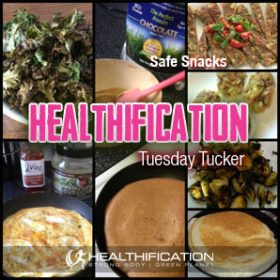 Podcast: Play in new window | Download
Subscribe: RSS
How often have you resorted to the snack you later regretted simply because it was at hand and quick and easy?
As with everything nutrition, eating great snacks comes down to planning more than discipline.
In todays Tucker show I'm discussing: Safe Snacks.
(and by, 'safe' I simply mean safe for your best body)
Your winning snacks will be:
=> Always on hand.
=> Quick and easy.
=> Non-trigger foods or portioned controlled.
It's worth having a glass or two of water before eating an unscheduled snack or getting a 5 minute chore done first and seeing if the desire to eat is still there.
Before we get rolling with a list of safe snacks there are two common pitfalls to avoid:
'TOO GOOD'
That's the snack you're initially really proud of… that cheating your body little UNsatisfying number that leaves you craving something else. Needing something else. Obsessed with something else! The too good snack is more trouble than it's worth.
So that's the celery stick. Or the '6' almonds.
     2. 'TOOO GOOD'
That's the snack you over indulge in every time… its super more'ish, addictive and absolutely tests your ability to stop once you start gobbling. The 'just one more' snack. Or perhaps the 'I'll have double today and miss it tomorrow' snack. How often do you manage that though? The tooo good snack is a discipline exhauster.
So that's the 1/2 packet of roasted nuts… or 1/2 jar of nut butter.
Ok, pitfalls covered. Here are some great options and for your snacking convenience I've listed them under 3 categories:
One. Keep at HOME Snacks:
Smoothies. What I love about smoothies is the limitless variety.
Start with a liquid of choice: water, almond milk or coconut milk.
Add fruit: berries, apple, mango, passion fruit are my favs but anything goes.
Next add some veg: spinach, kale, broccoli, cucumber.
Finish with a good fat: nut butter, seeds, avocado, an egg.
AND optionally turbo charge with protein: protein powder or a couple of extra egg whites.
=> Time saver. Buy your fruit and veg on mass at the markets, whatever is in season.
Freeze portions of everything except liquid in snap lock bags.
Ready to add a cup of liquid to and blend in 60seconds.
Mini omelettes/frittata. A make on mass option that freezes well and you'll find super handy.
Start with your fav veg: cauli (great instead of potato), spinach, mushies, capsicum, zucunni, onion.
Add eggs and if dairy works ok for your body perhaps some cottage cheese or ricotta or feta or parmesan for extra flavor.
Next add your herbs of choice: coriander, basil, parsley, rosemary and chili too if you're a fan.
Finish with a sprinkle of cheese or for dairy free a layer of sliced tomatoes.
=> Time saver. Spray with oil and line mini muffin tins with a slice of ham or turkey. Crack in an egg. Sprinkle with chopped veg, perhaps mushroom+cherry tomato and bake for around 15mins in an oven preheated to 400 F.
Patties. They don't need to be confined to dinner time. Whatever your fav mix, make on mass and freeze for an easy snack.
Start with your lean meat or even fish.
Add veg: grated carrot, zucunni, celery, onion.
Next add your fav herbs and spices and an egg to bind.
Finish with a low sugar salsa or similar dip.
=> Times saver. Add an undressed bag of causlaw mix (my fav includes carrot, broccoli. Spring onion and red+white cabbage) to your fav lean mince and season with a quality dried mixed herb blend.
Two: Keep at WORK Snacks:
Nuts. The easiest option. Portion control is key. I recommend buying an amount and committing to the numbers of days/servings it needs to last. So a 250gm bag of my fav roasted unsalted cashews should last me 5 days.
Kale crisps. If you can make on mass and Not devour straight away they store in an airtight container well.
Protein shakes. Keep the powder at work and add a tablespoon of nut butter to make it more satisfying.
If you have a fridge at work…
Eggs. Hard-boil on mass once a week and take to work.  If you are so inclined, stuffing them makes them a lot more enjoyable.
Meat roll ups. Store your lean meat of pref at work (maybe ham or turkey). Spread 50-100gm with your dip of choice maybe hummus, or cottage cheese or salsa and roll up for a simple snack.
Non meat eater? Store a veg of choice at work, I like capsicum and fill with your fav quick combo.
So perhaps, 1/2 capsicum with 1/4 avocado and 50gm of cottage cheese or ricotta.
Three: At the SUPERMARKET Snacks:
The supermarket is a massive temptation zone. In show #155 I cover How To Stop Supermarket Sabotage:
Beyond that…
Nuts. Again buy the size that divides easily into the number of servings you want to get out of it.
Fruit spread with nut butter – like an apple with a tablespoon of almond butter.  (adding the good fat is going to make that fruit more satisfying).
Can of tuna or salmon, if you can handle it.  I couldn't!  However, if you are a fan of canned fish then check the label and choose the option that is low in carbs and high in protein… it's amazing how much sugary filler they can jam those cans with instead of fish, don't be fooled, I'm sure you can think of much better ways to get your carb fix than sugary sauce.
Veg sticks/pieces (most supermarkets sell snack size ready to go now) with your fav dip.  Actually possible NOT your most fav (they can have a hugely high caloric density)… go for the one with just a few ingredients and the best combo of high protein, med fat and low carb that you can find.
What about those easy to grab 'health bars'???
Some can be ok.  I used to be hooked on fake-processed protein bars.  They served a purpose, as they are quick and easy and a good replacement when I wanted to switch from chocolate bars.  Long term I believe they encourage the taste for that fake fix and that's not super helpful.
Some can be chock full of sugar and fat to surpass even your fav chocolate bar.  If a bar has to advertise it's 'healthy' or 'light' or 'natural' it's probably worth avoiding!  Ignore the front of packet advertising and check the nutritional break down on the back of the bar. Look for:
=> The less ingredients the better AND do you recognize them all?
=> The higher protein and lower carbs and fat the better… they can be tricky, just because you see '10' that could mean 10% carbs, or 10% of your daily requirement (how can they know that anyway) OR 10 gms.
=> Portion size… again never assume a bar is a portion.
Ok, to get actionable today I'd love to hear some of your go2snacks?
OR perhaps those snacks you used to indulge in that really didn't do your best body any favours?
To illustrate how possible it is to absolutely change your eating habits and cravings AND still get just as much enjoyment from food that fuels your best body I'll get the traded-in-snacks ball rolling…
As a teenager my best afternoon tea was a six pack of white sour dough rolls from the supermarket filled with a packet of raw 2 minute noodles.
Processed crap-o-la carb overload, right?!
I'm now not big on afternoon tea as I have a delicious substantial lunch however if lunch was light and I felt the need I'd be super satisfied with some nuts or kale crisps or protein pancakes.
That's it for today… in tomorrows Wednesday Weigh-in show I'm covering: 5 Things To STOP Doing Today. 
If you liked this you'll also like: 101 Ways To Cut Carbs When Eating Out.
If you're yet to share the Healthification love – just click here to zip over to iTunes and leave an honest rating and review. It'd help me out big time. With gratitude, Kate.