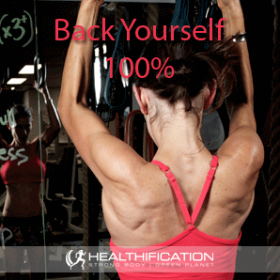 Podcast: Play in new window | Download
Subscribe: RSS
"You are bigger and better than this"
That's what my mum said to me after I shared that I'd just ran into an Ex and found myself hiding out in the staff room balling my eyes out.
Coincidentally a dear client and friend I shared the encounter with the next morning had exactly the same response:
You are better than this.
In today's show I'm weighing-in on the thing, the person, The Fear that is keeping YOU stuck.
It's not rational, or logical or the least bit helpful and yet there it lurks at the back of your mind, brimming with emotion, limiting your experience because you haven't let it go.
Of course your example could be anything. Perhaps it's the self sabotage you keep subscribing to.
I absolutely thought: you are better than this, as another client told me of the awesome meals she'd prepared on mass… and then let sit in the fridge for days before throwing out… while she chose to nibble away at high-caloric-density-low-nutritional-value little snackie things for dinner instead.
Because she didn't feel like heating the real meal up after a long day at work. She is better than that.
Maybe it's the half-hearted attempts you put into something that is actually really important to you. The wishy washy attempts at sticking to consistent meal planning and exercise because what if you give it your very best and it still doesn't work?
It's my belief that in everything we are not doing – that there is benefit in doing – at the heart of it a fear is holding us stuck. I had that fear. There's so much more to it, a story for many Shiraz's I'll share with you if we ever catch up however at a surface level I had the fear that seeing this Ex would crush me.
That'd it'd leave me a weak and snivelling emotional mess.
Well, that's only half true. I was an emotional mess. Thankfully only AFTER I walked away and got myself back to the safety of work. However there's nothing weak about that.
I actually came out the other side strong. I feel like embarking on a fear crushing crusade!
It's natural to search for meaning in what happens to us. To try and make sense of why something painful would happen. Perhaps that's what I'm doing and if it is… that's cool. What ever gets the good result.
Because I have plenty more fears to tackle and if this un-fun encounter is the prompt to deal with them, then it's worth it.
What is the thing, the person, the Fear that you've been thinking of throughout todays show?
The one that you know you are better than?
It's held you stuck for long enough.
You know when you engage in the behaviours that feed the fear.
You know that other people struggle with the exact same fear.
You know that you have everything you need within you to crush that fear.
Sometimes if feels like there's a huge gapping chasm stretching between knowing and doing though!
I don't have anything super-solid to give you to move forward with here. No 3-steps today. However it's been my experience that the strength to deal with something only turns up when you start dealing with it.
Fear is most powerful when you're imagining what would happen. Before it happens. It's power is in the unknown.
Your strength is in taking action. In gathering the information you need and in taking one step forward rather than waiting for fear to catch you.
That's the action step for today. To gather the information you need and take one step forward on your own fear crushing crusade.
That's it for today – short and sweet because I've got some fear crushing to do!
Thanks for hanging with me today. I appreciate it. In Fridays show I'll cover, Why Routine Will Set You Free. I hope you can join me.
If you liked this you'll also like: How To Program Your Thoughts To Create The Fit, Lean, Healthy Body You Were Born To ROCK 24/7 365 Days.
If you're yet to share the Healthification love – just click here to zip over to iTunes and leave an honest rating and review. It'd help me out big time. With gratitude, Kate.