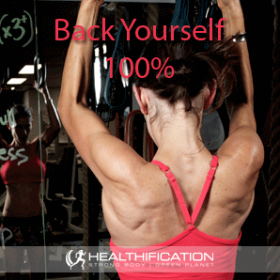 Podcast: Play in new window | Download
Subscribe: RSS
As a NON-bacon lover (!) and long term vego for ethical reasons you may be surprised to hear this however I'm a huge fan of the Paleo approach to eating.
Today I'm weighing in on: Paleo. The positives, negatives and potentially how to make Paleo work for YOU.
Can I describe myself as a Pescatarian-and-Monday-to Friday-Paleo?
It sounds a little silly however I believe in grabbing the best bits of any approach to eating – the bits that work for you, your lifestyle, your body and running with them – without having to subscribe with cult-like-compulsion to every single little intricacy.
So YES, I'm that Pescatarian-and-Monday-to Friday-Paleo!
Let's start by checking out some Paleo Positives:
One: The foundations rock. A Paleo approach centres around one ingredient, unprocessed fat fighting foods.
So lean proteins like meat, fish and eggs, fruit and vegetables and healthy fats from nuts, seeds, avocados, olive oil, fish oil and grass-fed meat.
Two: A Paleo approach causes you to choose your food with volition. The foods to avoid include processed food and sugars, dairy, grains, legumes, starches and alcohol.
Having said that, I'm starting to notice more flexibility within the Paleo ranks so far as allowing in some great quality dairy like full fat natural yoghurt and personally I won't give up my Shiraz or Vodka ever …the guidelines simply cause you to think about the quality of your food before mindlessly consuming.
Three: Paleo food is generally satisfying and nutrient dense. So you're less likely to deal with pesky cravings and feelings of restriction.
Protein and fat are satisfying and fruit and veg are micronutrient rich. Those cravings come from the fake stuff that's manufactured to be addictive… and also from the micronutrients you miss out on when you eat processed food at the expense of one ingredient goodness.
And the potential Paleo Negatives:
One: Taken to the extreme it could be interpreted as a free for all on high protein high fat.
However, really if you believe the steak, bacon and eggs diet is a long term solution you've got to know you're kidding yourself!
Two: Again at the extreme it could become a micronutrient lacking plant-based-whole-foods free zone.
It can be counterintuitive to eliminate the grains and even dairy that for decades have been promoted as the building blocks your body needs.
The thing is with the quality of food manufactured on mass today – or lack there of – you're getting a whole lot of rubbish mixed in with the nutrients they inject-on-the-assembly-line into your cereal and milk.
You're not missing out on anything of value when you cut the manufactured-on-mass HOWEVER it is vital to be generous and adventurous with the vegetables (and fruits if you're a fruit person) you include in your Paleo approach.
Three: There are some foods that are a no-go-zone on a strict Paleo diet that really are not evil.
(Yes, I do believe some foods are evil).
If you live for a little fresh mozzarella on your high quality pizza once a week then it's not going to spell the end of healthy eating for you. In fact as discussed in the #047 show I'm a huge fan of the cheat meal.
Finally, how to make Paleo work for YOU:
One: Commit to the one ingredient principles that can fit in with your lifestyle.
Lean protein, fibrous veg and good fats at each meal is always a solid start. Actually when you can do that you're 95% of the way there.
=> If you're a non-meat eater then you're going to be eating extra fish and eggs like me… it'll still work.
=> If your number one most fav food in the world is bread or cheese then work them into your weekend or cheat meal… it'll still work.
=> If you can't imagine life without cake, ice-cream or decadent desserts then seek out the Paleo recipes that are at least as delicious and include them in moderation… it'll still work.
I'll link to a couple of my favourite websites for the types of treats I'd definitely eat… if someone else made them for me!
Two: Know that a slight diversion does not mean it's game over.
I'm pretty extreme with my eating and still the black and white – must be perfect – approach is not sustainable and of course NOT enjoyable for me.
=> It's not about being perfect with what you put in your mouth, it's about being consistently good.
=> It's also about dragging yourself back on track quickly (without the massive guilt-trip) when you do deviate.
=> Just as importantly it's about setting your own standards and not feeling pressure to conform to unrealistic guidelines followed by others with different goals, schedules, commitments and resources.
Time to make today actionable.
Do you have a website you love for Paleo or whatever style of eating works for you?  
It'd rock to share the love in the comments below.
That's it for today… in tomorrows Thursday Training show I'm covering: Do You Need To Train Harder?
If you liked this you'll also like: Confused About What To Eat To Lose Weight?
If you're yet to share the Healthification love – just click here to zip over to iTunes and leave an honest rating and review. It'd help me out big time. With gratitude, Kate.