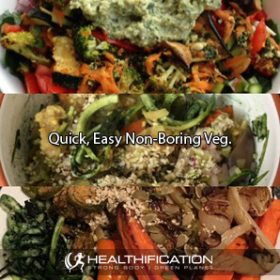 Podcast: Play in new window | Download
Subscribe: RSS
Today I want to talk Green Love…
Ok, not just green – let's talk how to and why it's worth cultivating ALL veg love.
In this Tuesday Tucker show let's cover: Quick, Easy Non-Boring Veg.
Back in the day – the day when I used to have a whole lot more excess fat than I loved… the day when I was scrawny on top and bulky on bottom I had many ineffective beliefs about food.
Beliefs that made it really challenging for me to regularly eat the foods that would get me better results.
The thing with beliefs is there is no right or wrong. It's more a matter of: Is It Working For You?
Is the belief getting you the result you want?
Perhaps YOU can relate to a couple of these old beliefs I used to subscribe to:
One: Veggies are boring and bland.
Two: Preparing veggies is time-consuming and tedious.
Now, I'm not looking for any more boring and bland in my life. In the same way I'm not seeking out time-consuming or tedious.
When you look at veg from the angle of: How Can I Make This Something I Enjoy? …the possibilities are limitless.
Here are some of the upgrades that have worked well for me:
1. I'm a texture girl. Crispy rocks my world. And crispy does not have to be solely the domain of my mums super-stunning-roast-spuds… though they are hard to beat.
All you need is a plastic bag for shaking your veg in, a teaspoon of good quality olive oil and some rock salt and you can give whatever veg you fancy a light coating before scattering on baking paper and cooking till nice and crispy.
This is how I make kale crisps, brussel crisps and it also works well for a couple of other cruciferous friends broccoli and cauli.
The flavour add ons and quantities from here are up to your imagination…
=> the spicy variety with any combo of: garlic powder / chili powder / onion powder / smoked paprika / cayenne pepper
=> the asian style variety with: sesame (instead of olive) oil / soy sauce / sesame seeds
=> or you could even get nutty with: almond butter / ground cumin / chili powder / garlic powder / cayenne pepper
The consideration: How you cook something will have a huge effect on the outcome
=> If I were to boil or microwave a hunk of meat or an egg to death – without any flavour added, it'd likely be about as boring, bland and unappealing as any veg subjected to the same lazy treatment.
2. Variety rocks. Just because broccoli or kale or whatever is flavour of the month there is no need to overdose on it till you can't face another mouthful. I used to be a little fuss-pot and only eat my favs however now I'm much more inclined to go with what is seasonal and freshest. I'll go for quality and I'll embrace variety.
You may even find a veg you hated as a kid is now a lot more enjoyable, brussels and broccoli were high on my most hated list although we've covered them so here are a few more to try…
=> perhaps fennel roasted with olive oil and sea salt or finely shaved in a salad with peels of zucchini, rocket, dill, pinenuts, feta and tossed with lemon juice, olive oil, and sea salt.
=> or zucchini grated into your omelette or salad or baked casserole style with a can of tomatoes, an onion and your fav fresh herbs.
=> as versatile as the ever-loved spud with a heap less carbs… cauliflower. Cauliflower rice or mash is great comfort food or try in a mass bake-up of veg that can be frozen in serving sizes. A good mix is cauli, brussels, red and brown onion, green and red capsicum, zucchini, eggplant and sweet potato. Just bake with a little olive oil, garlic, chill and rosemary.
The consideration: Embrace variety with the veg you try AND also with combining multiple veg dishes in a meal.
=> Starting with a quick fresh salad, adding some hearty veggie bake made on mass and finishing with some easy crispy roasted veg is one of my fav ways to get 20+ veg in one meal.
3. You can out-smart time-consuming and tedious with my lazy short-cuts. You've likely heard me say I'm as lazy in the kitchen as I'm hard-working in the gym! If there's a quick and easy option I'll take it.
It's only getting easier and easier to find those easy options if you're open to looking for them…
=> at the supermarket your quick fixes are mixed, washed green leaves. Undressed coleslaw and frozen veg (without sauce). I dress the leaves and coleslaw with balsamic and stir some pesto through the frozen veg once I heat it up.
=> add any or all of the above quick fixes to a cafe bought salad to make it last 2 meals. You're likely going to want to add some extra lean protein to that salad too.
=> make soup on mass and freeze in serving sizes for an easy hit of veg. This could be as simple as 3 ingredient cauli soup. Made with a head of cauli, salt, pepper and also 4 cups of water. Your additions to this soup are limitless: a finishing drizzle of olive oil or sesame oil. A tad of crumbled blue cheese or shaved parmesan. Herbs, nuts, za'atar… anything goes!
The consideration: Quick and easy veg options are out there. If you want the body gain results you'll take the time to hunt down the options that work for you and your lifestyle.
I'll never claim to be a cook. However I do only eat food that I love the taste of and I cook most of my own meals… so I guess I'm not hopeless!
The main focus for today was to get you thinking about ways you can make your veg something you enjoy.
I'd love to hear what works for you.
That's the action step for today. Please share your veggie love success's in the comments below.
AND here's a link to a popular post I wrote on Fibrous Friends, Quick and Easy Fat Fighting Vegetable:
Thanks so very mush for joining me today, I'll be back tomorrow with the Wednesday Weigh-in show where I chat: Paleo.
You 100% can be Vego or Vegan and eat primarily one ingredient foods and keep it High Protein Low Carb… Oh, AND also rock around 24/7 in a strong, healthy body you love…
Since it's no fun just eliminating something you love – and NOT sustainable – here are 15 delicious alternatives to enjoy instead. Recipes like: Kale-Cauliflower Tabouli with Zucchini Hummus / Eggplant Cannelloni / Kale Crisp Nacho's.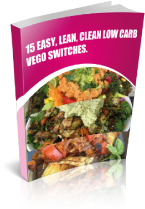 If you're yet to share the Healthification love – just click here to zip over to iTunes and leave an honest rating and review. It'd help me out big time. With gratitude, Kate.