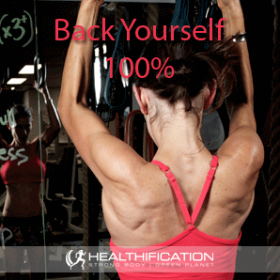 Podcast: Play in new window | Download
Subscribe: RSS
Your bank, your mobile and internet service provider… possibly your accountant?
There's something that each of these may well have in common.
And there's a very real chance that they also have something in common with your approach to exercise and your approach to eating. Potentially your approach is a little along the lines of: Better The Devil You Know.
There's likely a pain of disconnect or level of discomfort or inconvenience that keeps you hanging with the devil you know when rationally you know you could do better. It's like that old boyfriend you were On : Off again more times than you'd care to admit.
You know. That relationship where you'd be embarrassed to tell your friends each time you broke up and got back together because it happened so frequently.
In todays show I'm weighing in on:
Better The Devil You Know 
and applying to it a little frame work to assess honestly if the devil you know really is better… because super often you need to burn your bridges and start fresh.
The question to frame todays weigh-in / chat is: Are You Happy with the Results?
To dig a little deeper, when we're talking anything health / body gain I have 3 criteria by which I judge the Are You Happy with the Results question.
One: Effort.
Two: Results.
Three: Quality Of Life.
To stretch the not-so-visual aspect of podcasting… imagine a Venn diagram. It's that diagram where there are 3 interlocking circles.
In one circle you have EFFORT. In the second circle RESULTS. In the third circle QUALITY OF LIFE.
There's that small area in the middle of the 3 interlocking circles where Effort : Results : Quality Of Life meet – they are each represented and I view that as the "YES I'm happy with my results" spot.
Of course our Venn diagram represent several other not so satisfactory outcomes. Here are 3 examples:
One. There's the area where Effort :Results are represented and Quality of Life is missing.
=> So this could be the severe food restriction approach to fat loss or as I prefer to call it, Body Gain.
It's what you know. What you always turn to when you hit that enough is enough point and decide "That's it! I'm going to strip all the fat it took me 12 months to accumulate in 30 days!"
You're not really exercising. So you're pretty happy with the minimal amount of effort required there. You're seeing results – at least on the scales so that's encouraging too. However the way you're having to eat to see those results – without exercise – is hugely UN-fun and unsustainable. You can't eat out. You're always starving. You have to prepare every bland and boring meal. Your friends have stopped asking you over because you make it so tedious.
You've sacrificed Quality of Life.
Your solution? My recommendation is a primary one ingredient approach to eating. That means you eat generous amounts of delicious, nutritious foods that are not all fake and refined. I cover One Ingredient Foods in the 002 show.
Two. There's also the area where Effort : Quality of Life are represented and Results are lacking.
=> Many options here however perhaps it's the Stop, Start, program hopping inconsistent approach.
Like getting back together with that ex (!) you start each new approach to eating and exercising enthusiastic and motivated.
"This time I'm serious – this time it's going to be different!"
It's surprisingly easy to stay focused and disciplined for those first couple of weeks. However at that first challenge: be an injury, a holiday, a series of celebrations… you give up on you current approach and turn instead to that next latest thing your mother's-neighbours-sister's-husband just lost 20 kilos with. Now that looks pretty enticing. You'll just wait until the 1st of the month and then… it's on!
You've sacrificed Results.
Your solution? My recommendation is to pick a STOP, a START and a CONTINUE action. I've written about stop, start, continue previously too. You can use it to create time, to set goals OR in this instance to be more consistent.
Here's how it might look:
STOP: Making excuses about that one action that you know would have the biggest impact on achieving your goal.
START: Daily reflection on 3 things you've done well in relation to your health.
CONTINUE: No processed carbs Monday to Friday.
Three. Even the area where Quality of Life : Results are represented and Effort is completely unacceptable.
=> This might be the excessive exercise approach.
So perhaps this is the NON-solution you always fall back on. You're exercising for a couple of hours every day… because: "I exercise like a maniac so I can eat whatever I want!"
Yes, it means you get to eat fairly freely and that's fun. You're seeing results. However you feel like you're on the rat-wheel… energy in V. energy out. If you miss a day the balance will be off. The weight will creep back on. You have a sinking feeling you're spiraling into the more you do the more you have to do trap.
You've sacrificed Effort.
Your solution? My recommendation is to trade in hours of tedious cardio land trudging for high intensity interval training and metabolic resistance training. I cover the HUGE benefits of both high intensity interval training in the 079 show and metabolic resistance training in the 009 show.
However you can also combine the two with a high intensity, time effective weights or body weight finisher.
Here's a link to a video of me performing this awesomely short yet brutal finisher to save you an audio description of each exercise.
It's a workout that incorporates all 6 of Paul Chek's Primal Movements. The basic movement patterns that mirror the functional movements our ancestors needed to stay fit and strong.
SQUAT: Low Sumo jump in then out squat.
LUNGE: Switch Lunge.
PULL: Hoop chin up
into…
BEND: Walk-out.
into…
PUSH: Push up.
TWIST: Oblique v-up.
To get actionable today, let's return to our starting question.
If throughout the show you've been thinking of some aspect of achieving your body gain goal where basically you've been hanging with the devil you know when rationally you know you could do better… My question for YOU:
Are You Happy with the Results?
That's it for me today. Thanks so very much for spending this time with me. I hope you can join me for the Friday show where I'm covering: Damage Control After A Big Night.
If you liked this you'll also like: Will Power: 6 Steps to Build Your Self Control Muscle. (part 1.)
If you're yet to share the Healthification love – just click here to zip over to iTunes and leave an honest rating and review. It'd help me out big time. With gratitude, Kate.