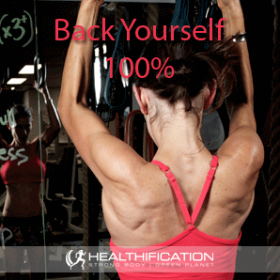 Podcast: Play in new window | Download
Subscribe: RSS
Recently I've been thinking of a quote by Jim Rohn, "Don't wish it was easier, wish you were better."
I love this quote. It's become a bit of a philosophy I apply to most areas of my life although to be brutally honest I've slipped a little in one aspect recently. So today's show is part note to self although my intention is also to make these keys applicable to your body gain goal.
Let's get rolling with 4:
Things Mentally Strong People Don't Do.
One: Mentally Strong People Don't Play The Victim or Indulge In Blame.
That's because mentally strong people realize that would equate to giving away power.
Mental strength like physical strength can be built. There's what you're born with naturally and then there's the conditioning you do beyond that.
The thing I've noticed with the people I see as mentally strong is not that they don't have to deal with adversity. It's more that each challenge is conditioning that makes them stronger. 
So the simple (not easy!) reframe here is to view each adversity you encounter, each potential chance to play the victim or to indulge in blame as one more layer to the conditioning that is making you stronger. The tougher the conditioning the stronger you get. The more readily you accept responsibility the less you feel like a victim.
To get specific to body gain: There may be things that come a little more slowly and less naturally to you. Perhaps you're NOT genetically gifted. Maybe you feel awkward, uncoordinated and just out of place in a gym… or anywhere where exercise is the primary focus.
Do you know what's GOOD about that?
The harder you have to fight for it the less likely you're going to be to get all complacent and give it up. 
That's absolutely been this Non-Natural-Athletes experience… and it can be your experience too.
Two: Mentally Strong People Don't Fear Change or Waste Energy On Things They Can't Control.
That's because change is a given… absolutely unavoidable and the level of success you can expect to experience is proportional to the amount of change you can handle.
If you're spending all your time and energy fearing those things that might not happen, that are beyond your control just how much energy so you have left to attack those things that are within your ability to control?
Not much.
Now if you're a fan of control – as I am – embracing change might sound a little disheartening. It's really doesn't need to be. The one constant, that you always have: is YOU.
The only thing you really need to do is have certainty in yourself and back yourself to come through regardless of the change, the things beyond your control that will be thrown your way regularly.
To get specific to body gain: One thing I guarantee will change for each of us if we're lucky enough to age… is the way our bodies respond to eating and exercise.
Now you could focus on how much harder it is in your 30's, 40's, 60's and onwards. However ageing is beyond your control.
I do have GOOD news for you though…
Although you may need to be a little tighter with your nutrition and a little wiser with your exercise the thing that you've absolutely got in your favour as you age is you're only getting stronger and stronger so far as the MINDSET component of body gain. You've got an arsenal of mind games (that work!) to play with yourself to help you take the best actions.
You know what's worked in the past and also what hasn't. It's the repertoire I fall back to… and it's there for you too.
Three: Mentally Strong People Don't Compare, Judge or Resent Other Peoples Success.
That's because to do so would fuel a scarcity mindset. It'd also be discouraging and to judge reflects more judgement right back at YOU.
Body gain is the best illustration of this. It's completely illogical to resent other peoples success because there is more than enough fit and healthy for all of us to experience! Equally, comparing where you are right now if you're at the beginning of your body gain journey with someone who's made it a priority for years – maybe decades – is setting yourself up for disappointment before you start. 
I used to do this with business. Now I do my very best to hunt down examples of what my mentors do that I could also work sustainably into my routine to at some point, achieve similar results.
Regarding judgement. The mentally strong person is to busy doing to be judging. You've seen examples of this online. The haters busy judging online – have you ever once seen what they're actually DOING? I guarantee there's nothing to see!
To get specific to body gain: Seek out examples of people who prioritize their health even though it's hard not because it's easy. So to be fair I don't know that it's easy all the time for anyone, however there certainly are people who you just know they make sacrifices and as such they are an inspiration and it's even easier to celebrate their success rather than resent it.
So rather than judge the single girl in her 20's for all the free time she vainly has to devote to her appearance or resent the stay home mum… with a nanny and a cleaner… who also has a personal trainer… and a cook… and multiple stunning overseas holidays a year… rather than that, be inspired by the working mum who gets up at 3.30am each morning to exercise and prepare her (and the families) meals for the day.
A part of being mentally strong is building the discipline to focus on the things (the people!) that will help you feel and get stronger rather than the reverse.
Four: Mentally Strong People Don't Expect Perfect Conditions or Immediate Results.
They understand the world doesn't OWE them anything. Success will come as a result of the effort they put in.
This is one of the things that puzzles me so far as body gain. So perfect conditions might be: you feel fresh, motivated and focused. You had a great night sleep. A nutritious breakfast. Your work day ahead is looking steady yet achievable not stress'y. It's a warm, sunny morning, the traffic is smooth sailing. You arrive at the gym ready to launch into the perfect workout.
I'm not sure how often this is the setup to your day however if it's not you're normal!
My point is your results will come as a result of actions taken in the absence of perfect conditions rather than as a result of actions taken in only perfect conditions. And so far as timeframes for results?
In a world where instant gratification reigns supreme I LOVE that body gain results are not something you can force. You can't buy, bribe or fast-track your way to success.
In fact you've got to commit to stick with it as long as it takes and through whatever conditions you get dealt.
If it's important enough you will. And that's got to be a pretty good life lesson right?
To get actionable today let's revisit part of step two. The part where I mentioned Mentally Strong People Don't Waste Energy On Things They Can't Control. As I said – todays show is a notes to self as well – so let's get actionable together!
What is ONE thing beyond your control that's been eating away at your energy when really it's time to let it go and redirect that energy to an area that is within your ability to control?
To finish todays show I have a quote from John Shedd, "A ship in harbour is safe, but that is not what ships are built for."
Ok, that's it for me today. I'll be back for the Wednesday Weigh-in show and:  Better The Devil You Know.
If you liked this you'll also like: The emotion that guides my weight loss…what's yours?
If you're yet to share the Healthification love – just click here to zip over to iTunes and leave an honest rating and review. It'd help me out big time. With gratitude, Kate.