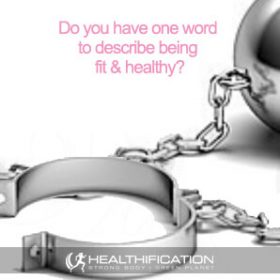 If I had to sum up in one word WHY I devote so much time, energy and money to creating and keeping a fit and healthy body, that one word, without doubt is:
Freedom.
Do you have one word to describe being fit and healthy?
(whatever fit and healthy means and looks like to you).
It's worth considering.  Especially if you are not yet enjoying your goal health.
Perhaps if you're not yet there your one word might be closer to:
Frustrating.
Restrictive.
Boring.
…Unimaginable?
There is not right or wrong way to think in relation to your own health – however there are effective and ineffective ways to think.
It's your health – to do with as you please. Unless of course there are people you care about.  People who in turn care about you.  Perhaps people who look up to you… who follow your example, for better or worse?
The purpose of this post is purely to point out you can make being fit and healthy either surprisingly easy OR painfully hard to achieve.  
Again, it's your choice.
The painfully hard way is the exact opposite of the surprisingly easy way – and that is all the energy I'm giving it, it deserves no more!
So.  Onwards with the easy approach which involves focusing relentlessly on everything positive regardless of whatever challenges may be thrown your way.
First step is to think of an emotion or value that being fit and healthy
(or ripped and lean Or strong and sexy OR whatever describes exactly how you would most love your body to be).
As you now know, for me that emotion is freedom.
Second step is to become aware of every reason why being fit and healthy is an example of 'freedom' to you
(insert your emotion or value of choice).
Third step is to consciously focus on these benefits or results ALL THE TIME. Yes, 24/7.
There is no room in your mind for those old negative thoughts that have previously delivered unacceptable results.
Of course they'll still turn up… initially.
It's your job not to entertain them.  Show them the door!
Choose a positive reframe to slam in the face of each negative thought the second it turns up.
It'll seem manufactured to start with – because it is – once you stick with it the positive thoughts will gradually out number the negative.  And the positive results will follow.
It really is that simple… feed the negative thoughts and they will grow.  Feed the positive thoughts and they will grow.  AND your thoughts create your decisions, which create your actions, which create your results.
In anything that does not yet come naturally it'll take a bit of effort to get good at language'ing how you want it to be. It's your choice whether you believe the results will be worth the effort.
I assure you they will be.
In this area of my life it comes easily – now – so to give you an idea of just how much detail and emotion is necessary here is exactly why being fit and healthy means freedom to me:
#1. Energy
Not as in bouncing outta my skin energy (that's #3) I mean the energy I no longer waste thinking
"Will this work." or "Can I get away with this?"
Also the energy I no longer spend feeling guilty or disappointed in myself… Beating yourself up mentally everyday for what you haven't achieved or why you can't 'stick with it' is a massive energy zap. When you're constantly exhausted – mentally – it becomes almost impossible to push through your inevitable mental obstacles. And it's just not fun.
=> freedom is having the mental energy to decide to fire up and train even on those days when it doesn't come easily…  and we all have those days. (I wrote about it here >> Why 'Struggle-street' is your most important training session.)
#2. Time.
Yes, I'm serious. Striving to achieve 'that body' especially when you're taking ineffective – reactive – actions is a huge time zap.  Perhaps you've fallen victim to calorie in v. calorie out tortoil too?
Slogging away at hours of tedious cardio a week then falling victim to "Now I deserve" devouring and refueling or moreso OVER-REFUELING your body to the point of fitter and fatter. Disheartening and utterly pointless. (I cover the solution to reactive cardio here >> It's time to get proactive with weights.)
=> freedom is knowing how much time you need to commit to maintain your fit and healthy body, using that time efficiently… and seeing a result for your time invested.
#3. Vitality.
Escaping achy knees, hips and back.  Saying goodbye to sluggish and bloated.  Fighting off colds before they take hold… and having the energy to power through a busy day WITHOUT turning to sugar as a fake energy NON-fix.
=> freedom is having the energy to walk to work, run for a bus or race around the park with your kids… to be the role model that you're happy for them to take after, rather than wishing and hoping that they'll lead a healthier life than you.
#4. Confidence.
To wear whatever you want. To no longer avert your eyes when you look in the mirror. To never have to 'rule out' certain types of clothing. To never again feel ashamed at "Why have I let myself get to this stage?"
=> freedom is at a far greater level, achieving something that has been frustrating you for years. Proving to YOURSELF that yes you can do it. It's backing yourself 100%. 
The confidence, self belief and certainty this will give you is priceless and absolutely transferable to every other area of your life.
Need I say more?