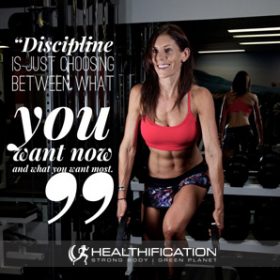 Today was a fairly average training day for me.  I thought I felt like training.
I should have been fresh after rest day Sunday.
(although it was also cheat day and vino day Sunday so perhaps I wasn't that fresh and absolutely my fat loss discipline was going to be tested)
Within a couple of repetitions I discovered it was going to be a low-energy-struggle-street-type-of-a-draaaag-myself-through-session. 
And so STRUGGLE-STREET became the most important session of my week.
Here's why:
Despite the frequency with which I get told "you're so lucky you love exercising" and "you're so lucky you have time to exercise" my Love and my Time are 100% a result of my focus and my priorities.
On the 'Love' front, I choose not to focus on the stuff that is unappealing to me about training.  I make a really conscious effort to focus on the good bits, for example:
=> The results.
=> The energy I have after I've finished.
=> Knowing I'm practicing what I preach and living with integrity.
On the 'Time' front, I have a 'Not To Do' list. AND a clear understanding of what really belongs on my 'To Do' list.
If you're not in the consistent routine you would like to be with your exercise and nutrition how about putting together a not to do list?  It comes first because it 'buys' you the time to make your to do list happen.
=> once you've made your not to do list you'll have some mind space free for your all important to do list.
(lazy thinking by not taking the time to get clear on what Does Not need to happen can make you feel too overwhelmed to even think of the 'to do's' that will get you the results)
=> allocate time next to each to do list item. 
(unlimited time is daunting and can be an excuse not to start)
=> compare the to do list of 'Diamonds' you want in your life with your calendar where the 'Big Rocks' that you have actually prioritised are evident. 
(Where you spend your time energy and money reflects what you're committed to.  Not what you talk or write goals about)
Do exercise and food planning, shopping and preparation all have set blocks of time in your week?
Or are they currently living at the mercy of what time you have left over after everything else more urgent? Or more interesting? Or perhaps just everything else that is already locked and loaded on auto pilot.
And that is why the best thing you can do on those struggle-street days is to just push on through.
You're nurturing the routine and making exercise a big non-negotiable priority in your week.  Each tough session you stick with means it's easier next time.
The results you will get to enjoy are not for 'good time exercisers' (!) …anyone can go for a stroll along the beach on a stunning summers day or swim in the ocean everyday on holiday.  Most people can even put in a fairly decent showing the first couple of weeks after joining a gym, or taking up a new group exercise class or deciding to train for that 1/2 marathon.
It's what you do on struggle-street days that counts.
Sure it's fun to have those really strong, bouncing outta your skin training days – and of course they are there to push hard and squeeze out your very best. However when those days do not just turn up, guess what? You've still got to turn up and just work with what you've got!
If you're finding that struggle-street days turn up more frequently then not, that's not fun and it's something you need to change. And you can. In this post I cover why: Your ideal fat burning day starts the night before.