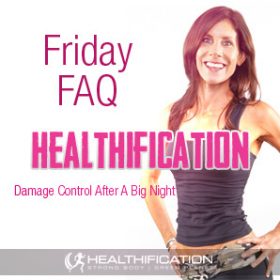 Podcast: Play in new window | Download
Subscribe: RSS
My intention is to keep todays show a little lighter.
So I'm going to cover a topic I've had a fair bit of experience with in the past though perhaps not quite so much recently. Let's chat… How to get straight back into your ideal fat burning day after too many bicep curls of glass to mouth!
Or, put another way: 
Damage Control After A Big Night.
Whether you're prone to the odd big night or not, I'm certain the principles are still going to be relevant.
Whatever YOU got up to last night, if you wake up feeling a little less than fresh here are my top 4 tips to turn your day around.
I'm rolling with a rhyme format today. So your 4 tips sound like this: PLACE / BASE / ACE / FACE.
First up… 
One: It starts with the PLACE you're coming from.
And NO, I don't mean that shady pub you're stumbling home from at 5am! 🙂
I mean the mindset you're coming from. No matter what you inflicted upon your body last night TODAY has got to be about respect and support. Bare with me here:
One of my key health beliefs is that my body and I are a team.
Of course from time to time I might treat it with a little less respect than it deserves. However and I'm pretty sure this is true for you too: Our bodies are incredibly forgiving. 
The moment you decide that everything you do today (more about specifics in tip 2) is about respecting, supporting and getting your body back on track for the rest of the day (or in a worst case scenario) for a fresh and efficient day tomorrow you'll see a positive response.
Two: It's about starting your day with a positive BASE or foundation.
After a big night out – whether that's dancing and drinking OR all-nighter at the office – your body deserves quality fuel and water and sleep as a priority.
I'm a big fan of exercise too.
You likely made some convincing excuses last night. I've absolutely pulled out the: "You only live once!" and "I deserve this after such a manic week!"
That's cool.
This is not about guilt or giving yourself grief. It is about working towards your ideal fat burning standards today.
In the cool-calm-EXCRUCIATINGLY-glaring-bright-light of today (!) it's time for zero tolerance for those crafty excuses we're both so good at coming up with.
Last night was last night. Today, "Hot chips are the solution!" and "I'm too wrecked to walk to work." don't cut it.
Obviously if you're feeling super rough you're not going to punish yourself with sand sprints or heavy weights that require balance and coordination (like barbell lunges) however a long walk in the fresh air or non-crazy-coordinated weights always help me feel better.
So far as food?
To get back to your ideal fat burning day means starting with your ideal fat burning breakfast. So that's going to be whatever variation of the fibrous veg + lean protein + good fat breakfast works for you.
Perhaps a green smoothie / an omelet / or eggs and sides.
Three: I'm all for zero excuses however today's goal is not to be ACE!
Today is about getting by to the best of your ability and will likely require a slight lowering of your standards.
So Yes, I mentioned working towards your standards in tip 2 however you might well have to lower the bar just a bit. It's much better to achieve acceptable yet not highest quality possible rather than give up before you even try.
Here are a few examples:
=> perhaps you start the day with a big breakfast of eggs, mushrooms, avocado, spinach and tomato rather than your green smoothie.
=> maybe you go for a walk instead of that intense gym class you really can't face.
=> possibly you spend on 90 minutes on your number one most focused and important work task (instead of 3 hours) and commit more of your working time to the less challenging, though still necessary tasks.
 Four: It's a chance to FACE facts and mitigate the potential for damage next time.
Now I'm yet to meet the person who's exclaimed: "I'm never drinking again!" who's never had a drink again.
Myself included.
That's cool. In defence of alcohol – I love it – and I'm a firm believer that vice is a normal even necessary part of life.
However there are always lessons to be learnt and potential damage to be out planned next time.
Here's an A-B-C of a few things I used to struggle with and now find a whole lot easier thanks to facing the facts and out-planning bicep-curl-to-mouth-me!
a) Avoiding rubbish food is so much easier if you have a plan. Eat before you go out. Or have a meal easy to prepare for when you get home. Or at the very least know the better food takeaway option close to where you're drinking.
b) Be ok with being the odd one out. Even Contrary. You've got to be ok with being extraordinary unless you're ok with the ordinary health results of the vast majority of people. Choose the vodka soda when everyone is sharing jugs of beer. Buy a bag of cashews when everyone is digging into hot chips. Order the more expensive fish and green veg when everyone is chowing down burgers.
c) Create boundaries to help you succeed. This might be a drink limit. I have a certain number beyond which it tends to turn into a big night. Or maybe it's a one drink thenone water guideline. Possibly it's time based – like curfew time – although you don't want to encourage drinking faster! Talking of which maybe your boundary is NOT to drink in rounds… because, I'm not sure about you but in my circle of friends very often the round moves at the pace of the fastest drinker.
So for example I have a dear girlfriend and whenever I catch up with her I'm quickest on the first couple of drinks. So she ends up drinking faster. Then by drink 3, she's found her flow. So I end up drinking faster. You can see where it's heading right?
Thankfully we've both agreed on the magic number – that number to stop at because "Just one more!" and the night is going to get big…
To get actionable today, this need not be applicable to alcohol:
I'd like you to recall whatever you last over consumed recently AND please remember it's not about guilt or giving yourself grief. 
That's it. No guilt. No grief. They are both useless after the event. It is about working towards your ideal fat burning standards today.
That's it for me today and also for this week in Healthification.
Is there anything you'd love me to cover in an up coming show? Please let me know. I'd love to hear from you via the show notes or even better via an iTunes review. Those little reviews absolutely 100% make my day.
If you liked this you'll also like: Damage control when you find yourself in an UN-ideal fat burning day!
If you're yet to share the Healthification love – just click here to zip over to iTunes and leave an honest rating and review. It'd help me out big time. With gratitude, Kate.