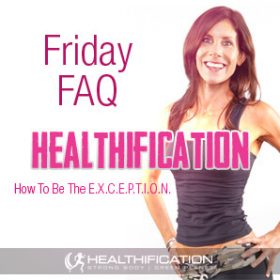 Podcast: Play in new window | Download
Subscribe: RSS
Have you ever met someone who is naturally, effortlessly exceptional?
As I study the people who most inspire me I'm noticing that rather than having unique ability they consciously make decisions and take steps that lead to exceptional. With that in mind, today let's cover in 9 steps acronym style (and from the angle of Body Gain of course):
How To Be The E.X.C.E.P.T.I.O.N.
E.verything Counts.
My dear Mum is the perfect example here. In many things however one example is her yoga stretches. Yoga is a hugely beneficial part of mum's routine however since retuning to full time work she struggles to fit in the couple of 45 minute sessions a week that she would love.
That could be an excuse to let the yoga habit slip. Or when you believe everything counts it can instead mean a few minutes of standing stretches here and there while waiting for clients is 100% worth while.
The other side of everything counts that little supermarket taste test or the drink you order that mistakenly has lemonade not soda water or even the early mark you give yourself when you're not feeling the workout love.
To be the exception in the body gain game: Everything Counts, for better or worse!
eX.pectations.
(ok so I'm cheating a little with the acronym format however it's as close as I could get!)
My first boss as a personal trainer emphasised the gift that is high expectations. I truly do mean gift. Actually my first ever boss in hospitality did a fairly exceptional job at enforcing high expectations too. Tears were shed over incidents such as a client topping up their own wine or meals at one table not all arriving within a nano second of each other.
As terrifying as it was to pour $136 a shot cognac in front of my extreme-expectations-boss (and this is almost 20 years ago now) it did teach me to aspire to high expectations.
Whether we're talking work ethic, training ethic or eating ethic the attitude you bring to each will reflect the results you get to enjoy.
The key here is: You will live up to your own Expectations, for better or worse.
C.onsistency. 
I've gotta give a shut out to my Dad for this one. After years of inactivity, my father who never succumbed to my countless attempts to get him back to the gym – approached me in his own good time (there's a lesson – I might have learnt it!) and asked me to write him a program. 12 months of 3 consistent weights sessions a week and dad has chucked on several kilo's of muscle, has a huge reduction in back and joint pain… and (I love this most) can walk for pleasure again.
For years my dad couldn't even walk for 10 minutes without suffering debilitating ankle pain. Now he easily strolls for 30 minutes pain free.
When it comes to body gain, sometimes it's the simple things that mean the most.
Back to YOU: Consistency counts… It'll kick stop-start-Best's-butt every time!
E.volve. 
Now this one doesn't come so naturally to me. I'm the consistency queen – which often rocks – yet also means I can get a little stuck. One of my online mentors embodies evolve for me. This gent – James Schramko – seems to master consistency while still evolving.
So far as body gain, evolving is pushing yourself beyond your comfort zone. Not in every exercise of every workout – however you do need to progress. To challenge yourself. To step away from comfortable. 
To have the guts to attempt something you're not yet good at. Equally, to have the perseverance & to put aside your Ego so that you can stick with that thing you're not yet good at even when it doesn't come easily.
If you're a non-gym junkie, yet you're sticking with it. You have my respect. It's easy to be the buff dude rockin onto the weights floor – his second home – for his 11th workout this week.
In contrast: If you're sticking it out, slowly getting better at something that does not come easily, you're evolving. As I said, Respect. 
P.riorities. 
Do you know what's really super normal… common… Boring? The old "I don't have time" line.
To be the exception think priorities rather than time. Manage you rather than time.
I'm thinking of one particular client right now. I'm sure I've never heard her utter the excuse "I don't have time." Now this lady is the only person I've met who might just be more committed to her food & exercise than me. She's also a successful lawyer. And married – and a super committed mum to her twins!
How you spend your time, energy & money is the true reflection of your priorities. 
The question to ask yourself: Are you Prioritizing the most high value opportunities AND what opportunities are you by default saying no too?
T.enacity.
I have a mammoth amount of respect for the body gainer with tenacity. The client that first springs to mind is actually another trainer who I mentored when he first joined the gym I then worked at. So this was the gym owned by that first P.T. boss I mentioned at the top of the show who emphasized the gift that is high expectations.
The newbie trainer I mentored was Jimmy. Now back then, on a 9 week mentor program new trainers had to achieve a body transformation that was massively inspirational. If they didn't – they didn't get to keep their job.
Not my rules however they did result in some pretty impressive results. Back to tenacity and grit (!) Jimmy broke his wrist playing footy a few weeks in his 9 week mentor program. He'd been killing it till then.
And he continued to kill it. A strapped wrist, a severely adjusted program, none of a young male personal trainers most prized exercises like bench or push ups… and Jimmy achieved the best transformation our studio had seen.
My point: Tenacity means relentlessly sticking with it regardless of the obstacles that will jump in your way.
I.ntegrity.
This is the step that binds me to my personal standards. However let's not talk about me. When I think of integrity as a body gain tool I think of a lady called Rachel. When I met Rachel she carried a huge amount of pain in relation to not having the body shape and the health she imagined for herself. Even more so, not being the example of the mum she expected herself to be. She felt a lack of Integrity.
The positive to massive pain, is that it can be stunningly compelling fuel to make a change.
In short: Integrity means living aligned with your identity beliefs and everything that you believe to be true about YOU.
O.wnership.
One gent that I've had the privilege to train for many years now is the master of personal responsibility. He readily accepts ownership for any situation he finds himself in.
A late night business function is zero excuse to miss his 5.45am P.T. session. An international flight that morning isn't either. A tennis injury is something to be trained around rather than reason for a day off. Once he decides an activity is of value he'll make it happen.
Ownership means regardless of how you feel. Regardless of the situation you find yourself. Without dealing blame. Without finding fault. You step up and focus only on: "What can I do to make this how I want it to be?"
That means: Ownership = Control. 
N.o Excuses.
Arguably our most loved studio member is a stuntman who several years ago suffered a serious brain injury on set.
Scottie, was not expected to live. Then he wasn't expected to walk. He certainly wasn't expected to run, cycle, horse-ride or deliver amazing keynote presentations giving hope to kids & adults alike who've also suffered severe brain injuries. 
Even if you're not fortunate enough to have regular contact with someone who can walk the No Excuses talk as well as Scottie you can find you own inspiration online or old school… in books! Even better BE your own inspiration.
No Excuses.
As Socrates said: "If all our misfortunes were laid in one common heap whence everyone must take an equal portion, most people would be content to take their own and depart."
To get actionable today is there a step you could get better at? To recap:
Everything Counts.
eXpectations.
Consistency.
Evolve.
Priorities.
Tenacity.
Integrity.
Ownership.
No Excuses.
If it's something that doesn't come naturally to you I highly recommend searching for the person that seems to do it well. As I mentioned at the top of the show, fair chance they don't do it naturally and effortlessly. They've practiced to get exceptional and that means you can too.
That's it for this week in Healthification.
Is there anything you'd love me to cover in an up coming show? Please let me know. I'd love to hear from you via the show notes or even better via an iTunes review. Those little reviews absolutely 100% make my day.
If you liked this you'll also like: Smart Simple Weight Loss: Prioritise v. Overwhelm.
If you're yet to share the Healthification love – just click here to zip over to iTunes and leave an honest rating and review. It'd help me out big time. With gratitude, Kate.