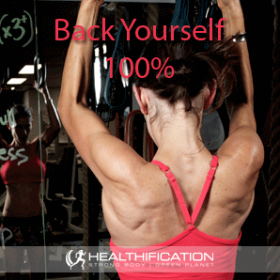 Podcast: Play in new window | Download
Subscribe: RSS
Over the years as a personal trainer I've observed often with extreme frustration the stark contrast in results achieved by different clients. Clients who may have a similar starting points. Who might both be equally time-poor. Who are both non natural gym-lovers.
Both given the same level of support. Of advice. Of individualised eating and exercising programs.
The difference? That factor that can make the difference between halving your body fat % and gradually getting heavier?
It's the NoMEx Diet.
In today's tucker show I want to share: The NoMEx Diet with you.
NoMEx compliments a primarily one ingredient approach to eating. Or Paleo. Or Vego, Gluten Free, Vegan, Intermittent fasting.
I imagine the last diet you followed that worked really well for you – on that diet – you alsoincorporated NoMEx.
Have you guessed it?
'NoMEx' stands for No More Excuses!
There are numerous effective approaches to eating to lose fat and gain your ideal body. Yes, I have my favourite – focusing primarily one ingredient foods – however whatever approach YOU choose, it's not so much about what you're not eating:
It's About The Excuses You're Not Making!
That's why ludicrous diets like 'The bread diet' can work. My mum lost plenty of weight followingthat diet when I was at school.
As protein deficient and micro-nutriently VOID and BORING as that diet must have been she lost weight because she stuck to it
with no more excuses.
As much as I LOVE bread I would of course never recommend that diet… it's just there to illustrate my point:
The best approach to eating will deliver ZERO RESULTS if you hold on to your excuses while a rubbish approach to eating might well deliver (short term!) results if you embrace No More Excuses.
The thing with excuses is they build on each other.
Thankfully NOT making excuses builds momentum too.
To help you start the NoMEx Diet I have an acronym that encompasses everything I remind myself of when I'm tempted to resort to a useless old limiting excuse.
Let's roll with the acronym and 6 keys to No More Excuses:
E.ats away at your self belief in your ability to stick with it and ever achieve your goal.
I genuinely believe each excuse you make eats away at a little more of your belief in YOU. The solution?
=> Is to see yourself as the type of person who follows through. Who keeps your commitment to you. When it's easy and when it's not. You can build on this supportive belief at the very next meal when a useless old limiting excuse tries to rear it's ugly head.
Choose the better option and fuel both your best body and your belief in YOU.
ok 'X' is tough, I came close though with:
eX.tra fat that goes straight to your problem area. Personally that's my thighs. The solution?
=> Believe that every excuse you make… each time you reason yourself into why it's ok to skip interval training or demolish those hot chips… is extra fat cruising straight to your thighs (or whatever your personal problem area is!).
Use the pain you are avoiding as your powerful No More Excuses incentive.
C.reates the perfect supportive, nurturing environment to welcome the next excuse. The solution?
=> Know that every excuse you don't make also makes it that much more likely, that much easier to not fall victim to an excuse next time.
Never start making excusing because where would you stop?
Side-note: If you're a fan of acronyms this is the last 'the N' of my 14 Fat Elimination standards.
U.ndoes the momentum you worked so hard to build… the good habit you were forming. The solution?
=> It's simple. Not easy though. Your know when you're about to sabotage a good habit. I get that eating the Timtams (or roasted cashews in my world) can spiral-into-an-urgent-yet-mindless-demolish-session… however there IS that moment of decision BEFORE you rip open the packet. In that moment of decision remember:
A good habit is hard to create and easy (on your best body!) to keep AND a bad habit is easy to create and hard to keep.
S.ucks the energy right out of your resolve. The solution?
=> There's nothing like a mountain of excuses to weigh you down. You're dragging those things around like a ball and chain around your ankle. They will sink your body gain attempts and leave you operating on empty. Give your energy to solutions rather than excuses. When in doubt I turn to this Jim Rohn quote:
"Don't wish it was easier, wish you were better."
E.courages other people to enable your detrimental habits and disregard the great habits you're trying to form. The solution?
=> You teach others how to treat you. Set your standards and stick to them. You'll be surprised at how long it doesn't take others to get used to the way you now eat. And if they take a little longer?
Remember the fuel you feed your body is 100% your choice and your responsibility. It really has nothing to do with anyone else. Perhaps the actions you're taking are drawing uncomfortable attention to their inaction, however regardless it's your choice.
To get actionable today, let's start small. One meal you can apply NoMEx to. I'd go with the meal that has a detrimental downward spiral effect on other meals.
That's it for me today. In tomorrows Wednesday weigh-in show I cover: The 2nd (!) Relationship:Diet Analogy.
I hope you can join me.
If you liked this you'll also like: Work Smarter NOT Harder… to make weight loss easier on yourself.
If you're yet to share the Healthification love – just click here to zip over to iTunes and leave an honest rating and review. It'd help me out big time. With gratitude, Kate.