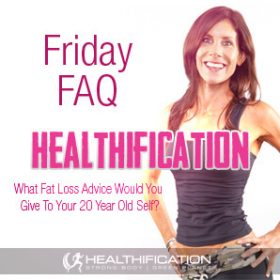 Podcast: Play in new window | Download
Subscribe: RSS
I love those advice you'd give to your younger self questions.
It's an opportunity to reflect on and appreciate the progress you've made. Perhaps to save some other youngsters some of your hard fought lessons.
In todays show I'm sharing my top three responses so far as:
What Fat Loss Advice Would You Give To Your 20 Year Old Self?
The funny thing is, this advice is applicable to any age.
I still see people struggling with these three lessons. So, let's get rolling – well almost – first I should explain… I used Fat Loss with volition because my 20 year old self didn't know what Body Gain was. And that's significant.
20 something Kate was focused on restriction.
On beating or tricking or forcing my body into submission.
On what I didn't have yet. On what I needed to miss out on to try and get what I didn't have yet.
On the gross fat I needed to LOSE rather than the fit, healthy, smokin' hot body I wanted to GAIN!
Here are those three pieces of fat loss (body gain!) advice:
One: Don't Start Something You Can't Sustain.
I eliminated ALL fat from my diet for a couple of years… actually let's make that a couple of punishingly low energy and disappointingly skinny fat years.
I was basically scared of OIL. And Nuts. I hated Avocado.
I was also contantly hungry and always craving sugar… madly craving sugar.
Whether you're currently in your 20's, 40's or 60's I whole heartedly believe there's no point in starting something you can't sustain.
Like the meal you skip that always comes back to bite you… the restrictive eating regime or excessive exercising routine you enforce will 100% back fire on you too. Either short term when you give up and binge because it's just too hard OR in the medium term when you lose all the results you achieved because you only get to keep those results for as long as you can stick to the actions that allowed you to achieve them.
Body Gain is a long term game. It's about the actions that fit sustainably into your lifestyle and ADD to the quality of your life.
Two: Quality Beats Quantity.
I used to scrutinize food labels with nothing but calories AND FAT in mind. Both were to be avoided.
It meant I ate a lot of fake food. Low value, nutritionally void rubbish containing ingredients that I couldn't pronounce let alone recognize.
If you're still stuck in a calorie counting cycle here's the A-C I'd give to 20-something Kate to help me dump measuring for good:
A.void focusing on calories and start focusing on Carbs, Proteins and Fats. Ideally in the form of nutrient dense one ingredient foods.
B.uild proper meals (like mum used to say!) rather than more'ish little craving causing snacks. Start with fibrous veg, add lean protein and finish with good fat.
C.reate quick, easy yet delicious Go2 Lean Clean Breakfasts / Lunches / Dinners and in general the routine that works for YOU. There's no one right way although I guarantee the quick-fix is the wrong way. Planning, shopping for and prep'ing your meals in advance is key.
Three: Appreciate What You've Already Got.
This applies whether it's appreciate the body, the energy, the lack of aches and pains (!) you've already got. Or whether it's the time and lack of responsibilities you've got. Or absolutely appreciate how little effort it takes to see some great results once you put your mind to it.
I won't lie! The younger you are the more quickly your body likely responds to taking the right eating and exercising actions.
However, the older you are the more knowledge you have about what works best for you. Your body might not respond as fast, you may have a few more aches and pains to contend with and you've likely got a whole lot more responsibilities to juggle however you do have more of the MINDSET component of Body Gain locked and loaded.
And: If your mind is stuck, you're wasting your time moving your body.
So far as MINDSET here are just a few of the things I would have loved to see 20-something Kate embrace earlier:
First, Positive Self Talk… and less judgement.
My friends certainly wouldn't have stuck around if I spoke to them the way I spoke to myself!
It's worth considering that your unconscious mind is always listening and it takes everything personally. Whether you're complaining "Why am I so useless at sticking to a routine consistently" or even if you're noticing "WOW, that chick has a really unfortunate figure" your unconscious believes you're talking about YOU.
It'll even go searching for evidence to support the question you're asking or the belief you're subscribing to. Do you really want your unconscious mind busy working 24/7 on all the reasons why you're rubbish at sticking to a routine?
Eventually, I decided I didn't.
Second, Focus on what you want… rather than the reverse.
In my 20's I poured a lot of energy into how hateful and boring cardio is. I'd force myself through it in an attempt to strip fat from my flabby hips and thighs.
The thing is, focusing on what you hate most about cardio or salads or anything does not make it any easier. In fact it makes it that much tougher to take the actions that will get you the results.
In additional because as I covered in show #001 what you focus on expands, focusing on flabby hips and thighs is not a winning strategy.
The thing that worked for me – that will work for you too – is to get crystal clear on exactly how you want it to be.To focus on the ease with which you power through your cardio… or the sense of satisfaction you feel when it's done… or your sexy, lean, firm hips and thighs.
Finally, Have Gratitude… and you'll experience less fear.
If you experience a lot of fear in your life I have a one word fix for you:
GRATITUDE.
I didn't really learn this till my mid 30's. It wasn't until I was trapped in the money-hemerraging, most hugely UN-fun crazy-stressful existence of my first business where I truely knew fear.
Fear that my business would go under this week.
Fear that my body would break down this week.
Fear that my few tolerant remaining friends would give up on me this week… that they'd stop calling, or even just declare "No more! I'm sick of hearing about it" in the same way that my family did.
The thing that let me break free of fear – because fear is paralyzing – was gratitude.
I heard that you simply cannot experience both fear AND gratitude at the same time.
I tested it… and found it to be true.
The awesome thing about gratitude is that you get to choose what to be grateful for.
The fear annialating power of gratitude doesn't need some massive event to work. A series of tiny daily things works just fine.
=> Your first coffee.
=> Your warm, safe, cosy bed.
=> That laugh or smile or hug your just shared.
=> The fact that you have a body that is capable of getting out for a walk.
To get actionable, regardless of your age: what is the advice that you'd benefit most from taking onboard today? To recap that's:
Positive Self Talk… and less judgement.
Focus on what you want… rather than the reverse.
Have Gratitude… and you'll experience less fear.
That's it for me today and also for this week in Healthification.
Is there anything you'd love me to cover in an up coming show? Please let me know. I'd love to hear from you via the show notes or even better via an iTunes review. Those little reviews absolutely 100% make my day.
If you liked this you'll also like: Dracula's Best Weight Loss Advice.
If you're yet to share the Healthification love – just click here to zip over to iTunes and leave an honest rating and review. It'd help me out big time. With gratitude, Kate.