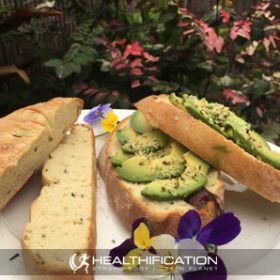 Podcast: Play in new window | Download
Subscribe: RSS
Todays show is for YOU if you LOVE demolishing delicious, addictive, convenient refined carbs.
I get it. The bread, the cereal, the chips, the biscuits are such a tempting way to reward or distract yourself. They're so easy. So fast. So cheap. However if you are what you eat… you don't want to be easy, fast and cheap I'm guessing?
In all seriousness, as an ex-carb queen I can 100% guarantee if you're sick of feeling out of control so far as your food choices. If you struggle with emotional eating. Mindlessly binging then enforcing restriction. If you just want eating to be natural, simple and not a constant battle or a huge all consuming energy suck. 
If you want to see results for the effort you put into your exercise and for the sacrifices you make with your food choices then the ONE swap that will give you the biggest, fastest result… the ONE swap to get your energy levels soaring and your body fat plummeting?
Is To Cut Refined Carbs Monday – Friday.
The thing is, your body will crave what you feed it. For better or for worse. I've sure you've already experienced this to be true.
Let's make it for better! Cravings are absolutely within your ability to control. Once you start to feed your body more plant based protein, fibrous veg and good fat it'll actually start to crave just that.
Here are 3 tips to get your energy levels soaring and your body fat plummeting:
ONE: To LOVE your refined-carb-free meals build each meal around a fav protein, a fav fibrous veg and a fav good fat. Essentially focusing on what you're giving your body rather than restriction.   
At breakie that might look like a base of: vegan protein powder + kale + almond butter.
Now add some cucumber, spinach, green apple, spirulina, coconut water and you're set.
TWO: Make it a personal standard to never waste a carb experience on poor quality disappointing crap-o-la.
To my fellow emotional eaters I want you to enjoy every single meal. Part of that is taking to time to find the generous, colourful, refined carb free meals you enjoy through the week. Just as important is to indulge guilt free in the quality carbs that work for your body on the weekend.
At lunch that might look like your fav bread or some scrumptious sweet potato fries. Chosen with volition. Rather than the bad bread or floppy fries resorted to out of convenience or social pressure or because you got crazy-outta-control hungry.
THREE: Out plan your lack of discipline. 
That's not meant to sound harsh! Once you admit you have discipline weakness's you can out plan them other than be limited by them. You can choose to not keep throwing yourself into the temptation zone! Whether your temptation zone is arriving starving at a friends party or raiding the fridge / freezer / cupboard in the evening after day of "great eating" or picking up that 2 for 1 refined carb crap-o-la on special at the supermarket after skipping lunch.
This tip is a shout out to the Facebook live video I did earlier this week where I shared: 4 tips to take the struggle out of food prep and start your week feeling in control of your food choices. 
I know it can sound like there's a lot involved. Whether we're talking about the tips I share in these live videos or the one step a day to get a fit, strong healthy body via my 30 day plant strong jumpstart. The thing is every step builds on the last. 
A common misconception in heath is that you'll have that ONE big life changing shift. That one big epiphany or break through or you'll find the magic solution.
Yes to have to decide. However the actions to implement once you've decided are a constant, evolving work in progress. That could be overwhelming OR it could be freeing. Freeing in that there's no reason to wait or stall or get it perfect from the out set.
It's just a matter of making a start and building the momentum as your positive actions and habits build on each other and compound.
A great start Is To Cut Refined Carbs Monday – Friday.
If this plant strong Carb-Worshiping girl can make the change – AND Love It – then you can too.
To get actionable today is there a particular refined carb in your life that regularly sends you into a downward eating spiral? Or perhaps one refined carb that you're way too reliant on. Your fall back on refined carb that you regularly over indulge in. And feel guilty about. And perhaps pass over other more nutrient rich foods in favour of?
That was bread for me. I still LOVE and still eat bread. However not Monday to Friday. It is no longer in control of me like it used to be. And perhaps unsurprisingly I actually appreciate it even more now that it's just a welcome weekend friend!
Just nudging that ONE refined carb out of your Monday to Friday and importantly replacing it with a delicious, nutritious alternative (or several)  is a fantastic first step.
That's it for this week in Healthification. Thanks so very much for hanging with me today I appreciate it. If you've found this show of value I'd super appreciate you sharing it with someone you think might also find it valuable or leaving me and iTunes review. That'd really rock. Cheers!
If you liked Get Your Energy Levels Soaring And Your Body Fat Plummeting: 3 Quick Tips, you'll also like: Fat Loss Tips: My 5 Best Quick Fixes.
If you're yet to share the Healthification love – just click here to zip over to iTunes and leave an honest rating and review. It'd help me out big time. With gratitude, Kate.