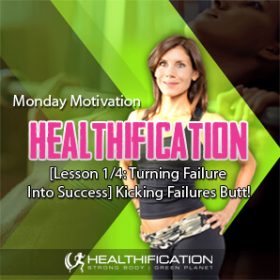 Podcast: Play in new window | Download
Subscribe: RSS
Todays show is the first in a 4 part series on Turning Failure Into Success. Today is all about: Kicking Failures Butt!
Although I'm referring primarily to body parts in this show I absolutely believe the lesson (my embarrassingly hard learnt lesson!) can be applicable to any problem area or potential failure in your life. Let's get rolling…
Lesson #1: You can turn your problem area into an asset.
Do you have a part of your body you're particularly self conscious about? Perhaps you have many. That I can absolutely relate to.
For a lot of my life I was debilitatingly, painfully shy. Although I was never hugely over-weight I was HUGELY self conscious and not the least bit comfortable with my body.
I remember the girls who had hot bodies at school. The chicks I wanted to look like… and the way they looked seemed utterly unattainable to me. I figured I was 'just meant' to be chunky on bottom and scrawny on top. I would regularly get around with not one but two cardigans tied around my waist to hide my big butt.
As I observe the young teenage girls here in Sydney these days who get around in short shorts that are scandalously near non-existent I feel a mix of both bemused shock and also somewhat envious at their obvious confidence! I also feel old!
Many years ago…
My first job was in an Italian silver service restaurant working in the piano bar. Sometimes I'd have to clear tables which necessitated venturing into the kitchen and the kitchen boys were ruthless. I'd do my best to first sneak in then escape the kitchen unnoticed. I rarely succeeded.
Each time I dumped my dishes and made my speedy exit the boys would break into chorus. I'd be farewelled to the tune by Sir Mix-A-Lot… I wonder if you know it?
"I like big butts…" That job actually shook a lot of my insecurities right out – it was sink or swim – and I've always been pretty damn determined. Years and about a billion squats, lunges, dead-lifts and step-downs later I LOVE that:
A previous problem area can be an asset. 
I don't care what your body shape is. If you're not happy and you're willing to put in the effort, you can change it.
YES, it does take more effort for some of us than for others, that's life right? If it's important enough you'll find a way… if not you'll find a reason not to.
The thing is that big butt, flabby arms or wobbly stomach that you have to work really hard to change – there's so much more satisfaction when you get there.
Here are 3 steps to turn your problem area into an asset:
Step 1: Ensure Your Mindset Is Working For You.
If you've been focusing on what you don't want – you'll have been getting more of exactly that!
Eliminate any negative language that you may be in the habit of using when you describe your body or your ability to achieve your goal.
Since, what you focus on expands… instead choose the language that either describes how you want that body part to be or what you're already grateful for – perhaps how well that body part works.
Step 2: Model The Person Who Has What You Want!
Importantly choose someone who is a similar age – who is not strikingly more genetically gifted – and who leads a lifestyle that is aligned with the lifestyle you do / or could lead.
What do they prioritize? How do they exercise? And eat? Take note and work those actions into your routine a the pace you can manage.
Just to be clear if you're 40, you work, and you're not genetically gifted… you wouldn't attempt to model the naturally slim 20 something chick who can eat what she wants, does not work, has a minted husband and still has daddy's credit card at her daily disposal.
Step 3: Commit To Paying Your Dues In Advance… even though you don't have a definite timeframe for success.
Have you ever caught yourself thinking: "Well if I had her body… then I'd eat better and exercise every day too!"
One of the things I love about health is it's a great equaliser. Yes, for sure some people have more time, more responsive genetics, more financial resources… just MORE!
However they still can't buy their way to results. They truly can't. I've seen them try!
I genuinely believe Failure only happens when you stop trying. If you never stop trying while:
Ensuring Your Mindset Is Working For You
Modeling The Person Who Has What You Want
Committing To Paying Your Dues In Advance… even though you don't have a definite timeframe for success.
Then you 100% will turn your problem area into an asset.
Ok. So I've shared my number one previous problem area. Are you up for sharing yours? If you let me know in the comments I'll share my fav exercise moves for that problem area with you.
I'll be back next with [Lesson 2: Turning Failure Into Success] Surviving Gym Floor Humiliation For The NON Natural Athlete!
Till then, thanks so very much for hanging with me today I appreciate it. If you've found this show of value I'd super appreciate you sharing it with someone you think might also find it valuable or leaving me an iTunes review. That'd be awesome. Cheers!
If you liked Turning Failure Into Success (Kicking Failures Butt!), you'll also like: Turning Business Mastery Into Body Mastery.
If you're yet to share the Healthification love – just click here to zip over to iTunes and leave an honest rating and review. It'd help me out big time. With gratitude, Kate.