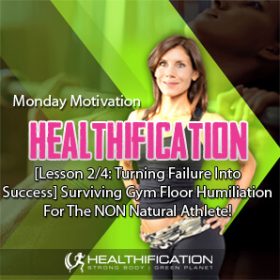 Podcast: Play in new window | Download
Subscribe: RSS
This is the second in a 4 part series on Turning Failure Into Success and today: Surviving Gym Floor Humiliation.
The lesson? Everyone starts somewhere.
I still get surprised when my clients tell me how easy I make training look. How co-ordinated… That is so NOT 'natural Kate'. 
Anyone who knows me outside a gym would be highly amused to hear those words used in relation to me.
More believable is the fact that I fell off the treadmill my first week as a personal trainer.  In front of both my new boss and the senior trainer at that studio.  Every other trainer AND their partners new 'the new girl had come a gutser off the treadie' within 24 mortifying hours.
I threw myself back on the treadmill asap… although I've never relaxed on one again.
Within a few short weeks, I was at it again, providing entertainment by way of adding twice the weight I meant to to the squat rack. I discounted how extra heavy it felt as I un-racked and proceeded to squat. Once. At which point I got stuck at 90 degrees – and yelped out a pitiful "Daaaanny" to get the attention of, Yes, that same head trainer who swooped in to rescue me. For the next week the other trainers kindly mimicked my "Daaaanny' plea whenever I walked past.
Everyone starts somewhere.
I have so much respect for the NON-natural athlete who sticks with it at the gym. It's easy to stick with something you're naturally awesome at… however how limiting would life be if your attitude was only to do that which comes easily to you?
The people I admire are those that weren't handed success on a gold plater. The people that push through un-coordinated or uncomfortable or just plain UNfun.
Here are 3 steps to help you make a start:
Step 1: Recall that thing you're now awesome at that 100% did not come easily.
The cliched example is learning to drive. That's not my example as my eyesight is bad and I can't drive. My example is a throw back to last weeks show and my first job was in an Italian silver service restaurant. As I mentioned I was the bar girl and one skill that did not come naturally was balancing glass's on a silver platter.
Let me paint the (again!) humiliating picture. I'm around 18/19 tottering round in a skirt, blouse and heels doing my best to balance a silver platter with white linen cloth on one hand to deliver drinks to the tables. Wine glasses are fine. Short stubby spirit glasses are a walk in the park. However we also had these beers schooners that were incredibly wide at the top and impossibly small at the bottom.
We all had the boys from Saatchi and Saatchi advertising agency come in to the restaurant regularly for their long lunches. Now to use the words teenage Kate would have favoured I "hero worshiped" these gents. At that point I still wanted to be "an artist" and I thought these advertising execs were pretty impressive.
You know where this is going right?
One afternoon we had a young couple of Saatchi gents enjoying a long lunch. I was to deliver their beers. As I leaned over their table and the gents both looked up to smile those beers leaned right over with me and toppled all over the gents. They handled it A LOT more graciously than my boss did! And I got better at balancing schooners.
=> To cut to the chase each of us have multiple examples of the things we are now confident and competent at that 100% did not come easily. These are reference points for success and your proof that you just need to make a start.
Step 2: Ask someone who has that skill you're looking to acquire what it was like for them in the beginning.
I guarantee you'll be surprised and comforted when they share their struggles. When I was studying to become a Personal Trainer I could not do even one push up from my hands and toes. Now they're not easy however i can make them look easy… possible even co-ordinated!
=> Stop focusing on other peoples highlight reels. Or comparing how they're doing 10 years in with where you're at early on and it'll be a whole lot less daunting to just start make a start.
Step 3: Schedule non negotiable times and document your reference points for success.
With that skill you thought of in step one, you put in the time I'm sure. It's didn't just happen magically for you and it didn't just happen magically for the person you thought of in step two either.
=> Non-negotaible appointments with YOU to practice and push through un-coordinated or uncomfortable or just plain UNfun remove the "do I do it today or delay till tomorrow?" decision making process. Documenting your reference points for success – no matter how small – will motivate you to keep pushing.
To get actionable today, if throughout this show you've been thinking of that skill that does not come so naturally to you… and you know it would enhance your life. And Yes I'm biased however if you're not yet in a consistent weights routine then I SUPER-HUGELY-PASSIONATELY recommend you consider it as the skill you choose – back to that actionable bit (!) schedule TODAY when you're going to make a start. Or make a come back!
Remember: Everyone starts somewhere. When you encounter an especially humiliating, disappointing or discouraging day – remind yourself how limiting would life be if your attitude was only to do that which comes easily to you?
That's it for this week in Healthification.
The Healthification podcast is proudly bought to you by my FREE 7 Day 'Easy Vegan' plan. It took me 25 years to transition from a meat eater to a happy, healthy, non-judgemental Vegan! You can do it in 7 short days with my simplified 'easy vegan' plan!  Get the fit, strong, and healthy plant based body you deserve…while avoiding ALL the mistakes I made along the way!
Till next time, remember Creating a body and life you love is Freedom. (If this ex-carb queen, NON-genetically gifted, naturally uncoordinated VEGAN-chick can do it – so can YOU!!!)
If you liked Turning Failure Into Success: Surviving Gym Floor Humiliation, you'll also like: 6 Reasons To Not Be Scared Of The Weights Floor.
If you're yet to share the Healthification love – just click here to zip over to iTunes and leave an honest rating and review. It'd help me out big time. With gratitude, Kate.