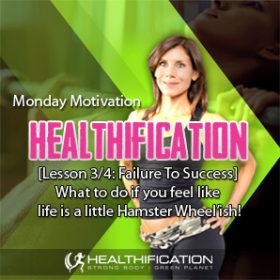 Podcast: Play in new window | Download
Subscribe: RSS
I'm sure you've heard the saying "You don't know what you've got till you lose it"
I also believe "You don't know what you're missing till you get it!"
Although the story I'm sharing today (Lesson 3 in the: Failure To Success series) relates to business, this lesson is even more applicable to health. Todays show is for YOU if you feel like you're stuck on the Hamster Wheel!
Specifically:
What to do if you feel like life has gotten a little (or A LOT!) Hamster Wheel'ish.
Ok, so it's not such a vegan analogy (!) however the Hamster Wheel for me sums up:
ZERO FREEDOM and FEELING TRAPPED.
MONOTONY and FRUSTRATION.
SELF DOUBT and FEELING LIKE CHANGING YOUR SITUATION IS BEYOND YOUR CONTROL.
I have 3 steps to help you leap off the hamster wheel however first I'll share the biz from hell experience that was both my greatest 'failure' and most valuable lesson.
You see I wasn't aware of just how important FREEDOM was to me till I felt like I had zero.
As an overly idealistic… even positive to a fault young trainer I bought into a business with a distinct lack of due diligence and the highly ignorant belief that hard work and leading by example can fix anything. Not withstanding amazing clients and a rock-star team… this was without doubt the most UNfun 2 1/2 years of my life.
The details don't warrant repeating beyond the observation of my business broker when I eventually embarked on the super-crazy-stressful sale of the business: "This business is like a soap opera – what else could possibly go wrong? Kate, when you finally get out you need to write a book!" I escaped that business with a huge appreciation for all that I have to be grateful for. I got a lot better at appreciating the small things. Equally as important I learnt to back myself. I'm yet to write a book!
Here are those 3 steps to help you leap off the hamster wheel:
Step one: Elicit YOUR number one Value and find ways to work it into your every single day!
Now my number one value is Freedom however yours could be anything. It's the state or emotion you seek out before all else. Equally when it's taken away (or you feel like it's taken away) you feel like crap!
I'll roll with Freedom however as I run through these steps please have your number one value (perhaps Love, Integrity, Health, Fun…) in mind.
This is where you want to make it easy for you to experience your value. So deciding I could only experience Freedom once I escaped that biz would have been making it hard for myself. Equally, deciding you can only experience Love once you find your sole mate or Health once you've hit your ideal weight is making it hard for yourself.
As easy win is deciding:
Freedom is reading whatever I want for 10 minutes before bed.
Freedom is listening to amazing audiobooks / podcasts as I walk to and from work.
Freedom is non negotiable exercise time 6 days a week. (well it was for me when I was spending 14 hours a day in the gym however you pick your easy wins!)
Step two: Reframe the state or emotion (sometimes known as an anti-Value) that most infuriates / drains / scares you.
For me that's frustration. Hopefully you're thinking of YOURS now. That feeling you'll do anything to avoid. However it's just behind you on hamster wheel – chasing you – and sometimes you need to first acknowledge it and then reframe it in a way that takes away some of its power.
Reframing frustration might look like this:
Frustration is a sign I know things can be better and so each day I take the actions to make it better.
Frustration means I'm going to have such a genuine appreciation when this is over.
Frustration is a chance to build my tolerance muscle.
Step three: Back yourself and keep going even just ONE step a day.
Regardless of how positive an attitude you can cultivate the end goal is to leap off that hamster wheel right? Whatever your hamster wheel is.
The most motivating thing is progress. Progress breeds hope. And it's funny how small that progress can be to still build hope.
Your ONE step a day might be:
Swapping one processed food for one whole food a day. That might sound small however it can actually have pretty HUGE results so far as your body composition, energy levels and cravings. Back in that biz from hell I'd demolish a 600mil Diet Coke and a huge Low Carb protein bar every single day for afternoon tea.
It was my little reward. I felt I deserved it. However I felt a lot better when I swapped that processed rubbish for something tasty and good for my body. In my case that was roasted cashews and sparkling mineral water. Just one small step a day – FOR YOU – demonstrates that you're doing more than just surviving. You're making progress. And everything counts.
One of the things I live about health is that a whole bunch of tiny steps can have a huge compound effect. One whole food swap a day for a month and all of a sudden you've really cleaned up your diet!
To get actionable today, if you feel like life is a little Hamster Wheel'ish then I'd love you to first get clear on your number one value and than decide on 3 ways to work it into your every single day. Remember: make it EASY for you to experience your value. 
That's it for this week in Healthification. Thanks so very much for sharing this week with me.
The Healthification podcast is proudly bought to you by my FREE 7 Day 'Easy Vegan' plan. It took me 25 years to transition from a meat eater to a happy, healthy, non-judgemental Vegan! You can do it in 7 short days with my simplified 'easy vegan' plan!  Get the fit, strong, and healthy plant based body you deserve…while avoiding ALL the mistakes I made along the way!
If you're listening to this podcast the day it's released then: We start today! Woohoo!!! Regardless of how far you're listening into the future I have you covered with my simplified 'easy vegan' plan!
Till next time, remember Creating a body and life you love is Freedom. (If this ex-carb queen, NON-genetically gifted, naturally uncoordinated VEGAN-chick can do it – so can YOU!!!)
If you liked Failure To Success: What to do if you feel like life is a little Hamster Wheel'ish, you'll also like: You Don't Know What You're Missing Till You Get It.
If you're yet to share the Healthification love – just click here to zip over to iTunes and leave an honest rating and review. It'd help me out big time. With gratitude, Kate.