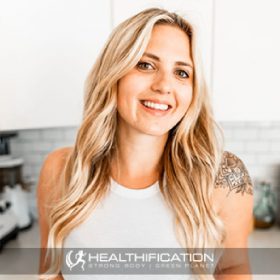 Podcast: Play in new window | Download
Subscribe: RSS
Bailey Ruskus, also known as Chef Bai, is a seasoned chef classically trained at Le Cordon Bleu in San Francisco, who now uses her culinary expertise to create rich flavours with clean, nourishing 100% plant-based ingredients.
Bailey's own plant-based journey started with her desire to heal her chronic pain from an 18 year battle with endometriosis. In this conversation Bailey shares how the medical system failed her. As it does so many other young women.
On average it take 10 years of debilitating pain and frustration for endo to be diagnosed.
Becoming plant-based really was a last resort after exhausting all other options. Although Bailey removed animals products from her plate to improve her own health, as we hear so often, her heart opened to the plight of animals. She discovered how our health, and the health of our planet, is all connected.
Bailey furthered her studies with a certification in plant based nutrition from T. Colin Campbell, Center for Nutrition Studies and is a certified Health Coach from Institute for Integrative Nutrition. She now hosts virtual corporate wellness classes around the globe, develops recipes for brands and works one on one with individuals and families looking to heal through food.
This conversation was a true joy. Bailey is warm, open and generous in sharing her journey and committed to helping others heal from chronic illness through good food, food knowledge and a healthy mindset.
In this conversation we discuss:
Bailey's early passion for cooking.
Working as a woman with endo in the food industry and the struggles that came with that.
Bailey's transition from classic French cooking to plant-based. What that was like professionally and personally?
Thriving with endometriosis and healing 18 years of chronic pain without pharmaceuticals.
Bailey created the Period Liberation Protocol and it's changing the way we look at managing period pains.
Environmental toxicities that are causing women to grow increasingly sick and causing infertility
'Cook. Heal. Go Vegan!' Bailey's first cookbook, with over 70 recipes to kickstart your plant-based journey came out in 2021.
Using salt, oil and sugar in cooking. Bailey interviewed Dr Joel Fuhrman who is salt, oil and sugar free, did the chat change her own habits?
If you love the sound of Bailey's approach to using classic techniques with a whole-food, plant-based framework I recommend you check her out online and of course via her cookbook Cook. Heal. Go Vegan!
Please not feel intimidated by Bailey's culinary background and Chef'ing expertise. As she shares in her book:
The best advice I can give is to dive right in, have patience with yourself and—like you do in life—use every failure as an opportunity to learn.
As the holiday season approaches it's the perfect time to share some delicious new recipes with your loved ones and potentially sow a few seeds in their journey to thrive on plants. I'm always eager to introduce my family to new, non-boring salads and this year I'm going to try Bailey's rainbow lentil salad with maple tahini dressing.
Additionally, Bailey has an Italian baked cannelloni beans with crumble topping that looks amazing so I'll be making it too!
To connect with Chef Bai simply cruise to strongbodygreenplanet.com and search 799.
Being a plant based chef makes me a better chef.
Click To Tweet
Connect with Chef Bai and abundant plant food deliciousness via her website:
Purchase 'Cook. Heal. Go Vegan!' an #1 Amazon best-seller in 2021:
Connect with Chef Bai across the socials: TikiTok | Facebook | Instagram | YouTube | Twitter.
Learn more about Bailey's Period Liberation Protocol. 
Check out The Plant Remedy podcast.
The "super intense" documentaries Bailey mentioned that I also HUGELY recommend: Earthlings and Dominion.
That's it for this week in Healthification. If you're yet to rate, review and subscribe please do! It counts big time in letting this little show – and the amazing guests I get to chat with achieve some visibility among the millions of podcasts out there.
Big thanks to YOU for sharing this week with me.
The Healthification podcast is proudly bought to you by my FREE 'Easy Vegan' plan. It took me 25 years to transition from a meat eater to a happy, healthy Vegan! You can do it in just 3 days with my simplified 'easy vegan' plan!  Get the fit, strong, and healthy plant based body you deserve… while avoiding ALL the mistakes I made along the way!
To learn more check out: strongbodygreenplanet.com
Till next time, remember Creating a body and life you love is Freedom. (If this ex-refined-carb queen, non genetically gifted, naturally uncoordinated vegan chick can do it – so can YOU!!!)
If you liked "Plant-based Chef Bailey Ruskus and Thriving with Endometriosis." you'll also like E614: 30 Minute Vegan Dinners You're Going to Crave with Megan Sadd.
If you liked "Plant-based Chef Bailey Ruskus and Thriving with Endometriosis." you'll also like E642: Cheap Lazy Vegan Food That's Easy and Delicious with Rose Lee.
If you liked "Plant-based Chef Bailey Ruskus and Thriving with Endometriosis." you'll also like E634: Nikki Vegan and Eating Delicious, Easy to Prepare, Affordable Food Without Harming Animals or the Environment.
If you liked "Plant-based Chef Bailey Ruskus and Thriving with Endometriosis." you'll also like Plant-Based on a Budget Delicious Vegan Recipes with Toni Okamoto.
If you liked "Plant-based Chef Bailey Ruskus and Thriving with Endometriosis." you'll also like E586: Vegan Comfort Food Classics with Lauren Toyota.