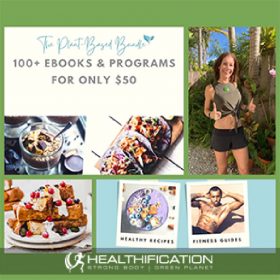 For better or worse, so far as Going Vegan, and the Best Advice To Adopt A Healthy Plant-Based Lifestyle I Wish I Always Knew…
First and foremost: The food is the easiest part!
It's getting easier, more diverse and delicious every single day. In fact, to access a vast abundance of plant-based recipes from some of the vegan chefs and creators I most respect right now I'm excited to share this year I'm honoured to be part of The Plant Based Bundle. 
Have you heard of the bundle? It's an amazing collection of 100+ vegan ebooks, courses, and programs including: Vegan Guides, Home Workout Programs and Meal Plans, Recipe eBooks.
Offered for just 10 days at a whopping 98% discount.
Featuring many friends of the podcast like: Lauren from Hot For Food, Sexy Fit Vegan's Ella, Candice from The Edgy Veg and Cheap Lazy Vegan's Rose.
Also featuring my own 30 Day Plant Strong Jumpstart: to create a body and life you love!
Moving away form The Bundle – I'll share how to take action at the end of the show and via todays show notes…
Almost 7 years vegan and nearly 30 years meat-free I can genuinely say, the biggest learning, is not how to master the perfect vegan omelet, crispy tofu or creamy cheese sauce. It is how to control the anger and frustration you will feel in communication with non-vegan loved ones and instead lead with love, compassion and deliciousness.
In short, how to be most Effective in your Communications. 
Rather than most emotional, most heart-led and even most factual.  
Those vegan truth bombs are very often not well received. They can blast away at our close relationships making our loved ones feel judged, attacked and I guess, understandably eager to put their defences up.
To be honest this is the advice I find toughest to follow. 
My greatest teacher has actually been this podcast. Of all the conversations with amazing vegan doctors, athletes, activists and authors it's the individuals that are calm, considered and compassionate for their fellow humans that seem to be the most effective and to have the greatest reach and impact.
Although I have respect for everyone I interview it is those that are most effective that I am aspiring to learn most from.
The advice I find easiest and most joyful to follow?
Don't be fearful of Carbs. Or Soy!
Oh the years I wasted believing carbs would make me fat. Or soy would mimic the effect of estrogen in my body and give me flabby thighs.
Although I had long embraced ALL the whole food carbs prior to Covid lockdown round one in 2020, this learning really was driven home in a delicious fashion. I spent 12 precious weeks in lockdown with my mum, dad and Sir Thomas the cat in Noosa in 2020 rather than isolated alone in my tiny flat in Sydney.
I escaped just in time before the NSW / Queensland borders were closed.
At that point mum had been plant-based a couple of years and was expert at veganising all her fabulous home cooking and baking. Needless to say I devoured ALL the vegan carrot cake, banana bread, Anzac biscuits, bean burgers, roasts, sour dough and so much more.
At least weekly I would make mum my tofu scramble with crispy smashed potatoes and more often than not my lazy go to lunch was, tofu salad with all the veg and plenty of Veganaise.
Despite Annie Galli's treats, and way too much Shiraz, the majority our meals were abundant whole plant foods and to my surprise over that 12 weeks, I lost 5 kilos. Unintentionally and absolutely restriction free. Maybe it was the home cooking, maybe it was the extra time outside, maybe it was the plentiful time spent with the people I love most.
Regardless, I have further evidence to continue embracing whole food carbs and soy.
During that period I also relearnt, perhaps my most valuable life lesson ever that is absolutely applicable to becoming vegan and adopting a healthy plant-based lifestyle and that is, to Back Yourself 100%.
If these last few years have taught us anything, it is that life is not certain. You can never know what is in store today, tomorrow or next year. All you can ever have certainty in, is YOU.
You can choose to find that daunting and overwhelming. Or, you can choose instead to finding it freeing and empowering.
There is a Freedom in letting go of a need for certainty in others or in circumstances and instead placing that certainly in YOU.
In trusting – KNOWING – you will come through for YOU.
Additionally, we teach others how to treat us. If you are negotiable so far as your values and standards then I guarantee others will interpret those values and standards as up for negotiation too.
I'm not ONLY talking about food here.
How you spend your time is also a standard you set for yourself and for others to follow. Which leads me to the advice we all give and equally readily struggle to implement:
Prioritise your Self Care. This may at times take the form of spending time with those who share similar values, like other vegans and animal rights activists.
It might also mean taking a step back from activism. If it causes too much friction in your relationships with non-vegan loved ones and clients. This was a tough lesson for me to learn.
I felt weak not having the emotional bandwidth for activism at times. Yet also, I recognized a pattern that too much time with people who shared the same vegan values as me made it even tougher for me to integrate effectively into my day job, with my dear non-vegan clients who pay me the income that allows me to spend ALL the unpaid hours I spend each week on projects of the heart like this podcast and like my Plant Positive Journal launching in a few weeks.
More on the journal in podcasts to come!
I'm learning there's no perfect balance in a non-vegan world. If I want to try and be that positive, happy, healthy influence on my non-vegan clients and friends then I must realize I'm not a machine. I can not fly the V-flag ALL THE TIME.
YOU likely cannot either.
As urgent, dire and horrific as animal exploitation is, we need to be in the fight long term, sustainably and effectively. 
To the best of our abilities we need to find a way to still find Happiness, Love and Joy. Because that will pull people towards us. Towards the vegan world we are so eager to create rather than pushing them away from an angry, judgemental, friction-filled little club.
Now none of this advice may be especially groundbreaking. Perhaps it is mostly stuff you already know. However, years working as a personal trainer has taught me there is a HUGE difference between what you know, and what you DO.
Awareness counts. Action gets you results. Whether results for YOU means adopting and sustaining a healthy plant-based lifestyle. Or whether it's more about finding that illusive fine line to walk where you honour your vegan values and advocate for the animals, while also maintaining close, mutually respectful relationships with the non-vegan loved ones in your life.
So lets recap, and get actionable:
Best Advice To Adopt A Healthy Plant-Based Lifestyle #One: The food is the easiest part!
One of the easiest ways to make any meal delicious is to generously drizzle it in a gloriously creamy vegan cheese sauce or avocado based green goddess dressing. I'm thinking nacho's, tacos or roast veg with that veggie based cheese sauce. Or Buddha bowls, tempeh wraps, sushi or summer rolls drenched in green goodness…
You'll find numerous quick and simple sauce and dressing options in the Plant Based Bundle including: an entire ebook from @thevegan8 on Oil-free Dressings & Sauces made from whole food fats to help you spice up your salads and meals!
Just in case you are sometimes as lazy in the kitchen as me and are not always up for mixing and blending… your even easier option to jazz up ANY food is Veganaise or a combo, not mixed just drizzled separately of balsamic glaze + Sriracha + tahini.
Advice To Adopt A Healthy Plant-Based Lifestyle #Two: Focus on how to be most Effective in your Communications.  
My most impactful advice here is to genuinely, honestly access the interactions that do not go as well as you would like and ask yourself in relation to your current approach,
First: How is that working for me?
Second: What can I do to more graciously meet the individual where THEY are?
Adopt A Healthy Plant-Based Lifestyle #Three: Don't be fearful of Carbs. Or Soy!
Plant friends, this might be the best actionable item yet! I encourage you to try my tofu scramble and crispy smashed potatoes! It's quick, delicious and near guaranteed to win over that tofu hater in your life. I've got the full recipe for you here:
Tofu Scramble with Crispy Baked Smashed Potatoes. (serves 2)
Scramble:
225 grams extra-firm tofu
1 Tbsp olive oil
1/4 red onion (thinly sliced)
1 cup Swiss brown mushrooms (thinly sliced)
2 cups spinach
Sauce:
1/2 tsp sea salt
1/2 tsp garlic powder
1/2 tsp ground cumin
1/4 tsp smoked paprika
1/4 tsp turmeric
1 heaped Tbsp nutritional yeast
Water (to thin)
For serving: (optional)
2 medium – large potatoes (I like red skinned potatoes)
1 Tbsp olive oil
1/2-1 bunch of asparagus
A handful of multi-coloured baby tomatoes
Fresh coriander
To make crispy baked smashed potatoes: Preheat oven to 200 degrees celsius. Boil potatoes in salted water till easily smash-able with a fork. Smash with fork, keeping skin side down. Drizzle generously with olive oil. Bake till crispy around 20-30 minutes.
Pat tofu dry and roll in a clean, paper towel with something heavy on top, such as a cast-iron skillet, for 15 minutes.
While tofu is draining, prepare sauce by adding dry spices to a small bowl and adding enough water to make a pourable sauce. Set aside.
Prep veggies and warm a large skillet over medium heat. Once hot, add olive oil and the onion and mushroom. Season with salt and pepper and stir. Cook until softened – about 5 minutes.bAdd spinach, season with a bit more salt and pepper, and cover to steam for 2 minutes.
In the meantime, unwrap tofu and use a fork to crumble into bite-sized pieces.
Use a spatula to move the veggies to one side of the pan and add tofu. Sauté for 2 minutes, then add sauce, pouring it mostly over the tofu and a little over the veggies. Stir immediately, evenly distributing the sauce. Cook for another 5-7 minutes until tofu is slightly browned.
Serve immediately with the crispy potatoes, asparagus, tomato and fresh coriander.

Or to tempt you with some of the high value, high carb offerings in the Bundle how about:
Raw Vegan Tacos. As creator of this ebook @rawfoodromancesays: "It's okay to fall apart sometimes… tacos fall apart and we still love them!"
Or, Hash Brown Avocado Toast from @HealthyLittleVittles 7-Day Vegan Challenge ebook. Why didn't I think of that masterful marriage of three of my fav things?!
Even, The most incredible vegan pizza recipes from @addictedtohumus.
That's not even touching on ALL the decadent, indulgent and also healthy, nutrient filled desserts, smoothies, party food, muscle meals and more. So much more!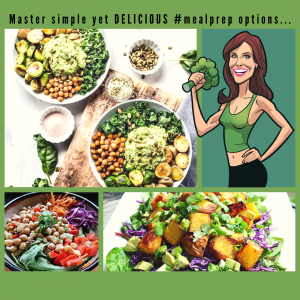 Returning to our actionable advice,
A Healthy Plant-Based Lifestyle #Four: Back Yourself 100%. 
I think this is more a constant commitment rather than an overnight declaration however I do have two recommendations if you're not yet in the habit of backing yourself 100%.
First: Come up with the affirmation that feels natural and supportive for you, and use it. Mine is, "You've got this!"
Second: Get in the habit of jotting down 3 reference points for success – no matter how small – each day. What you focus on expands. You want the wins, the good things and the progress to expand.
Healthy Plant-Based Lifestyle #Five: Prioritise your Self Care.
Each Sunday in my Plant Positive Journal I have a self care suggestion. A couple close to mind right now…
When did you last feel a sense of wonder and awe? What can you do to experience that again?
And, Build a habit of asking: Is this decision kind to my future self?
If your future self would like a little help sourcing easy, healthy plant-based recipes or perhaps it's not so much in the finding yet more in prioritizing the food, exercise and other healthy habits that build on each other to have a compounding and lasting effect…
Here are those Plant Based Bundle details:
Available from 18th of November till the 28th of November.
Your get access to 100+ Ebooks, Programs and Guides.
The price: $50 (USD)
Total value: over $4000 (USD)
That's a total discount: 98%.
As I mentioned at the top of the show, it's an honour to be a part of this offering of such vegan abundance. To learn more and support this show, I have a link via the show notes – it's an affiliate link – so if you decide to purchase you really would be helping me personally and for that I would be HUGELY grateful.
That's it for this week in Healthification. If you're yet to rate, review and subscribe please do! It counts big time in letting this little show achieve some visibility among the millions of podcasts out there.
Big thanks to YOU for sharing this week with me.
Till next time, remember Creating a body and life you love is Freedom. (If this ex-refined-carb queen, non genetically gifted, naturally uncoordinated vegan chick can do it – so can YOU!!!)
If you liked "Going Vegan, The Best Advice To Adopt A Healthy Plant-Based Lifestyle I Wish I Always Knew.." you'll also like E586: Vegan Comfort Food Classics with Lauren Toyota.
If you liked "Going Vegan, The Best Advice To Adopt A Healthy Plant-Based Lifestyle I Wish I Always Knew.." you'll also like Ella Magers Will Help You Become A Sexy Fit Vegan.
If you liked "Going Vegan, The Best Advice To Adopt A Healthy Plant-Based Lifestyle I Wish I Always Knew.." you'll also like Candice Hutchings the Edgy Veg Creates Vegan Recipes With Attitude!
If you liked "Going Vegan, The Best Advice To Adopt A Healthy Plant-Based Lifestyle I Wish I Always Knew.." you'll also like E642: Cheap Lazy Vegan Food That's Easy and Delicious with Rose Lee.
If you liked "Going Vegan, The Best Advice To Adopt A Healthy Plant-Based Lifestyle I Wish I Always Knew.." you'll also like Look Good, Feel Good and Do Good by Becoming a Fabulous Vegan with Jasmin Singer.
If you liked "Going Vegan, The Best Advice To Adopt A Healthy Plant-Based Lifestyle I Wish I Always Knew.." you'll also like E600: 14 Vegan Legends Share The Best Advice I Wish I Knew Prior To Adopting A Vegan Lifestyle.