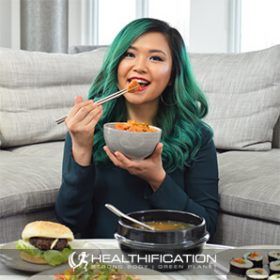 Podcast: Play in new window | Download
Subscribe: RSS
My guest today is determined to show the world that vegan food can be cheap, lazy AND delicious!
Although Rose Lee the Cheap Lazy Vegan was born in South Korea and raised in Canada she started sharing her affordable vegan meal ideas while living London where the cost of living was so much higher.
I'm super aware of the "it's expensive" and "it's elitist" excuses that are so freely applied to a vegan lifestyle. However as with so many excuses, you can do vegan the expensive way just like you can do it the restrictive way, the boring way or the unhealthy way.
Why would you though?!!!
Rose is the perfect guide to show us how to make
Cheap Lazy Vegan Food that's also easy and delicious…
In this chat we cover:
Rose's becoming vegan story.
What Rose wish she knew before going vegan.
Rose speaks to the value of delicious plant based food as a means by which to effectively encourage loved ones to take the blinders off.
How to cook tofu like meat or fish.
Easy vegan hacks. Here's a link to Rose's: "What I ate when I was "BROKE" & LAZY AF" video.
Vegan meal prep on a budget.
Who's at the top of Roses Vegan wish list? 
To my fellow lazy cooks I really do recommend you check out Rose online. I know some Instagram accounts make vegan food look so deliciously complicated and time consuming!
It doesn't have to be like that!
As Rose and I discussed offline we both keep our personal meals super simple and then put in a lot of extra effort when making food for non-vegans. 
In fact just this weekend it's thanksgiving in Canada and Rose is off to a non-vegan gathering with a delicious lentil loaf and pumpkin based dessert. This is exactly the opportunity for vegans to impress our non-vegan loved ones and put our energy into delicious vegan food rather than stress about the dead bodies our food might be sharing table space with.
For some really easy (lazy!) ideas in show 594 I cover: Build Your Own Meals To Share With Non-Vegans.
Or perhaps you're coming from the other side of the table and you're a non-vegan catering for vegans?
This is something I cover in show 623: How To Cater For Vegans When You're Not Vegan.
Here is the super brief 4 step overview:
One: Brainstorm those meals or sides you currently make that are already vegan. 
Two: Consider the "easy win" options where meat, dairy, fish and eggs are not the main event. 
Three: Get familiar with some essential vegan flavour enhancers, sauces, dips and easy protein pimps. 
Four: Relax in the knowledge that intention is everything. The fact that you're open to trying. That you care about something your loved one cares so very much about. That you're getting out of your comfort zone. It all counts.
Connect with Rose via her website:
Here's a link to that article top ten tips how to be vegan for cheap. Rose goes into detail with these ten tips:
Tip #1: Buy food, not food products
Tip #2: Stick to a starch-based diet where the majority of your calories come from starches
Tip #3: Buy the "no-name" brand or the store brand of products
Tip #4: Make eating out a treat, rather than a routine
Tip #5: Plan and prep your meals
Tip #6: Buy staples in bulk
Tip #7: Shop around online
Tip #8: Make a grocery list and stick to it
Tip #9: Learn a handful of cheap go-to meals that you love
Tip #10: Reduce food waste with your pantry and freezer
Or check Rose out across the socials:
Youtube – @cheaplazyvegan
Instagram – @cheaplazyvegan
Facebook – @cheaplazyvegan
That's it for this week in Healthification. Thank you so very must for trusting me with your time and attention today. It means a lot.
The Healthification podcast is proudly bought to you by my FREE 'Easy Vegan' plan. It took me 25 years to transition from a meat eater to a happy, healthy Vegan! You can do it in just 3 days with  my simplified 'easy vegan' plan!  Get the fit, strong, and healthy plant based body you deserve… while avoiding ALL the mistakes I made along the way!
Till next time, remember Creating a body and life you love is Freedom. (If this ex-carb queen, non genetically gifted, naturally uncoordinated vegan chick can do it – so can YOU!!!)
If you liked "Cheap, Lazy Vegan Food That's Easy and Delicious with Rose Lee" you'll also like Simple Swaps To Make Your Plant Based Meals Even More Nutritious PLUS Month In Review.